Two Brothers Sentenced to Prison and Forced Labor, Senior Parents Had No Way to Appeal
September 15, 2011 | By a Clearwisdom correspondent from Jiangsu Province, China
(Clearwisdom.net) Mr. Lu Tong and his family live in the Caixiang Community in Suzhou City, Jiangsu Province. Mr. Lu's family of three used to have a happy life until Mr. Lu was sentenced to four years in prison in 2008 for practicing Falun Gong. Mr. Lu's wife has eye problems. She and her daughter have to depend on each other to survive. Mr. Lu Tong's brother, Mr. Lu Jun, often went to their home and helped them. However, Mr. Lu Jun was arrested on August 18, 2011, and sentenced to one year and three months of forced labor.
Mr. Lu Jun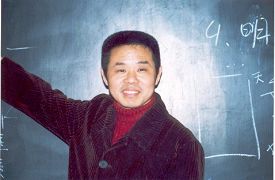 Mr. Lu Tong
Elder Brother Imprisoned and Younger Brother Arrested
On August 18, 2011, Zhang Zhenhua, deputy head of the Wuzhong District Police Department 610 Office, arrested Mr. Lu Jun and ransacked his home for no reason. Mr. Lu's family asked around to locate him, but no one knew where he was. His parents, in their 70s, waited at the Wuzhong Police Department for more than a week. The guard wouldn't allow them to come close to the gate, and the officers involved or officers in charge would not come out to talk with them. The only thing they were told was to wait for the notice at home.
On September 4, 2011, the family received the notification of Mr. Lu Jun's forced labor sentence. The term was one year and three months and started on September 2.
No Way to Appeal
It was a cruel blow to Mr. Lu's parents and his family. When Mr. Lu Tong was arrested, Mr. Lu's mother and wife went to the courthouse, the police station, the police department, etc. They were threatened, intimidated and deceived. This time, Mr. Lu's mother went to the police department, the appeals office, and the Procuratorate to appeal, but nothing came of it.
Mr. Lu's father can no longer walk and his mother is wasting away.