Photos: People Throughout China Celebrate the Demise of Jiang Zemin
September 13, 2011 | By a Clearwisdom correspondent in China
(Clearwisdom.net) In July 2011, media outside China reported that former Communist Party head Jiang Zemin was near death or possibly already deceased. Although Chinese authorities tried to block the news, and no official word has confirmed the former leader's state, rumors of his death have rapidly spread among the people. Jiang Zemin is responsible for the decision to persecute Falun Gong practitioners in China. Since July 20, 1999, practitioners have been imprisoned and tortured for their faith, with several losing their lives as a result. People throughout the country have set off firecrackers in a show of celebration to mark the end of this evil man and the oppression he represents.
A banner in a coastal city square in Shandong Province reads: "Firecrackers observe the departure of evil and return of security and peace. Jiang Zemin is Dead!"
This photo was taken when firecrackers were set off by people in Tieling City of Liaoning Province. They were surprised to see that the Chinese character for "Buddha" appeared in the picture.
People set off firecrackers in Dezhou City of Shandong Province.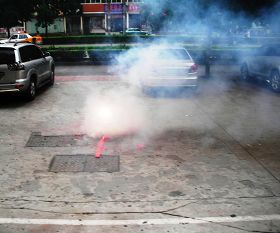 People set off firecrackers in Xinxiang City of Henan Province.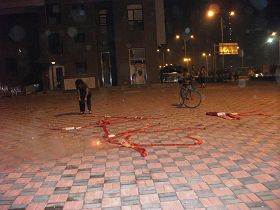 People in Shijiazhuang City of Hebei Province set off firecrackers.

This photo was taken by people in Hailun City of Heilongjiang Province when they set off firecrackers. They were surprised to see the strange light appearing in the photo.