Ms. Sun Lanping from Lanzhou City Arrested Again, Taken to Gongjiawan Brainwashing Center
August 26, 2011 | By a Clearwisdom correspondent in Gansu Province
Name: Sun Lanping (孙兰萍)
Gender: Female
Age: 50
Address: Unknown
Occupation: Retired employee of Telecommunications Equipment Factory in Gansu
Date of Most Recent Arrest: July 26, 2011
Most Recent Place of Detention: Gongjiawan Brainwashing Center, Lanzhou (兰州市龚家湾洗脑班)
City: Lanzhou
Province: Gansu
Persecution Suffered: Forced labor, brainwashing, illegal sentencing, hung up, torture, extortion, physical restraint, detention
(Clearwisdom.net) On July 26, 2011, Falun Gong practitioner Ms. Sun Lanping was taking care of her disabled mother, in her mother's home. She was about to return home at 7:00 p.m., when Tuanjie Xincun Police Station officers illegally arrested her and took her to the Gongjiawan Brainwashing Center. Not long after 8:00 p.m., her family came to the brainwashing center to see her, but they were denied visitation. Her current status is unknown.
Ms. Sun was persecuted on several occasions over the past ten years. She was arrested by the Lanzhou Police in June 2001. She was illegally detained for one day in the Politics and Law Section. She was then taken to the Lanzhou Dashaping Detention Center for six weeks. Following her detention, she was imprisoned at the Pingantai First Forced Labor Camp for one year and six months.
On November 4, 2002, director Shi of Telecommunications Equipment Factory in Gansu Province along with Tuanjie Xincun Police Station chief Du in Lanzhou and two other officers broke into Ms. Sun's home, arrested her, then took her to the Gongjiawan Brainwashing Center in Lanzhou. She was illegally detained there for over two months.
In July 2007, Dingyuan Police Station chief Zhang Jinbao in Yuzhong County and two other officers arrested Ms. Sun, then took her to the Lanzhou Yuzhong Police Department. She was handcuffed to a chair overnight. The following day near noontime, she was taken to the Gongjiawan Brainwashing Center in Lanzhou. Ms. Sun was dragged over to a bed by her hair, and handcuffed to its frame for two days straight.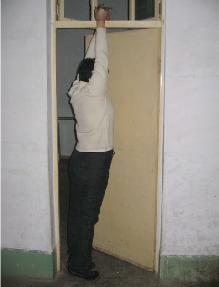 Torture re-enactment: Hung up
By the end of November 2007, Ms. Sun still refused to renounce her faith in Falun Dafa. Qi Ruijun and Yang Wentai from the brainwashing center locked her in solitary confinement. Her hands were cuffed and she was hung from a steel door with only her toes touching the ground. She was taken down during mealtime and for restroom use at around 11:00 p.m. As a result of this torture, her wrists were cut, and her hands, feet, and legs were swollen. She was unable to wear shoes or walk, and unable to hold chopsticks due to the swelling and injuries. By January 2008, Ms. Sun had been hung up for 37 days. She began to vomit blood and lost consciousness. A fearful Qi Ruijun took her to the emergency room at Lanzhou Electric Factory Hospital. She was suffering from a stomach infection, and hospital officials issued a warning that she might die. As a result, brainwashing center officials informed Ms. Sun's family to take her home after her release from the hospital. She went home after nine days in the hospital. Her family was told to pay for the hospital bill which totaled over six thousand yuan, even though the brainwashing center caused her need for hospitalization. Furthermore, the brainwashing center charged an additional six thousand yuan for living expenses, since she was held at the center for over six months. This six thousand yuan was taken directly from her pension, thus creating a problem for her retirement savings.
Following Ms. Sun's arrest, her 17-year-old son (not a practitioner) was also arrested by officers from the Domestic Security Division. He was held for 17 hours and was forced to drop out of school.
Relevant individuals and their phone numbers:
Gongjiawan Brainwashing Center:
Qi Ruijun (secretary)
Zhang Mingquan (female), deputy secretary, Municipal Political and Judiciary Committee; director, the local 610 Office
Lanzhou Chengguan District Political and Judiciary Committee: +86-931-8487406, +86-931-8486777
Tuanjie Xincun Police Station:
Wang Xiaoming, chief: +86-13399317716 (office)
Pu Qian, political instructor: +86-13399311788
Additional names and phone numbers can be found in the original Chinese article.