Australia: Introducing Falun Dafa at Griffith University on the Gold Coast (Photos)
(Clearwisdom.net) On August 4, 2011, Falun Gong practitioners organized an information booth at Griffith University in the Australian tourist destination of the Gold Coast.
Many groups set up booths at the university for Club Sign-up Day, an event held twice per year to encourage students to participate in cultural and sporting activities on-campus.
Dafa practitioners beautifully decorated the booth with hand-made lotus flowers, an Oriental symbol of peace and purity, and color photographs of the five Falun Dafa exercise sets.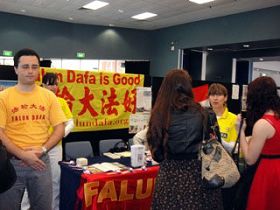 Practitioners' booth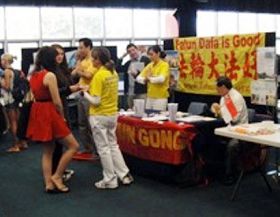 Students were amazed to see practitioners send righteous thoughts and demonstrate Falun Dafa exercises next to the booth. Westerners stopped and approached practitioners manning the booth, asking for more information and to sign-up for free meditation classes.
After seeing the exercise demo and receiving a lotus flower and flyer, an Italian exchange student said he really wanted to learn the exercises despite having to return to Italy at the end of the semester. Other students also couldn't wait to start learning, and attended one of the usual weekend practice sites at Macintosh Island Park.
Mainland Chinese students stopped to read words on the banner out loud: Falun Dafa Hao (Falun Dafa is Great), while others stopped to take photos of the exercise demonstration. A practitioner took the opportunity to give them lotus flowers and information in Chinese. Students were surprised by this kind gesture. Before long, there were enough new-learners to establish a club at the university.
Staff from the event organizers, the Student Guild, were also surprised to witness the peaceful and slow-moving exercises of Falun Dafa. One of them voiced encouragement when seeing practitioners exercising despite the noisy and crowded conditions. Staff members also appreciated receiving lotus flowers and pamphlets, and said they were beautiful.
Practitioners enlightened to the understanding that the event's success was mainly due to their teamwork, and doing the three things that all Dafa disciples do. We thank Master for this precious opportunity to spread the Fa and clarify the truth.