Toronto: Rally and March Held to Support 100 Million Withdrawals from Chinese Communist Party (Photos)
(Clearwisdom.net) On August 13, hundreds of people from all walks of life in Toronto held a rally and a march in downtown Toronto, celebrating the 100 million Chinese people who have quit the Chinese Communist Party (CCP) and its associated organizations. The march went through Chinatown and lasted for 90 minutes. Several Chinese people quit the Party at the rally.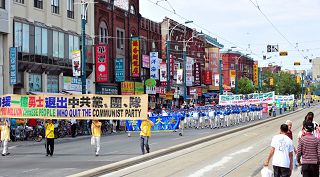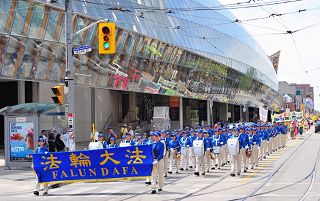 The march
Mr. Su Zan from Shanxi province, China, had already quit the Party. He said: "Chinese people are not afraid of the CCP now. Many of them have recognized the evil nature of the CCP."
Mr. Su said that he heard about the trend of quitting the Party when he was still in China. When he visited Hong Kong, he got a copy of the Nine Commentaries on the Communist Party, and withdrew his membership with his real name. He said: "Quitting the Party is most people's hope. When more and more people abandon the CCP, it will crash."
Mr. Chen Wei immigrated to Canada from China two years ago. He has also quit the Party. "One hundred million is the number shown in the registration. Actually I believe there are a lot more people who have quit the Party in their heart but haven't registered. This number will increase. I know many CCP members in China who don't believe in communism."
When the march passed through Chinatown, Ms. Yu, an immigrant from China, almost cried. "It is very touching to see so many people against the CCP," she said. When she learned about the 100 million Chinese withdrawals, she also quit the Party.
Many Westerners were happy to see the march too. Elizabeth took photos and said the grand march reflects the voice of the Chinese people, to which people should pay attention. This kind of voice can not be heard in China. "As a Canadian, I should help them, making their voice heard in the world, and stopping the persecution," she said.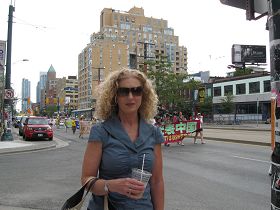 Elizabeth
Seventy-four-year-old Catherine said: "Their faces are peaceful. I am glad for them, because they quit the Communist Party." Bennett from Texas said: "This is a grand march. I believe Falun Gong practitioners. I also believe that the CCP will die soon. Any persecution must be stopped."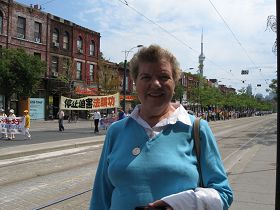 Catherine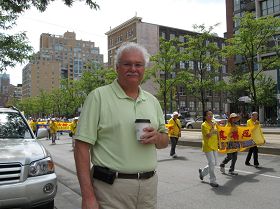 Bennett
Alinda saw the march, and joined in. She said that her father is Jewish and her mother is from Romania. They were both persecuted there. Alinda said that she longs for freedom. "On this special day, I want to stand with these people. I wish for peace and tolerance in the world. I wish for no persecution of any peoples," she said.