Ms. Li Yushu Tortured Daily in Heilongjiang Women's Prison (Photos)
August 12, 2011 | By a Clearwisdom correspondent from Liaoning Province, China
Name: Li Yushu (里玉书)
Gender: Female
Age: 62
Address: Mohe City, Heilongjiang Province (黑龙江省漠河市)
Occupation: Secretary of the Education Commission of the former Amu'er Forest Bureau in Daxing'an Mountain Forest
Date of Most Recent Arrest: 2002
Most Recent Place of Detention: Heilongjiang Women's Prison (also known as Harbin Women's Prison) (黑龙江女子监狱)
City: Harbin
Province: Heilongjiang
Persecution Suffered: Forced labor, brainwashing, extortion, home ransacked, detention, imprisonment
Key Persecutors: Bao Rui (包锐), prison deputy head; criminal Gao Fuyan (高福艳 )
(Clearwisdom.net) Ms. Li Yushu, a 62-year-old practitioner from Mohe City, Heilongjiang Province, was sentenced to a 12-year prison term without due process in May 2002. She has suffered more than nine years of persecution in Heilongjiang Women's Prison. She was held in a small cell (1) once and in an isolation cell six times. She has been resisting the persecution by hunger strike for almost seven years. She is emaciated now and suffers daily torture.
Ms. Li Yushu, a former secretary of the Education Commission for the Amu'er Forest Bureau in Daxing'an Mountain Forest, started practicing Falun Gong in 1996. In January 2003, she was transferred to Heilongjiang Women's Prison group training ward. In March, she was sent to the No. 1 Division. Now she is detained at Ward 10, a ward for ill prisoners.
Ms. Li recounted the torture she has suffered recently:
On the morning of February 16, 2011, the day before the Lantern Festival, prison deputy head Bao Rui, political head Tao Shuping, section head Cui Hongping, Zhao Lisha and others, came to Ward 10. At the request of Bao Rui, guards from the anti-riot division also came. These guards are about 30 years old. They kicked me, beat me and stomped on my body. They taped my mouth shut with duct tape and twisted my arms behind my back. They also cut off my shirt and trousers with scissors. All of my clothing, including winter and summer clothes, outwear and underwear, was forcibly taken away by them. As a law enforcement officer, Bao Rui violated the law and directed the police officers to beat me. They abused me, a 62-year-old woman. To call the management of the prison humane is an outright lie.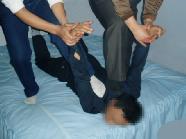 Torture re-enactment: brutal beating and stomping
Torture re-enactment: Covering mouth with tape
On the afternoon of February 30, section head of Ward 10, Zhao Huihua, directed thugs to beat me. After that, she directed Wang Shanshan, a 28-year-old thug, in Ward 11 to slap me, stuff my mouth with a towel, and then duct-tape my mouth. Wang said: "No one dares to disobey after my beatings. I will make sure they cannot even shout for help." When I was able to shout for help, Li Yingli and Xing Guohui punched me in the mouth. Wang Shanshan also threatened me at the same time. My mouth was bruised and became swollen. The pain was unbearable.
On March 3, prison head Bai Yingxian came to "visit" me. The number of my personal cangues (2) increased from two to four. The criminals assigned to monitor me were Li Yubo, Xing Guohui, Wang Shuxian and Bai Yuming. Yang Qiuxiang told Bai Yingxian to put me in a prisoner uniform. Then, Gao Fuxian came and started tying me down with straps. I am very thin after several years of torture, so in order to cause me more pain, Gao Fuyan made several new holes on the straps to get them tighter. I often was tied down so tightly that my hands and feet turned purple.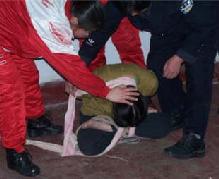 Torture re-enactment: tied up
On April 11, division head Zhao Xiaofan told me: "Don't do Falun Gong exercises tonight." I didn't listen.
On April 16, Zhao Xiaofan came with criminal Gao Fuyan to tie me up. Gao was very brutal. Every time she took the opportunity of forcing me into a prisoner's uniform to brutally beat me up. Sometimes she took my legs and smashed them against the bed. It was so painful that I couldn't walk afterwards. The injuries to my legs took over a month to recover. Sometimes she grabbed me by my hair and shoved me into the bars. Sometimes she took me by my legs, forced my head down, tied my legs to the bed and then bound me while pulling my hair. Her irrational actions sometimes even shocked her fellow inmates.
I'm now tied up every day.
(1) The detainee is locked up in a very small cell individually. The guards handcuff practitioners behind their back in a fixed position, in which the practitioners can neither move nor lie down. The small cell is very damp and no sunshine comes in. Detainees have to urinate and defecate in the cell. Only half of a regular meal is served to detainees locked up in a small cell during the daytime. During the night the rats are running around. The stench in the small cell is so bad that it is difficult to breathe.

(2) "Personal cangues" (There were "open cangues" and "secret cangues") [Note: cangue, the name of an instrument of torture, is now used to indicate the person designated to supervise the behavior of practitioners.]
Related articles:
http://www.clearwisdom.net/html/articles/2010/9/19/120096.html
http://www.clearwisdom.net/html/articles/2011/7/17/126768.html