Bulgaria: People in the City of Burgas Learn About Falun Gong (Photos)
(Clearwisdom.net) Practitioners of Falun Dafa from Bulgaria held an event at the central square in the city of Burgas on July 31, 2011, to introduce the practice to the public and expose the persecution in China.
The citizens of Burgas watched the demonstration of the five meditative and easy-to-learn Falun Dafa exercises with great interest and asked questions about the practice. They also took leaflets with information about the practice and the ongoing persecution in China.
A family of Russian tourists received a leaflet in their native language explaining the main principles of the practice. The family stayed for nearly an hour, reading and watching the practitioners perform the exercises and distribute leaflets.
Feeling threatened by the increasing number of practitioners, former leader of the Chinese Communist Party Jiang Zemin started a national campaign of slanderous propaganda and violent suppression against 100 million Chinese practitioners in 1999. The persecution still continues today, after 12 years. Practitioners of Falun Gong are tortured and imprisoned in labor camps and prisons all over China. There are over 3,000 documented deaths due to torture of practitioners in Chinese custody.
After learning the facts, many people signed a petition to stop the persecution in China. They had a chance to learn more about the practice and the ongoing persecution in China.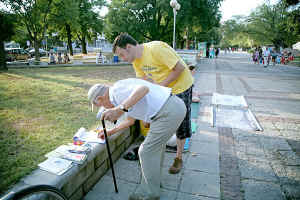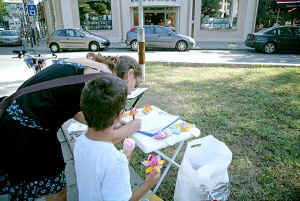 Passersby sign the petition against the persecution