Illegally Imprisoned for Seven Years in the Past, Yang Chanrong Now Illegally Sentenced to Six Years
July 09, 2011 | By a Clearwisdom correspondent from Jiangsu Province, China
Name: Yang Chanrong (杨产荣)
Gender: Male
Age: 52
Address: Changzhou City, Jiangsu Province
Occupation: Unknown
Date of Most Recent Arrest: May 26, 2010
Most Recent Place of Detention: Xilin Detention Center in Changzhou City (常州市西林看守所)
City: Changzhou
Province: Jiangsu
Persecution Suffered: Brainwashing, detention, extortion, home ransacked, illegal sentencing, imprisonment
(Clearwisdom.net)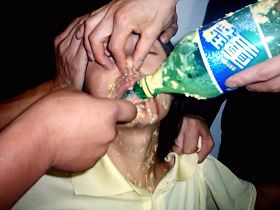 Torture re-enactment: Brutal force-feeding
Mr. Yang Chanrong was illegally imprisoned for seven years before his release in 2007. At 7 a.m. on May 26, 2010, Dai Ming, the director of the Qingtan Police Substation in the city of Changzhou, and six police officers broke into Mr. Yangs home. They took his computer, truth-clarification materials, Falun Dafa books, and many other personal belongings. After arresting him, they took him to a brainwashing center, where those in charge try to force people to give up their belief. They later transferred him to the Xilin Detention Center in Changzhou, where he is still being detained.
On June 23, 2011, the Chinese Communist Party's Zhonggulou District Court in Changzhou, along with the local 610 Office, Procuratorate, and police station, brought Mr. Yang to trial. Mr. Yang's attorney was driven out of the courtroom, since he was going to enter a "Not Guilty" plea in Mr. Yang's defense. They refused to allow Mr. Yang to defend himself based on the absurdity that nobody can challenge the CCP's "conclusion" on Falun Gong. The fabricated "evidence" that was read out in court "proved" that Mr. Yang was guilty. Instead of following standard legal procedures, they announced that Mr. Yang was sentenced to six years of imprisonment.
When Mr. Yang and his family were at the courthouse, they kept clarifying the truth and shouting, "Falun Dafa is good!"
In order to prevent practitioners from attending the proceedings, the local 610 Office deployed a dozen police officers to keep many of them from entering the courtroom.
On January 9, 2001, Yang Chanrong's wife, Zhou Fenglin, died from inhumane force-feeding in the Xilin Detention Center in Changzhou. She was only 32 at that time. To prevent the news of her death from becoming widely known, the authorities illegally arrested Mr. Yang and sentenced him to ten years in prison. Their five-year-old son, without the care of his parents, virtually became an orphan. Mr. Yang's relatives took turns taking care of the boy. The CCP then illegally sentenced Ms. Yang Shundi, Mr. Yang's sister, to three years of imprisonment when she tried to inquire about what happened to her sister-in-law that led to her death. She was detained in Judong Women's Forced Labor Camp in Jiangsu Province.
We have just learned that at 1 p.m. on June 29, Tiannin District Court in Changzhou will try two other Falun Gong practitioners, Xu Ming and Liao Yongge.
Related articles:
http://clearwisdom.net/html/articles/2001/7/8/12019.html
http://clearwisdom.net/html/articles/2008/6/21/98327.html
http://clearwisdom.net/html/articles/2010/10/21/120930.html