California: Divine Land Marching Band Performs in Independence Day Parade in Larkspur (Photos)
(Clearwisdom.net) On July 4, 2011, the Divine Land Marching Band in California, consisting Falun Gong practitioners, participated in a parade in Larkspur for the first time. The parade organizer highly praised the band's performance and hopes to see them next year.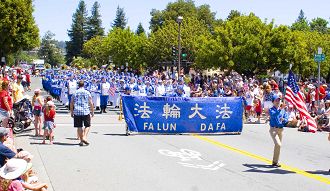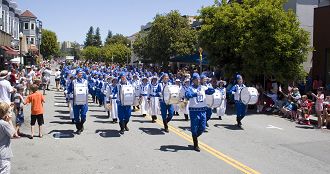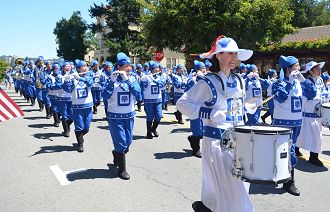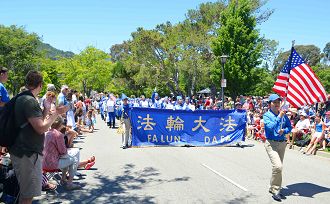 The Divine Land Marching Band
The parade started at 10:30 a.m. The performance was warmly received by the spectators.

Dennis likes the principles of "Truthfulness-Compassion-Forbearance."
Dennis, a local gentleman, comes to see the parade every year. He said while Americans enjoy freedom here in the U.S., people in many other places still have to fight for it. He said that he knows about the human rights violations in China.
Dennis enjoyed the band's performance. "They all looked happy and energetic," he said. When he learned that all of the band members practice Falun Gong, which teaches the principles of "Truthfulness-Compassion-Forbearance," he said that if the world cherished those principles, then there would be no more wars.
A local teacher said that she knows about the persecution of Falun Gong. "They should stop it immediately," she said, "Look, the band members are full of positive energy. Everybody should come to learn more about Falun Gong and their teachings."
A local council member came to watch the parade with his wife and friends. They had all heard about Falun Gong and the persecution. The council member expressed that it is important to have freedom of belief. They were glad to see the band's performance, and they wished the practitioners good luck.
According to the parade organizer, 10,000 people in 74 groups participated in the parade. He said that the Divine Land Marching Band is a "super band," and he hopes that the band will come again next year.