Government Worker Ms. Zhou Ailin Arrested Nine Times for Practicing Falun Gong (Photos)
July 07, 2011 | By a Clearwisdom correspondent from Hubei Province, China
Name: Zhou Ailin (周爱琳)
Gender: Female
Age: 43
Address: Qiaokou District, Wuhan City, Hubei Province
Occupation: Auditor
Date of Most Recent Arrest: May 17, 2011
Most recent place of detention: Hubei Province Law Education Center ( 湖北省法制教育所 )
City: Wuhan
Province: Hubei
Persecution Suffered: Detention, brainwashing, beatings, exposure to the baking sun, force-feedings, long-term standing, hanging by handcuffs, solitary confinement.
(Clearwisdom.net) Falun Gong practitioner Zhou Ailin is currently being held in the Hubei Province "Law Education" Center (a brainwashing facility). She was beaten by a guard, whose last name is Jiang, so badly that her face became disfigured. This is the ninth time that Zhou Ailin has been jailed since 1999.
Dismissed From Government Job
Zhou Ailin was a government official in the Qiaokou Branch Office of Wuhan City Industry and Business Administration. After starting to practice Falun Gong in 1997, she became conscientious and worked very hard. She never accepted any perks that advantaged her work.
After the persecution of Falun Gong began on July 20, 1999, Zhou Ailin was arrested and sent to brainwashing centers on seven occasions, and detained twice. She was dismissed from her government job and became an employee of a subsidiary organization. During the time when she was detained at the brainwashing centers, the Qiaokou Branch Office of Wuhan City Industry and Business Administration suspended her wages.
In late October 1999, she went to Beijing to appeal for the right to practice Falun Gong, but she was arrested by plainclothes police from Yanjiao Town, Sanhe City, Hebei Province. The police extorted 6,000 yuan from her. After being returned to Wuhan City, she was detained for fifteen days. During this detention period, she was physically abused for practicing Falun Gong. The guard in the detention center ordered foreign workers to beat her. As a result, her legs became swollen and bruised. In order to prevent her from practicing Falun Gong, her hands and legs were tied with ropes so that she could not move.
Detained in Brainwashing Centers
Zhou Ailin was held in the Etouwan Brainwashing Center in the Qiaokou District for more than a year in 2001-2002. During this time, she was locked in a confined compartment, made to stand for long periods of time, cuffed to window bars to be bitten by mosquitoes, repeatedly slapped on the face, and force-fed.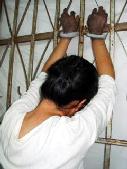 Torture re-enactment: Hanging by handcuffs
In late 2002, she was arrested and sent to the Danshuichi Brainwashing Center in the Jiang'an District. Hu Shaobin, head of Jiang'an District 610 Office, ordered the guards to slap her face, to the extent that her face became disfigured. She was also cuffed to window bars for five continuous days and nights, with only her toes touching the ground.
While working on August 23, 2007, she was again arrested by 610 Office agents from Qiaokou District. A colleague criticized the officers for not following any legal procedures. The agents threatened to arrest the colleague also, for the crime of obstructing official business.
While posting truth-clarifying materials around the Nineteenth High School of Wuhan City on the evening of March 22, 2009, Zhou Ailin was reported to the police and arrested by officers from Shuita Police Station of the Jianghan District. She was taken to the First Detention Center of Wuhan City and detained for fifteen days.
After release from the detention center, Zhou Ailin was again arrested at her workplace by four or five officers from the Jianghan Police Department, including Qu Shen. She was sent to the Erdaopeng Brainwashing Center and detained for more than twenty days. On April 28, she was transferred to the Etouwan Brainwashing Center.
Persecuted in "Law Education Center"
On the morning of May 17, 2011, Zhou Ailin was again arrested while working. Policewomen Zhang Xiaotao and Wu Tao led four to five police officers from the Domestic Security Agency of the Qiaokou District and broke into the women's restroom and arrested her. She was then taken to the notorious Hubei Province Law Education Center where she is being subjected to brainwashing and persecution.
There are approximately 1,200 Falun Gong practitioners currently held at the Hubei Province Law Education Center. After Zhou Ailin arrived, an "assistant" was assigned to closely monitor her. A week later, the assistant was removed and a female guard by the name of Jiang started to beat her. According to a witness, Jiang verbally abused Zhou Ailin and beat her face so severely that it became swollen and disfigured. Moreover, while Zhou Ailin was severely persecuted at the center, her family members and colleagues were unaware of the persecution she was subjected to. They had been deceived by the CCP officials.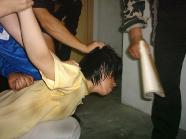 Torture re-enactment: Slapping on the face with books or magazines