Taiwan: Divine Land Marching Band Participates in the 2011 International Band Festival (Photos)
(Clearwisdom.net) On July 2, the opening ceremony of the 2011 International Band Festival, organized by the World Association for Symphonic Bands and Ensembles (WASBE), was held in Chiayi City, Taiwan. Chiayi is the third Asian city to host this festival. President Ma Yingjiu, Vice President Hsiao Wanchang, and President of the Legislative Yuan Wang Jin-pyng participated in the opening ceremony. The city government invited the Divine Land Marching Band, consisting of 200 local Falun Gong practitioners, to perform in the opening ceremony. When the band passed by the stage, the host introduced them as the "most welcome group" who practice Falun Gong, a cultivation practice bringing physical and mental health to people. A large parade was held after the opening ceremony.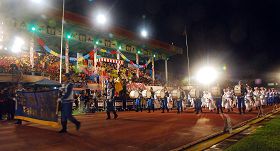 The Divine Land Marching Band enters the stadium
The Mayor of Chiayi said that the city has held band festivals every year since 1993, which attracts people from all over the world. He expressed that it is an honor to host the WASBE festival this year. This year marks the 100th birthday of the Republic of China (ROC), and the WASBE International Band Festival is one of the four large-scale international festivals to be held in Taiwan this year.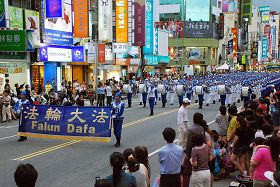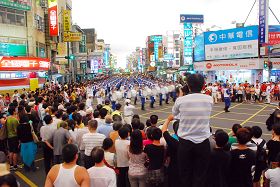 The Divine Land Marching Band in the parade after the opening ceremony
Thirty-three bands from nine countries participated in the 18-day-long band festival. More than 5,000 bands members and ten floats participated in the two-mile long parade after the opening ceremony. The Divine Land Marching Band performed for the people of Chiayi City for the first time.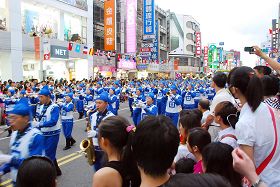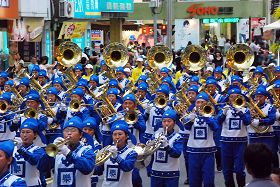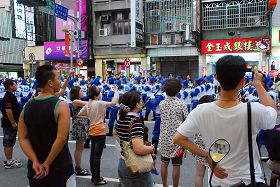 The band warmly welcomed
The performances by the Divine Land Marching Band were warmly welcomed by the locals. Mr. He Hsinji, trustee of the Chiayi Photographer Association, said that it was the greatest band that he had ever seen.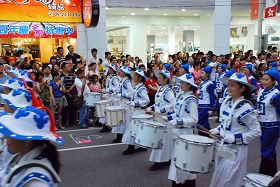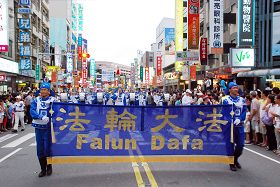 One gentleman among the spectator said to the members: "This was the most perfect and harmonic performance I have ever heard." A band member told him that they are all Falun Gong practitioners, following the principle of Truthfulness-Compassion-Forbearance.
One band member told people that Falun Gong practitioners in China have been brutally persecuted, more than 3,000 of them were tortured to death, and numerous are imprisoned. Meanwhile there are hundreds of thousands of people in Taiwan practicing Falun Gong, including college professors, lawyers, doctors, government officials and members of the military. Many of them have benefited physically and spiritually from practicing Falun Gong.