Taipei, Taiwan: Grand March Calls for an End to the Persecution (Photos)
July 22, 2011 | By Zheng Yuyan, Liu Wenxin and Fang Hui, Clearwisdom correspondents from Taiwan
(Clearwisdom.net) More than 1500 practitioners in Taipei, Taiwan held a grand march despite heavy rainfall at around 2:00 p.m. on July 17, 2011. The theme of the march was "Save Goodness, Stop the Persecution." The practitioners wanted to call attention of kindhearted people to join in the efforts to stop the horrific persecution of Falun Gong practitioners by the Chinese Communist Party (CCP).
Twelve years ago, on July 20, 1999, the former head of the CCP, Jiang Zemin, initiated a genocidal persecution campaign against Falun Gong. Since then, Falun Gong practitioners around the world have made continuous efforts to clarify the facts and work against the persecution. Every July 20 for twelve years, they have held a series of activities to raise awareness about the persecution and call for it to end.
When the Taipei grand march kicked off at 3:30 p.m. on July 17, the torrential rain stopped. The Divine Land Marching Band composed of 200 practitioners led the march, drawing the attention of residents and people in businesses who came out to watch.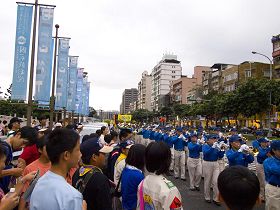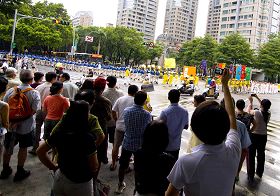 People along the route impressed by the grand march held on July 17, 2011 in North Taiwan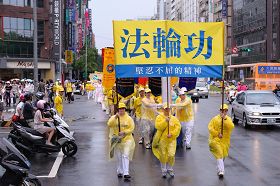 Procession marches through bustling commercial district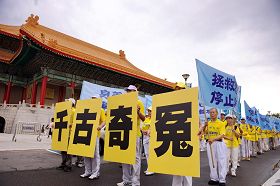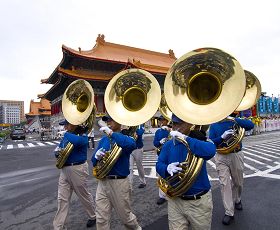 March begins at Sun Yat-sen Memorial Hall and finishes at Liberty Square. The entire route was 5.7 km
People's support and encouragement
One person said that when he watched TV programs that slandered Falun Gong, he intuitively felt that the CCP told lies. Later on, he learned what Falun Gong really is, and understood that Falun Gong is a practice that improves one's health and teaches people to be good.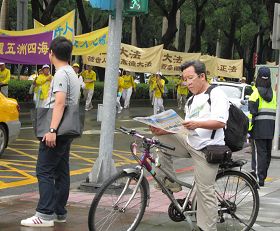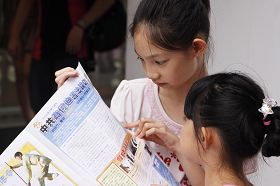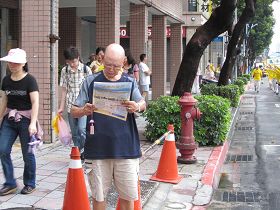 Passersby take informational materials and read them on the roadside
One woman said that she often does business in Hong Kong. One day a Hong Kong resident asked her to work as an agent for organ transplantation in Taiwan, and she would greatly benefit. She intuitively thought that it might have something to do with harvesting organs from living Falun Gong practitioners. She immediately rejected that man's offer. That man called her several more times, and she hung up the phone as soon as she heard his voice. She said that she would not do such business no matter how much she would be paid.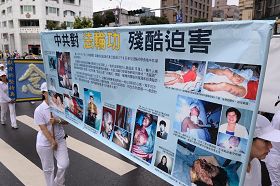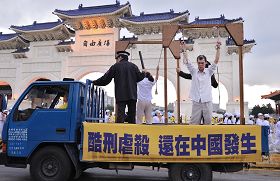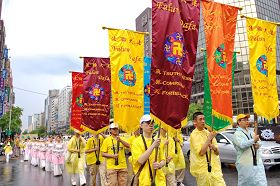 Grand march held on the afternoon of July 17, 2011 in Taipei
Another man said that he had practiced Falun Gong before, but stopped for some reason. This was the first time that he had seen a Falun Gong practitioners' march. He was deeply impressed, and followed the march procession for quite some time. He said, "It's really remarkable, so many people participating in the march, and it's so orderly, clean and quiet."
According to practitioners who handed out flyers along the route, a number of citizens who read the informational materials asked where they could learn to do the exercises. They knew Falun Gong is good for their health.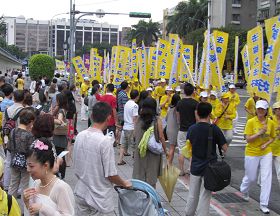 March ends at Liberty Square
A 15-year-old teenager surnamed Lim, who recently returned to Taiwan from Canada for summer vacation, came to Liberty Square to find practitioners and wanted to learn the exercises. His English tutor told him last year about cultivation practice. He started reading Zhuan Falun, spending one hour per day reading, and an amazing thing happened: his chronic allergies disappeared.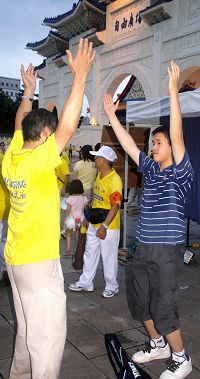 A practitioner is teaching a teenager to do the exercises
Last year after attending a Shen Yun Performing Arts show, he was even more motivated to cultivate. He hopes that he can learn to do all five exercises during this summer vacation.
Many Chinese tourists viewed the Truthfulness-Compassion-Forbearance Photo Exhibit as they waited for their tour buses on the square. One high-ranking official said with emotion, "We can't see such a scene inside China; actually we all know that Falun Dafa is magnificent."
Senseless suppression helps spread Falun Gong
Mr. Lin Guorong has practiced Falun Gong for 15 years. His three-generation family began to practice one after another. The entire family has benefited greatly from the practice, and lives in harmony.
Mr. Lin recalled that on July 20, 1999, the CCP ordered a large round-up of Falun Gong practitioners. All those arrested were imprisoned without committing a crime, but on a fabricated charge by the CCP. Mr. Lin went to Beijing in November 1996 together with other Taiwanese practitioners for an experience sharing conference. Hospitable Beijing practitioners told them the importance of doing the exercises, studying the Fa and sharing experiences. Those practitioners who left such a favorable impression on Mr. Lin were later on arrested and sent to forced labor camps during the persecution.
Mr. Lin said that when the persecution started, there were about 1000 practitioners in Taiwan. Twelve years later, Falun Gong can be seen on every corner in Taiwan. Everyone, from the government to the public, recognizes Falun Dafa. Now there are tens of thousands of practitioners in Taiwan, and more around the world. It's everyone's own choice to practice.
Calling on people to join in efforts to end the persecution soon
Eighty-two year old Mr. Chen Bohua participated in the march with his daughter and two grandchildren. Having witnessed his daughter's positive changes after practicing Falun Gong, he was deeply impressed and joined in cultivation. He has practiced Falun Gong now for more than eight years. Mr. Chen said, "I used to smoke and drink. After the practice, I naturally quit smoking and drinking, and I'm stronger. I used to be unable to walk when my health was poor, but now I can walk for several hours for the entire route." "Despite the wind and rain, I came to tell people Falun Dafa is great, and the CCP's senseless persecution should be stopped."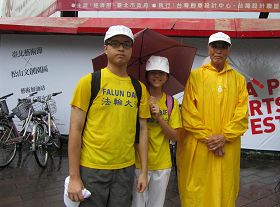 Eighty-two year old Mr. Chen and his grandchildren participate in the march
A brother and sister began practicing Falun Gong because of their mother's changes. They said, "Mother had poor health before the practice, she took medication daily, and had a bad temper. After the practice, her health improved, and so did her temper. Falun Dafa is so good." They took part in the July 20th march, and wanted to let people know the wonderfulness of Falun Dafa, and expose the CCP's brutality.
Huang Jin began practicing Falun Gong in 2001. She said, "The same Dafa, we can freely practice in Taiwan, but in mainland China practitioners must risk their lives. So many fellow practitioners were killed for their beliefs. So today I am participating in this activity, hoping that fellow practitioners in China know that we support them outside China, and telling the world's people that Falun Dafa has been spread around the world. The 12-year brutal persecution in China should immediately end."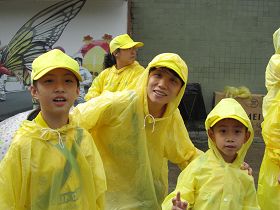 Preschool teacher Ms. Lim Xinmei and her children take part in the march
Ms. Lim Xinmei, a preschool teacher, brought her two children to take part in the march. She said that her children have practiced for several years. They have participated in many Dafa activities. They are happy to participate in activities exposing the CCP's senseless persecution. Her daughter said, "The march can help people realize the importance of quitting the CCP and its affiliated organizations." The 5.7 km march route is a hard test for many children. Ms. Lim's six-year-old said, "I walked for a long time, but I was not afraid of getting sore feet."
Mr. Shi patiently taught people the exercises. He began practicing Falun Gong 13 years ago. He suffered from congenital asthma since he was young. His mother took him to see doctors everywhere but couldn't cure him. When he began Falun Dafa practice, his health improved greatly. His hot temper used to make his family atmosphere tense, and his wife and children were afraid of him. Now he is a kind father in his children's eyes.
He said that as long as one cultivates according to the principles of Falun Dafa, Truthfulness-Compassion-Forbearance, one can elevate their moral standards, and that such a precious practice is subjected to the CCP's persecution is really sad.
Background
Falun Gong, also known as Falun Dafa, is a traditional Chinese spiritual discipline for mind and body. The practice involves slow, gentle movements and meditation. It is easy to learn, enjoyable to practice, and free of charge. Its principles are based on Truthfulness-Compassion-Forbearance. The practice was first introduced by Master Li Hongzhi in China in 1992 and quickly spread by word of mouth throughout China and then beyond. Its beneficial effects in uplifting an individual's physical health, spiritual well-being, and moral character, not to mention its positive influence in the community and society as a whole, are undeniable.
On July 20, 1999, the Chinese Communist Party launched a brutal persecution of Falun Gong. Since the start of the persecution, practitioners throughout the world have been explaining the facts about Falun Gong and exposing the CCP's crimes in a tireless effort to end the persecution. The persecution has not only targeted Falun Gong practitioners' belief in Truthfulness-Compassion-Forbearance, but is also an attempt to destroy society's moral principles and spiritual values.