Thailand: Falun Gong Practitioners Hold Activities Calling for an End to the 12-Year Persecution (Photos)
July 20, 2011 | By a practitioner in Thailand
(Clearwisdom.net) On July 17, 2011, practitioners in Bangkok, Thailand held activities to call attention to the 12-year persecution of Falun Gong by the Chinese Communist Party (CCP). They asked people to support and work together to stop the CCP's atrocities.
Practitioners in Bangkok, Thailand hold activities calling for an end to the persecution
A practitioner speaks with passersby about Falun Gong
Passersby look attentively at the truth-clarifying photo displays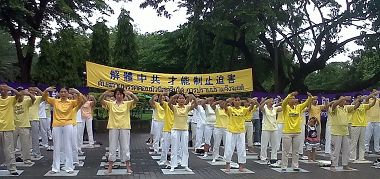 Practitioners do the exercises together in a Bangkok park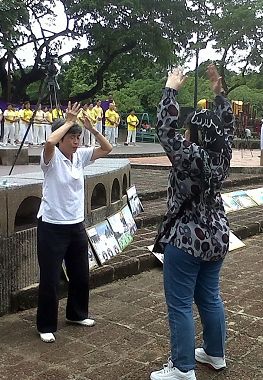 A passerby learns to practice Falun Gong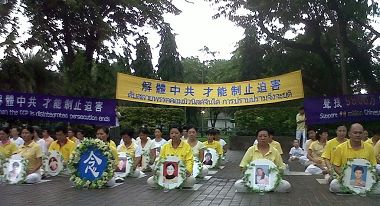 Vigil commemorates practitioners who have died as a result of the persecution in China
The activities began at 5:00 p.m., as practitioners held banners reading "Only by disintegrating the CCP can the persecution end," and other messages. They displayed truth clarification placards to raise people's awareness about the CCP brutality, and call for an end to the persecution. Practitioners also demonstrated the five exercises to display Falun Dafa's peacefulness and goodness.
Many passersby stopped to view the practitioners' truth clarification displays and read the messages on the large banners. Some people took flyers and talked with practitioners to learn what Falun Gong is about, and learn about the persecution. Some people took photos of the practitioners doing the exercises, and showed support for the practitioners' efforts to end the persecution. Some learned to do the exercises while they were there.
The practitioners held a candlelight vigil at dusk. Carrying wreaths with photos of practitioners killed in the persecution, practitioners commemorated those who have lost their lives for their beliefs.
Background:
Falun Gong, also known as Falun Dafa, is a traditional Chinese spiritual discipline for mind and body. The practice involves slow, gentle movements and meditation. It is easy to learn, enjoyable to practice, and free of charge. Its guiding principles are based on Truthfulness-Compassion-Forbearance. The practice was first introduced by Master Li Hongzhi in China in 1992 and quickly spread by word of mouth throughout China and then beyond. Its beneficial effects in uplifting an individual's physical health, spiritual well-being, and moral character, not to mention its positive influence in the community and society as a whole, are undeniable. In fact, Falun Gong is practiced by over 100 million people in 110 countries. The main works of Falun Gong are available in over 30 languages.
On July 20, 1999, the Chinese Communist Party (CCP) launched a brutal persecution of Falun Gong.
According to figures from the Minghui/Clearwisdom website, up to now at least 3413 Falun Gong practitioners are confirmed to have been persecuted to death. Experts estimate that the actual figures are much higher. Hundreds of thousands of Falun Gong practitioners have been tortured in prisons, forced labor camps, and psychiatric hospitals. Moreover, the CCP-controlled military, public security, judiciary, and health care system have collaborated with each other to harvest organs from living Falun Gong practitioners in one of the most horrendous crimes in human history.
For over twelve years, practitioners have been constantly speaking out about the truth of Falun Gong and exposing the CCP's crimes in a tireless effort to end the persecution.