I Obtained a Second Life After Finding Falun Gong (Photo)
July 20, 2011 | By Dexiang, Clearwisdom correspondent from Washington, DC
(Clearwisdom.net) Ms. Pak Im Soon, dressed in a traditional Korean outfit said to me, "I obtained a second life after I found Falun Gong. Thank you, Master!" She was so happy that she joined the grand parade protesting 12 years of persecution in Washington, DC, on July 15, 2011. She began cultivation only five months ago and thinks that Falun Gong is miraculous. Her husband, Lee Jong Dae, was a cancer patient, and his cancer was cured soon after the couple started cultivating. Her diabetes disappeared, and both are enjoying good health in mind and body.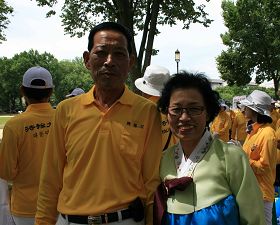 Mr. Lee Jong Dae and his wife, Pak Im Soon, during the DC parade on July 15
More than 2500 Falun Gong practitioners gathered in Washington, DC, and held a large-scale parade and rally on July 15, 2011, to "Disintegrate the CCP (Chinese Communist Party), Stop the Persecution of Falun Gong, and Support 100 Million Chinese Who Have Quit the CCP and Its Affiliations." They protested the CCP's cruel persecution of Falun Gong practitioners.
Seeing so many fellow practitioners from around the world, Ms. Pak was very excited. She said that when she and her husband saw a Shen Yun Performing Arts show five months ago, she felt that she was on top of the clouds. Her husband said the anti-cancer drugs were not working, and cultivating Falun Gong would be great. On a bus ride home, they expressed their wish to purchase Falun Gong books, and their illnesses were gone soon after.
Falun Gong cultivates Truthfulness-Compassion-Forbearance. Many practitioners have validated the miracles and wonders of Falun Gong during their cultivation process. Many practitioners have had experiences similar to this couple. Their personal experiences expose the CCP's lies and are living examples of the wonderfulness of Falun Gong.