The Tragic Story of Practitioner Mr. Tang Yi's Death (Photos)
July 20, 2011 | By a practitioner in Chongqing
Name: Tang Yi (汤毅)
Gender: Male
Age: 46
Address: Unknown
Occupation: Bridge engineer for the Fifth Company under China Railroad 11th Bureau
Date of Death: September 22, 2009
Date of Most Recent Arrest: May 2, 2008
Most recent place of detention: Xishanping Forced Labor Camp (西山坪劳教所)
City: Chongqing
Persecution Suffered: Forced labor, brainwashing, beatings, solitary confinement, torture, force-feedings, extortion, dismissal from workplace, home ransacked, interrogation, detention
(Clearwisdom.net) Mr. Tang Yi graduated from the Southwest University for Transportation with a Master's degree and later became a senior railway engineer. His hometown is Anzu Town of Tongliang County, Chongqing.
Because he believed in Falun Gong, Mr. Tang Yi was put under house arrest by his original work unit from July-September 1999. He was also sent to the Xishanping Forced Labor Camp for a long period of time. He was released for medical treatment in November 2008 after being diagnosed with bone tuberculosis. He passed away on the morning of September 22, 2009 at the age of 46.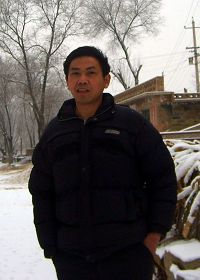 Mr. Tang Yi at Zhongtaiyuan railroad construction site in 2007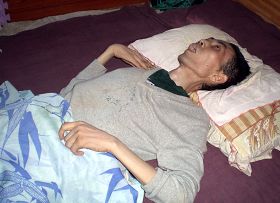 Mr. Tang Yi just after his death
1. Mr. Tang Yi in the Xishanping Forced Labor Camp
Officials from the Chongqing 610 Office sent Mr. Tang Yi to the Xishanping Forced Labor Camp on July 10, 2001. He started a hunger strike that evening to protest his illegal detention.
During the two months in the "assembling" division, Mr. Tang had tried to explain the facts about Falun Dafa to the guards and detainees. He hand-copied many new Dafa articles and passed them out to other practitioners, which helped many practitioners in the labor camp obtain the latest Dafa articles. These articles brought hope to those who had been detained in that evil environment for a long time and encouraged them to resist the persecution.
In late September 2001, Mr. Tang was transferred to the "education" division along with several other practitioners. Because practitioners refused to wear the prison uniforms or sing songs that praised the evil communist party, guards instigated drug offenders to beat these practitioners. They used two wooden stools to beat practitioners so hard that the stools broke. They also whipped practitioners with leather belts. Mr. Tang was beaten so brutally that he walked with a limp, his face was swollen, and he was covered with blood and bruises.
On December 17, 2001, more than 30 guards from different divisions gathered in the "education" division to start a new round of torture. During a short period of time, many practitioners had to be sent to a hospital from being beaten so severely, including Mr. Li Hongfu from Qijiang, who later died. Mr. Wang Zhengrong from Jiangjin was sent to a hospital three times, and Mr. Han Junhe from Jiangbei, who was nearly 70 years old, and had a broken hand.
It was later discovered that over 100 people had been injured and sent to a hospital. Several practitioners were injured so severely that they passed away shortly after they were released from the labor camp. Mr. Wang Jianguo, Mr. Li Hongfu, and Mr. Chen Min were among those who died.
While being beaten, dirty socks or cloths were put into practitioners' mouths to prevent their cries from being heard. Six or seven drug offenders tightly held a practitioner down on the ground, and others kicked and stomped on the practitioner's legs and feet. They then struck his hands, feet and face with a bamboo or wooden stick and their shoes. The practitioner's feet and hands swelled up, and his face was covered with blood.
Mr. Wang Zhengrong, 52, suffered from this brutal abuse. Instigated by guard Sun Ping. He Weidong and other prisoners held Mr. Wang down on the floor. Another drug offender, Kong Lin, struck his face repeatedly with a shoe until he was stopped by other practitioners. At that time, Mr. Wang had a swollen and bloody face, and was unable to see anything. He had to be sent to a hospital for medical treatment.
Mr. Tang Yi was listed as a "key figure" in the labor camp. For more than a month, many "education officials" called him into their offices to have a "chat." They tried to entice him with term reductions and relaxed rules in order to make him give up his belief. When this failed, they began to physically torture him. Drug offenders were directed to beat him in various ways. He was forced to listen to radio programs which slandered Falun Gong for several hours each day. He was even forced to stay in one position during his short sleeping hours. When he moved, drug offenders woke him up.
When Mr. Tang was released in 2003 for medical treatment, he was in very poor condition. He could not lift one of his hands above his head, and had trouble moving one of his feet. He was this way for years.
2. Mr. Tang Yi Again put in Xishanping Forced Labor Camp
Mr. Tang Yi went to Kaili City, Guizhou Province on a business trip in April 2008. On May 2, 2008, when he took a train back to Chongqing, the railway police checked his luggage and found Falun Dafa books and his laptop. He was taken to Hangzhou City and detained in the Hangzhou Railway Detention Center from May 5-27. He went on a hunger strike during his detention.
On May 28, he was sent to Chongqing and was detained in the Baikelin Detention Center, Shapingba District. Officer Ou Lichang from the Xinqiao Police Station in the Shapingba District and others later took him to Xishanping Forced Labor Camp.
Mr. Tang wrote about his experiences in the labor camp in May 2009. He stated,
"I was mistreated in the Xishanping Forced Labor Camp. I had been on a hunger strike for 32 days before I was taken to the labor camp. I was very weak. Nonetheless, I was often pushed and held down on the floor. They grabbed my injured hand and dragged me over the floor, back and forth, which caused dislocation of my joints and made my injury worse. I suffered from violent force-feedings, sometimes by drug offenders rather than nurses or doctors. Sometimes, they slapped or punched me during the force-feedings. I was sometimes held down on the dirty floor and force-fed. Sometimes, the feeding tube was difficult to insert through my nose, and made my nose bleed after several attempts.
On September 28, 2008, I was once again taken to the Xishanping Hospital for forced feeding. The nurse tried several times to insert the tube into my stomach but failed. Then the drug offenders came and held my body down. They tried to insert the tube through my nose and pushed it in and out many times, which caused my nose and mouth to bleed. I almost suffocated when the tube was inserted into my wind pipe. They also kept slapping and punching me. The force-feeding process took more than an hour."
There are more details that we don't yet know. Mr. Tang Yi died shortly after he was released for medical treatment.
Related articles:
http://www.clearwisdom.net/html/articles/2009/9/28/111145.html
http://www.clearwisdom.net/emh/articles/2008/10/24/101697.html