French Public: The CCP Is Worse than Hitler
(Clearwisdom.net) On June 26, 2011, International Day in Support of Victims of Torture, Falun Gong practitioners exposed the Chinese Communist Party's (CCP) 12-year-long brutal persecution of Falun Gong at the "Solidor en peinture" festival held in Saint-Malo, France.

Solidor en peinture festival

Falun Gong practitioners demonstrate the exercises, which catches the attention of visitors

People view poster boards with information about Falun Gong

A group photo in front of the Falun Gong booth

Demonstrating the fifth Falun Gong exercise
The 17th annual "Solidor en peinture" festival on June 25-26 attracted about 800 artists and 15,000 spectators from across France. At the event, Falun Gong practitioners introduced Falun Gong to the public and called for an end to the CCP persecution. After learning the facts, many people signed the petition condemning the CCP's atrocities. Several artists and visitors learned the Falun Gong exercises at the event.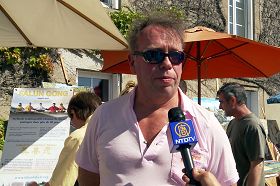 Accountant Francois Lemoine condemns the persecution
Having listened to a Falun Gong practitioner's introduction, accountant Francois Lemoine said that he was shocked. He had never thought the CCP was so cruel and narrow-minded.
Mr. Lemoine said, "We must continue condemning the atrocities of this cruel regime and urge our government to move in the right direction."

Mark Mountainborough said that CCP was worse than Hitler.
Along with his three granddaughters, Mark Mountainborough said in shock, "I think the persecution is shameful and sad. It (the CCP) is worse than Hitler's regime. I think that Western countries should not trade with this authoritarian country. The CCP has no legal right to enforce its dictatorship. In France, I say anything I want, but one cannot do so in China, because the CCP is a big scoundrel, robber, and murderer. Its shamefulness is disgusting. Although my words are a bit vulgar, they are the facts."

Mr. Mountainborough was very grateful to the Falun Gong practitioners who let him know the facts.

Painter Beatrice Humbert said, "As an artist, I would like to use my paintings to help stop the persecution."
Beatrice Humbert, a painter, said, "I was stunned by what I saw today. The root of the problem is the CCP's totalitarian dictatorship. We cannot ignore this, but what can we do? As an artist, I would like to use my paintings to help stop the persecution."

Painter Yvonne Cardol said, "I hope that one day all this violence will disappear."
Yvonne Cardol, another painter, said, "Persecution, genocide, organ trade, China's human rights. We know a bit, but not much. Such genocide is yet another new discovery. I hope that one day all this violence will disappear. Today we learned a lot about things we usually do not hear about."
Mme Herve from Rennes said that the CCP is by committing murder, and asking the victims' families to pay. She signed the petition calling for an end to the persecution.
A female painter from Rennes said that while she was learning the third Falun Gong exercise at the festival, she felt something turning in her abdomen. When a practitioner told her it was a Falun, she was very happy.