Shanghai Engineer Sentenced Again, Prison Denies Family Visits
July 02, 2011 | By a Clearwisdom correspondent in Shanghai, China
Name: Zhang Qin (张勤)
Gender: Male
Age: 54
Address: Shanghai
Occupation: Engineer
Date of Most Recent Arrest: June 5, 2009
Most Recent Place of Detention: Tilanqiao Prison in Shanghai (上海提篮桥监狱)
City: Shanghai
Persecution Suffered: Imprisonment, illegal sentencing, denied mail, torture
(Clearwisdom.net) Mr. Zhang Qin was illegally arrested for the sixth time in June 2009, and sentenced to five years in prison by a Xuhui Court in March 2010. This action represents the second illegal sentence he has received. He was taken secretly to Tilanqiao Prison in Shanghai.
His parents, who are in their eighties, tried to locate him several times by calling and mailing letters to the Shanghai Bureau of Prison Administration and Tilanqiao Prison. However, they never received a reply. They were finally able to see their son in November 2010, and were extremely worried about his physical condition. They haven't received any communication from him since that time. In March 2011, after 12 months of imprisonment, the elderly couple went to visit him again. In April, the prison cancelled the meeting, claiming that Mr. Zhang insisted on practicing the Falun Dafa exercises. In May, chief Xiang of the First brigade where Mr. Zhang was being held stated that he'd not only practiced the exercises, but also spoke to others about Falun Gong, thereby violating prison rules. Subsequently, the officials cancelled the family visit again, and put him under strict supervision. The officials indicated that Mr. Zhang's behavior would determine whether he could meet with his family again. At this time, his family doesn't know whether or not they will be allowed to see him again, or if he has been tortured.
Zhang Qin was repeatedly persecuted through illegal means and detained on several occasions since July 20, 1999.
Detained and Tortured in 1999 for Appealing in Beijing
Zhang Qin went to Beijing to appeal for the right to practice Falun Dafa in 1999, and was subsequently held at the Beijing Detention Center for one month. In October 1999, he was detained at the Jingan District Public Security Sub-bureau in Shanghai, and brutally beaten by police who attempted to "re-educate" him, since he insisted on practicing the exercises.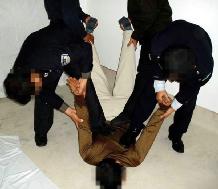 Torture demonstration: Merciless beating
At the end of 1999, Mr. Zhang was arrested by Xuhui District District Public Security Sub-bureau officials in Shanghai, and held at the Xuhui District Detention Center. Officer Qiu struck his face over 200 times, until he was too tired to lift his arms. Physical punishment was administered frequently, as well as food and sleep deprivation, day and night.
Arrested, Tortured and Sentenced to Four Years in 2001
In March 2001, Mr. Zhang was arrested for the fourth time after displaying Falun Gong truth clarification posters. He was forced to stand facing a wall continuously for six days and nights at the Xuhui District Detention Center. Mr. Zhang didn't cooperate with the guards, so they beat him, causing disorientation. His feet were severely swollen and bleeding. Guards were afraid that he might die in the detention center, so they called his family and claimed that his feet were infected, requiring treatment at the municipal hospital; that there was a possibility of amputation, and asked them to pay 500 yuan to cover his expenses. His 76 year-old father and mother collected and sent the money immediately, but the officials didn't provide a receipt.
Although Mr. Zhang recovered after the emergency treatment, he was sentenced to four years of imprisonment by the Xuhui Court. During the initial period of his sentence in Tilanqiao Prison, he was brutally beaten for two hours daily by guards and incited prisoners. They hit him specifically in muscular areas, which didn't leave as much noticeable bruising. This violence was slightly restrained when his overseas relatives were visiting. Mr. Zhang endured four years of prison life behind an iron-barred window. He was released on December 30, 2004 at the end of his prison term, but was regarded as someone requiring observation, so neighborhood committee officers often harassed him at home, and sent people to monitor his whereabouts.
Arrested Again in 2005, Sentenced to One Year of Forced Labor
In November 2005, Mr. Zhang was arrested again by the 610 Office, taken to the Minhang Detention Center and later sentenced to one year of forced labor. He went on a hunger strike to protest the persecution. The Detention Center then sent him to Tilanqiao Prison hospital, where he was force-fed throughout the year of forced labor.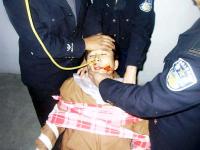 Torture demonstration: Barbaric force-feeding
Detained a Sixth Time in 2009
In June 2009, Mr. Zhang was arrested for the sixth time. His parents were extremely worried and anxious for their son's safety. They were in constant fear for his life. One day felt like one year to them, and they didn't know what torture their son would suffer again.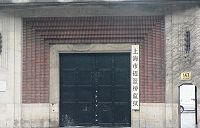 Tilanqiao Prison in Shanghai
Tilanqiao Prison in Shanghai: (area code 86-21), switchboard: 35104888
Chief Xiang of the First brigade that detained Zhang Qin: 35104888 ext. 7102
Liu Jinbao, warden: 35104888 ext. 5217
Related articles:
http://www.clearwisdom.net/html/articles/2011/2/19/123333.html
http://www.clearwisdom.net/html/articles/2010/10/21/120929.html
http://www.clearwisdom.net/html/articles/2009/11/13/112343.html
http://www.clearwisdom.net/html/articles/2009/8/9/109901.html