Falun Gong Attracts Visitors at Belgium Summer Events (Photos)
July 15, 2011 | By a Falun Dafa practitioner from Belgium
(Clearwisdom.net) Summer in Belgium is a season of various events and activities. Music festivals, multicultural festivals, and other kinds of fun activities provide residents a rich selection of outdoor activities. Falun Gong, because it benefits both mind and body, is free to learn, and is deeply rooted in the culture of Asian cultivation practice, has become a permanent attendee to many summer community events.
People have learned about Falun Gong at the events, and some have began practicing the exercises. Group practice sites have been formed in the country, and more and more new students are coming.
On June 5, 2011, Falun Gong practitioners participated in "The Environment Festival" (La Fête de l'Environnement) in Brussels. The Falun Gong demonstration attracted many passersby. Some said they wanted to learn the exercises, and would join the teaching class the next day.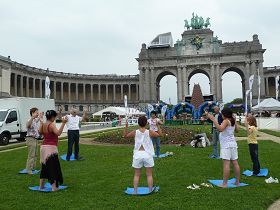 Falun Gong demonstration at Brussels "The Environment Festival" June 5, 2011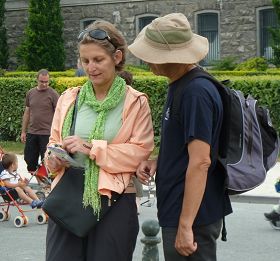 Reading a flier introducing Falun Gong
On June 25, Falun Gong practitioners participated in the "World Festival" (Feest In 'T Park) in Minnerwaterpark in Brugge, a famous tourist city. It is a free festival with workshops, a world village for children, a "southern" market, and world music. The festival attracts locals as well as many tourists from other regions and foreign countries.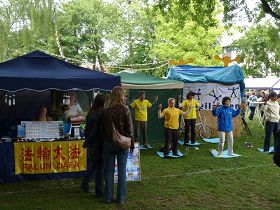 Falun Gong exercise demonstration at 22nd World Festival in Brugge Belgium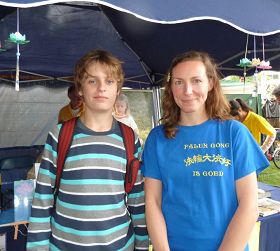 Simon (left) wants to learn the Falun Gong exercises
Nele, a local Falun Gong practitioner, said they always see some new students after the world festival. This year, she met a special teenager, Simon.
"Shortly after we set up the booth, a 14-year-old boy named Simon came over to view the display boards and showed strong interest in the Falun Gong exercises and books." said Nele.
He bought the book "Falun Gong" and began reading it. He later had a discussion with several practitioners about cultivation and the meaning of life. Simon said he had searched online for qigong exercises but didn't find any good ones. He saw the Falun Gong exercises at a park and felt attracted to the practice, so he wanted to learn. Practitioner Jos taught him the exercise movements. When he saw other practitioners demonstrating the exercises beside the booth, he happily joined them.
Nele said they discussed how to apply principles of Truthfulness-Compassion-Forbearance into day to day life. They also touched on issues such as video games. Later, Simon said he would like to join the local group exercises after the festival.
On June 26, Falun Dafa practitioners participated in the Ottertrotter Festival in Mechelen. Local authorities estimated that 13,000 residents attended the event.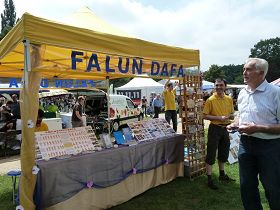 Falun Gong booth at Ottertrotter Festival in Mechelen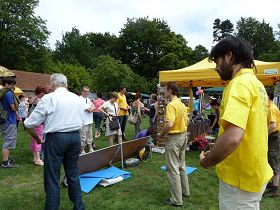 Falun Gong exercise demonstration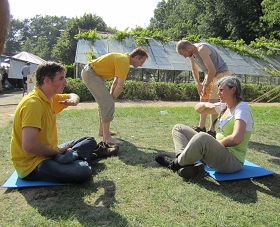 Learning Falun Gong exercises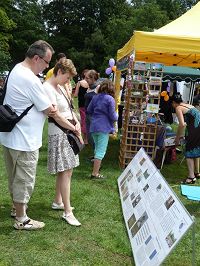 Falun Gong booth at Ottertrotter Festival in Mechelen Belgium