Canada: Falun Gong Entry is Awarded in the Annual Calgary Stampede Parade (Photos)
(Clearwisdom.net) The Calgary Stampede Parade kicked off this year's 10-day Calgary Stampede rodeo and western fair on July 8. One hundred sixty-seven groups participated in the opening-day parade this year. The Falun Gong entry won second place in the category of "Most Creative." The Calgary Stampede is a decades-long tradition that attracts visitors and participants from around the globe.
British Royal visitors Prince William and Kate attended the parade this year, so the always festive event attracted even more participants and spectators than usual.

Falun Gong procession
The grand float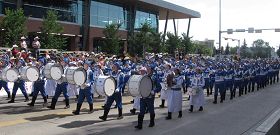 Divine Land Marching Band
The Falun Gong entry consisted of a grand float, "celestial maiden" dancers and the Divine Land Marching Band. Their performance won enthusiastic applause. Many people commented that the Falun Gong entry was the most beautiful one.
Mr. Liang, an immigrant from Guangdong, China, comes to the parade every year. He said, "I like the Falun Gong group the best. They are the most beautiful one. They make Chinese people proud."
Ms. Chen, who just immigrated to Canada from China, came to the parade with her family. She had never seen the Falun Gong group before. When the Falun Gong entry came by, she didn't realize what it was at first. She just thought the float was great, and the little girls on it were cute. When she saw the words "Falun Dafa" on the float, she was shocked. She was surprised to find that Falun Gong practitioners are so very different than the negative propaganda she had heard from the state-run media in China. She regretted that she didn't take any pictures when the Divine Land Marching Band passed by. When she realized that it was the Falun Gong group, she shouted to her friends: "Take photos! Take photos!"
People of all backgrounds were impressed by the float. Some shouted, "Beautiful!" Some asked for more information about Falun Gong. A Danish lady said that she and her friends were amazed by the band's performance and the float. "We were blown away. I felt warm energy surrounding me. All of my thoughts stopped. It was incredible," she said excitedly.
Kevin, a local citizen who works for a gas company, said that the Falun Gong entry was unique. "You can feel that they are different. Their music is touching. You can see the power of peacefulness from their faces," he said.
"The Falun Gong group is the best," said Ms. Bo, a Chinese woman who works at a local college, "It is such a large group and their performances, costumes, and float are the most well-designed."