Germany: Falun Gong Welcomed at the City of Dortmund International Arts & Culture Week (Photos)
June 07, 2011 | By a practitioner in Germany
(Clearwisdom.net) Three weeks ago, 400,000 German football fans celebrated Dortmund winning the 2011 Bundesliga title. Beginning on May 28, 2011, this West German city again celebrated, this time in honor of its "International Arts & Culture Week." Falun Gong practitioners participated in the opening ceremonies and in the exhibitions.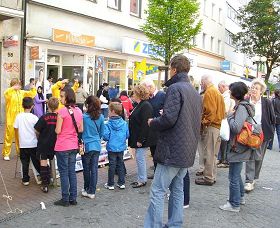 A constant stream of visitors visited the Falun Gong information desk.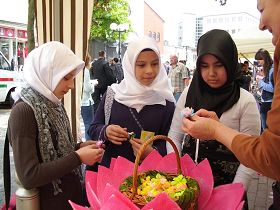 Three Turkish girls were delighted with the pretty paper lotus flowers.
A Constant Stream of People Visit the Falun Gong Information Desk

The city of Dortmund is located in the western part of Germany near the River Rhine. On May 28, the 13th Münster Street Multicultural Festival in North Dortmund marked the start of this cultural week. During the day, Münster Street was full of people from India, South Korea, Turkey, China, Africa, and almost every other country in Europe and America displaying their folk cultures. Cuisines, music, and dance were highlighted. Practitioners at the Falun Gong booth gave people interesting information and paper lotus flowers.
The Falun Gong booth was only 20 meters away from the central stage. Practitioners originally from China, Germany, and Russia introduced Falun Gong to the visitors. Falun Gong has spread to more than 100 countries.
A great variety of informative Falun Gong materials were displayed on the desk at one side of the booth. Behind the desk was a huge banner with the words "Truthfulness-Benevolence-Forbearance." With this principle in mind, plus the exercises, Falun Gong practitioners benefit from better health and improved standards of behavior. Everyone interested in Falun Gong received a handmade paper lotus flower and was happy to have it.
On the other side of the booth was a large display board with a collection of pictures showing Falun Gong both in China and worldwide. Practitioners demonstrated the Falun Gong exercises to passersby. Many people inquired, took photographs, or gathered to watch; some even tried to mimic the hand gestures of the exercises.
Two teenagers stayed near the booth the entire time. They sometimes followed the exercises, sometimes read the displays, and sometimes asked for balloons and paper lotuses. They also asked Falun Gong practitioners many questions.
A lady working in a German school came to visit as soon as the booth was set up. She was seeking a way that could help her feel peaceful. On seeing Falun Gong, she felt that Falun Gong was exactly what she was looking for and wanted to give it a try. She asked in detail the time and place of the practice sites, and repeatedly said that she would join. Learning that other Falun Gong practitioners were going to demonstrate the exercises on the central stage, she waited to see it. During the demonstration, she listened carefully.
Passing by the Falun Gong booth, a security officer on duty said that his mother was also practicing a kind of meditation. He asked for a Falun Gong introduction leaflet for her.
Many people not only understood Falun Gong, but also asked for details of the practice site. They encouraged Falun Gong practitioners to continue their efforts.
Exercises Demonstration on the Stage

Around 1 p.m., eight practitioners in yellow costumes demonstrated the exercises on the 13-meter-long central stage. Among them were Chinese and German men and women, ranging in age from their 30s to their 70s.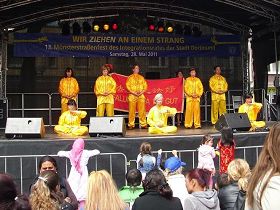 Exercise demonstration on the stage
The five Falun Gong exercises are easy to learn, and each movement is gradual, slow, and round. With the serene music in the background, people listened to a practitioner's explanation of each movement carefully. These people of various nations applauded warmly afterward.
A German lady came to the information desk after seeing the demonstration. She left and came back again. When the exhibition was to finish, she came once again. She was very interested in Chinese culture.
A couple from Hong Kong passed by the information booth. They said they saw a lot of people practicing Falun Gong in Hong Kong, and some in Dusseldorf, Germany. They were very happy to see Falun Gong again that day.
Falun Gong in the Ruhr Nachrichten newspaper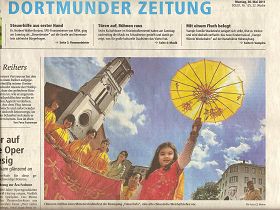 Large picture in the Ruhr Nachrichten: Chinese introduce Falun Dafa, an ancient Chinese wisdom, at the Munster Festival
On May 30, the Ruhr Nachrichten, the second largest daily newspaper in the city of Dortmuond with a daily circulation of 150,000, carried a large photo on its front page of Falun Gong practitioners holding a red banner with yellow words saying, "Falun Dafa is good." Against the background of a blue sky, a yellow umbrella held by a young Falun Gong practitioner in traditional clothing was very striking. The well-known Der St. Joseph Kirche was behind the practitioners in the photo.
Explanation under the picture: Chinese introduce Falun Dafa, an ancient Chinese wisdom, on Munster Festival.