Switzerland: The Art of Truthfulness, Compassion, Tolerance Exhibition Held in Frauenfeld (Photos)
June 03, 2011 | By Swiss practitioners
(Clearwisdom.net) The Art of Truthfulness, Compassion, Tolerance exhibition was held at the Glaspalast administration building in Frauenfeld, Switzerland. The exhibition lasted for two weeks between April 29 and May 14, 2011, attracting many people from all walks of life.
This art exhibition displayed forty-eight pieces of artwork. It showed the wonderful realm of harmony between humankind and heaven, the beauty of life assimilating to Truthfulness-Compassion-Forbearance, and the display of good and evil in the Chinese Communist regime's brutal persecution of Falun Gong.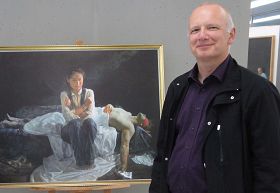 Director of External Affairs for Frauenfeld Mr. Marcus Kurt attends the exhibition
Director of External Affairs for Frauenfeld Mr. Marcus Kurt and some of his colleagues attended the opening ceremony. He said after viewing the exhibition that this exhibition can help people to truly understand Falun Gong and deeply experience the reality of the brutal persecution and that we all must do more to stop it.
A civil servant (left) and her friend viewing the paintings
After viewing the exhibition, a female civil servant was very moved and said: "Falun Gong's principles of Truthfulness-Compassion-Forbearance is very different from the Chinese Communist regime's belief, and that's why the Chinese Communist regime can't accept it." Her friend said that Chinese Communist regime's persecution of Falun Gong is like the regime digging its own grave. She went on to say, "Falun Gong can help people to have a healthy body and achieve inner peace and that if people are happy with their physical and spiritual well being and satisfied with their life, it can only benefit the state. But the Chinese Communist regime instead chooses to suppress Falun Gong, as a result China would certainly not be stable and the Chinese Communist regime will definitely collapse."
An elderly couple were also deeply touched by the paintings. The lady broke down in tears. She couldn't believe that anyone could so brutally torture others. The gentleman said that he thinks that western governments should and are able to do more to stop this persecution. The couple returned to the exhibit several times, bringing friends and family members to see it.
Visitors view the Art of Truthfulness, Compassion, Tolerance
A freelance reporter was deeply shocked by the brutal persecution portrayed in the artwork. She said that it is necessary for the artists to directly portray the brutality of the persecution and that this is the best way to awaken people's conscience.
A Chinese woman brought her two daughters with her to view the exhibition. She was very touched. Part of message she wrote in the visitor's book read: "This exhibition not only helps Chinese people, but also foreigners, to understand and learn about China...I hope this exhibition will be shown in as many cities as possible so that more people can learn about the evil nature of the Chinese Communist regime."
Her daughter, a middle school student, also wrote in the visitor's book: "This exhibition has touched me deeply. It reminded me of my childhood. At that time I was too young to understand these things, but now I think I can understand. I think I can also contribute to the effort to stop this persecution." Before they left, she took three petition forms for her school classmates and friends to sign to call for an end to the persecution of Falun Gong.
Another young lady wrote in the visitor's book: "I left this exhibition very shocked. I couldn't believe the brutalities committed against these innocent people. I want to express my deepest respect to Falun Gong practitioners. I hope the persecution will be stopped as soon as possible."