Japan: Falun Gong Invited to Participate at a Benefit Performance in the Earthquake Disaster Zone (Photos)
June 03, 2011 | By a practitioner in Japan
(Clearwisdom.net) On May 29, 2011, a benefit performance was held in Kesennuma City, Miyagi Prefecture, an area hard hit by the recent earthquake and tsunami. Falun Gong group was one of three groups invited to participate by the host, the Upper Kesennuma City Welfare Council.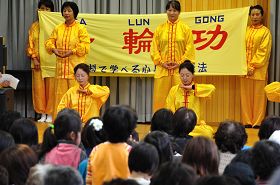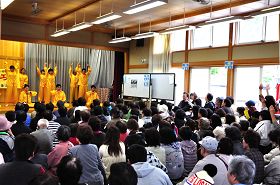 Falun Gong practitioners demonstrate the exercises at a benefit performance in Kesennuma, Japan
Nearly 200,000 survivors of the earthquake and tsunami have lived in temporary disaster sheltersfor the last two months. Many of them endure the pain of losing family members. Their life is full of stress. To relieve the stress of the survivors and encourage them to work together to overcome the difficulties, Upper Kesennuma City Welfare Council advanced its holiday celebration from October to the end of May and held a benefit performance to encourage everyone.
Practitioner Yang Zhang, a teacher in Northeast University of Japan, said that Falun Gong practitioners have been teaching Falun Gong in the disaster shelters in recent two months. Yang said, "After learning the exercises, the survivors felt very good. Many of them said their bodies became warm and relaxed and they had a better mood. The news that Falun Gong is good for survivors' health spread among the shelters, and many contacted local practitioners through the welfare council and asked us to teach Falun Gong there. This time the director of the volunteer management center of the welfare council invited us to participate in this benefit performance."
Audience members ask practitioners to teach the exercises after the demonstration
Yang explained that in the last two months, practitioners have taught the Falun Gong exercises in disaster shelters every weekend and have visited more than 160 shelters. Some of the shelters are located in remote mountains or near the nuclear radiation area. Falun Gong practitioners went wherever they were asked to go.
Yang said, "Falun Gong practitioners have personal experience in improving health and learning the real meaning of life. We believe that practicing Falun Gong can help the survivors to overcome the difficulties by improving health and relieve stress."
"From the results of visiting 160 shelters in recent two months, the shelter residents and staff all have good comments. Some people with insomnia can sleep well." She continued, "Many people experienced stress relief."
The practitioners will continue to teach Falun Gong in the disaster area.
The earthquake and tsunami on March 11 caused devastating disaster to Miyagi, Iwate Prefecture, Fukushima Prefecture. About 15,000 people died and more than 10,000 missing. More than 100,000 homes were damaged by tsunami. More than 60,000 people are still homeless. Kesennuma City is one of the hardest hit areas. One third streets were flooded and burned by fire due to fuel leak.