NTDTV Finalizes Contract Renewal with Taiwanese Satellite Operator – Broadcasts Into China Will Continue (Photos)
June 29, 2011 | By Li Huirong
(Clearwisdom.net) On the afternoon of June 27, 2011, New Tang Dynasty Asia Pacific Television (NTDTV) and Taiwanese telecommunications giant Chunghwa Telecom finalized a contract renewing NTDTV broadcasts into Taiwan and China. The signal will be carried on the new ST-2 Satellite that launched in May 2011. Negotiations were prolonged and difficult, as Chunghwa initially refused to renew the contract, claiming it didn't have the bandwidth to carry the NTDTV signal.
People close to the issue believe that interference from China's communist regime was the real reason behind the contract difficulties. NTDTV carries independent news and opinion, and is one of the few media willing to tackle the persecution of Falun Gong head on. The Chinese Communist regime therefore employs every means at its disposal to stop NTDTV from reaching inside China with its broadcasting.
New Tang Dynasty Asia Pacific Television General Manager Ms. Chang Ruey-lan said that according to Chunghwa Telecom, now that the new contract is signed, between early and mid-August, NTDTV and other customers on ST-1 will be transferred in batches to the ST-2 Satellite. NTDTV will inform all NTDTV viewers, particularly its large number of mainland Chinese viewers, how to access NTDTV after receiving an official notification from Chunghwa Telecom in July.
NTDTV Has Gained Worldwide Attention
Headquartered in New York City, NTDTV's Asia Pacific branch has been using Chunghwa Telecom's satellite since August 2007. Chunghwa Telecom formally notified NTDTV on April 12, 2011 that it would not renew its contract when it expires on August 9, citing insufficient bandwidth as the reason for no longer carrying the station on its new satellite, ST-2. People viewed the reason given by Chunghwa Telecom to be an excuse, with the Chinese Communist Party as the behind-the-scenes manipulator. The incident gained wide attention and concern from people in Taiwan, the United States, Europe, and the global media community.
U.S. Congressman Supports NTDTV's Contract Renewal

U.S. Congressman Dana Rohrabacher
U.S. Congressman Dana Rohrabacher, chairman of the Oversight and Investigations Subcommittee of the House Foreign Affairs Committee, wrote to Taiwan's President Ma Ying-jeou on May 3, 2011. He asked questions about the motives behind the decision to terminate the Taiwan state-controlled satellite corporation's services to a media that promotes democracy. He affirmed NTDTV's role in spreading news and information to mainland China, which is crucial in breaking through the blockade of uncensored information, and providing a channel for Chinese people to learn the truth.
Reporters Without Borders Concerned About NTDTV's Contract Renewal Case
Reporters Without Borders wrote to Premier Wu Den-yih in mid May, and issued a press release pointing out, "The contradictions in the reasons given by Chunghwa Telecom for not renewing the contract and the supposed limitations of the new satellite's technical capacity suggest that the real reasons lie elsewhere," "The similarities of this dispute and the dispute between NTD-AP's parent station, NTD-TV, and the French satellite operator Eutelsat, make us fear the worst."
Taiwan Government Sides with NTDTV and Urges Chunghwa to Provide 4 MHz, or 2.2 Percent of the ST-2 Bandwidth to NTDTV
Taiwan's Premier Wu Den-yih chaired a cross-departmental meeting on May 24, regarding the obstacles that NTDTV was meeting in its contract renewal negotiations. The Ministry of Transportation and Communication, National Communications Commission (NCC), Chunghwa's President, representatives of Taiwan's telecom regulator, and NTDTV's spokesperson were in attendance.
Premier Wu affirmed that NTD is a yardstick of freedom of speech, and that Chunghwa's operations should be expanded beyond strictly commercial considerations. He wanted Chunghwa to give NTDTV priority on the new satellite, or if there truly isn't enough bandwidth, then Chunghwa would have to rent another satellite with the same coverage as the current one and continue servicing NTDTV.
US Congress Hearing Shows Concerns Over the CCP's Violation of Freedom of Press
Rep. Gus M. Bilirakis mentioned the interference by the Chinese Communist Party (CCP) with the media of its Asian neighbors at a hearing of all members of the House Foreign Affairs Committee on June 2. Citing media reports from The Economist, BBC, and Taipei Times, he stated, "Beijing pressures some of its Asian neighbors to interfere with and even stop some independent media in these countries from broadcasting, either locally or to mainland China. These media include Radio Era Baru in Indonesia, Sound of Hope Radio network in Vietnam, and New Tang Dynasty TV in Taiwan."
Rep. Bilirakis also said, "This is particularly troublesome for two of the three democratic countries." He also asked scholars attending the hearing to voice their opinions regarding Beijing's interference with democracy in other democratic countries.
Sophie Richardson, advocacy director of Human Rights Watch's Asia Division, who attended the hearing, said that cases of the CCP violating freedom of the press have been reported. "This clearly shows that the Chinese government has made efforts to shut down transmissions by particular kinds of media outlets affiliated with Falun Gong, and we are very concerned about the efforts to make sure those can be broadcast either in the mainland or to Chinese speaking communities across Southeast Asia."
Vice-President of the European Parliament Writes to Taiwan's President Showing Concern Over the Case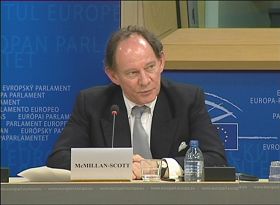 Vice-president of the European Parliament Edward McMillan-Scott
In a major decision during a budget negotiation session on June 1, the Taiwan Legislative Yuan requested the Ministry of Transportation and Communication to urge Chunghwa Telecom to provide bandwidth from its ST-2 satellite for broadcasting programs from NTD Television. But Chunghwa didn't comply with the decision. Edward McMillan-Scott, one of the vice-presidents of the European Parliament responsible for democracy and human rights, wrote an open letter on June 16 to Taiwan's President Ma Ying-Jeou, expressing hope that this incident could be "resolved quickly and fairly." He also urged President Ma to "look into the matter and try to reach a solution that allows NTD to continue its valuable broadcasting to the Asia region using the Chunghwa satellite."
Call for Continuous Support for NTDTV
NTDTV completed its satellite contract with Chunghwa Telecom on June 27. NTDTV Asia Pacific branch general manager Ms. Chang Ruey-lan expressed thanks to people everywhere for their continuous concern and attention to this matter. She said, "First, I'd like to thank the government and the public in Taiwan, regardless of parties or social strata, for supporting and assisting NTDTV in striving to receive continuous services from the ST-2 satellite, that is under the government's protection. In particular, [I want to thank] supporters from more than 20 provinces in China, and politicians from Europe, the U.S., and Asian countries, for sending letters that call upon the Taiwan government to uphold independent media network NTDTV, to continue broadcasting uncensored information to the Asian regions [including China]."
Considering that the CCP has tried all means possible to block NTDTV, which is dedicated to transmitting uncensored information and promoting authentic Chinese culture, Ms. Chang especially hopes supporters in Taiwan and overseas will continue supporting NTDTV, and show concern about NTDTV's regular broadcasting. She said, "By supporting NTDTV, you are upholding your right to obtain the truth, and safeguarding freedom of speech and freedom of press."
Related articles:
http://www.clearwisdom.net/html/articles/2011/5/8/125011.html
http://www.clearwisdom.net/html/articles/2011/5/17/125311.html
http://www.clearwisdom.net/html/articles/2011/6/10/125927.html
http://www.clearwisdom.net/html/articles/2011/6/11/125951.html
http://www.clearwisdom.net/html/articles/2011/6/21/126180.html