Toronto, Canada: Raising Awareness about the Persecution of Falun Gong at the International Dragon Boat Race Festival (Photos)
June 29, 2011 | By Zhang Yun
(Clearwisdom.net) The 23rd Toronto International Dragon Boat Race Festival was held from June 25 to 26 at Toronto Center Island. As in past years, the local Falun Gong practitioners and students from Minghui School gathered at the island and introduced Falun Dafa to event spectators.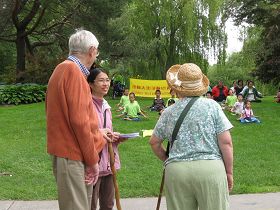 Practitioners introduce Falun Dafa to people near the ferry to Center Island, Toronto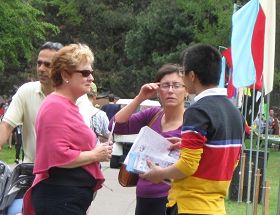 Practitioners introduce Falun Dafa to people near the ferry to Center Island, Toronto
Close to 170 groups, over 5000 people, participated in the race this year. Over 100 races were held in two days. The event attracted over 100 thousand spectators.
While waiting for the ferries that go to Center Island, many spectators stopped to watch practitioners demonstrating the Falun Gong exercises. Many people, both Chinese and Western, asked questions and took materials with them.
Ms. Wang Jinju, a volunteer at the Service Center for Quitting the Chinese Communist Party (CCP), said, "For the past two days we have tried to tell the Chinese people who came to the festival about the CCP's brutal suppression of Falun Gong in China. During this event, more than 120 Chinese people quit the CCP and its affiliated organizations."
"This is what I came here for."
Mr. Bi from China was waiting for a ferry at the dock with his 9-year-old son. When Ms. Wang began talking to them about quitting the CCP, his son interrupted, "This is what I came here for. I just came here from China. Please help me quit the CCP and its affiliations." Mr. Bi said that he had already quit the CCP and its affiliations a year ago through another Falun Gong practitioner.
Another young couple mistakenly thought that Ms. Wang had been hired to persuade people to quit the CCP. When they realized that her volunteer efforts were completely for the good of others, they too quit the Communist Youth League.
"It is such a peaceful practice, I want to learn."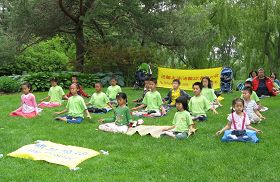 Children from the Minghui School do the sitting meditation.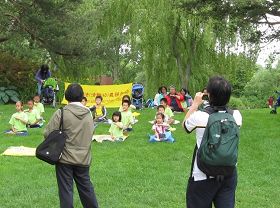 Many tourists take pictures of the children exercising.
Children from the Minghui School, an education program based on the teachings of Falun Dafa, went to Center Island with their parents and teachers. When they performed the Falun Dafa exercises, it caught the attention of many spectators. Some took pictures and videos and many took materials.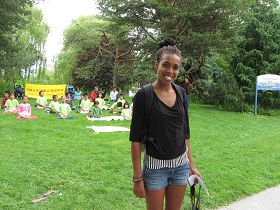 Solana from Ryerson University wished to join the children in meditation
Solana, a student at Ryerson University, wanted to learn the practice after seeing the children doing the sitting meditation. She said, "What a peaceful practice and charming children. I want to do the meditation with them. The world is chaotic and people's thoughts are not clear. These children are able to sit so peacefully and stay away from video games and other bad influences. How wonderful!"
After learning that Falun Dafa is being persecuted in China, Solana could not understand it. "Everyone should have the freedom to believe, especially in something that benefits everyone. The Chinese government should immediately stop persecuting these kind people," she said.