Taiwan: Parade in Tainan City Inspires Interest in Falun Gong (Photos)
June 26, 2011 | By a Falun Dafa practitioner from Tainan, Taiwan
(Clearwisdom.net) On June 18, 2011, Falun Dafa practitioners from Tainan organized a parade in the city. The parade included the Divine Land Marching Band, a waist drum performance, dances, and a Falun Gong exercise demonstration. The goal of the parade was to bring Dafa's principles – Truthfulness, Compassion, Forbearance – to more people. After watching the parade, many people expressed their desire to learn more about Falun Gong.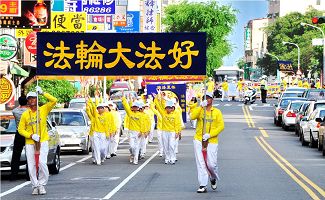 On June 18, 2011, Falun Gong practitioners held a parade in Tainan City, Taiwan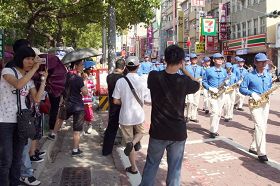 The parade attracted many spectators along the streets
There were many banners in the parade introducing the practice of Falun Gong and its worldwide appeal.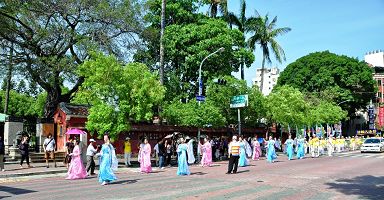 Tourists from Mainland China watching the parade
A practitioner introduces Falun Gong to a father and son on a scooter
Mr. Lam, who works in the local government, said that he had not seen such a unique parade before. He had heard about Falun Gong but didn't know much about it. After watching the parade, he said he felt that this practice must be very special and he wanted to learn about about it.
Thomas, visiting Taiwan from Germany, said that the "Celestial Maidens" dance was so beautiful, like it came from heaven. He had studied Taichi before and now is interested in learning Falun Gong.