More About Mr. Chen Xiangrui's Being Beaten to Death (Photo)
June 25, 2011 | By a Clearwisdom correspondent from Hunan Province, China
Name: Chen Xiangrui (陈湘睿)
Gender: Male
Age: 29
Address: Hengyang Power Accessory Parts Company Residential Area
Occupation: Unknown
Date of Death: March 12, 2003
Date of Most Recent Arrest: March 11, 2003
Most Recent Place of Detention: Hengyang Police Department Domestic Security Division (衡阳市公安局国安支队)
City: Hengyang
Province: Hunan
Persecution Suffered: Beatings, hung up, torture, interrogation
(Clearwisdom.net) Mr. Chen Xiangrui, 29, was the son of a worker in Hengyang Power Accessory Parts Company. At 9:00 p.m. on March 11th , 2003, a group of officers from Hengyang Police Department broke into Mr. Chen's home and took him to Hengyang Police Department Domestic Security Division. The police interrogated and brutally tortured him over the night. Mr. Chen died from torture at around 10:00 a.m. the next day.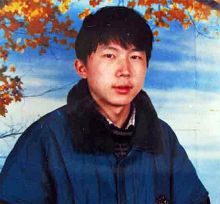 Mr. Chen Xiangrui
The police decided to do an autopsy to indicate that the police were not responsible for his death. Mr. Chen's mother objected as the cause of her son's death was obvious. The police said, "It doesn't matter if you object. . It is an order from my superiors." Mr. Chen's family didn't know the polices' intention of doing an autopsy in such a hurry.
Autopsies are usually performed by two or three coroners. However on the evening of March 12th , the police asked nine coroners to conduct Mr. Chen's autopsy and examination. There were also as many as two truck loads full of riot policemen with guns waiting outside. Even though there weren't any mortal wounds on the body, the coroners claimed that not a single organ was good after the autopsy. Were they all damaged from the torture?
Mr. Chen's family later learned that one of the coroners was Xiong Ping from Medical College of Nanhua Univerisy. Mr. Chen's family asked him many times about the autopsy. He finally said, "I can't tell. I would be dead if I do." Xiong Ping later moved to another city.
Mr. Chen's mother still keeps his ashes and doesn't want them to be buried.
Background
Before his death, Chen Xiangrui was an honest and kind young man. He started practicing Falun Gong in January of 1996. Mr. Chen went to Beijing to appeal three times on October 27 of 1999, March 2, 2000 and late April of 2000.He was unlawfully detained in the Baishazhou Detention Center and a Detention House in Hengyang. In January 2001, Mr. Chen was arrested at home together with his mother and then was held in the detention center for as long as half a year.
At 9 pm on March 11, 2003, the head of the National Security Team of Hengyang's Public Security Bureau Lei Zhenzhong led a group of policemen and swarmed into Mr. Chen's home, breaking down the door. They beat and kicked Mr. Chen Xiangrui while they dragged him out and forced him into their van. Policemen pulled Mr. Chen and at the same time cursed, "We will beat you, the stubborn Falun Gong member, to death when we go back today." When Mr. Chen was dragged into the van, they shoved him face down under the seat, holding him down with one foot on his body. Several dozens of people witnessed this event as the policemen were quite loud, causing a big disturbance.
When they arrived at the Public Security Bureau of Hengyang City, the policemen hung Mr. Chen up and beat him with an electric baton, a metal hammer, books, and a rubber club. In the morning of March 12, Mr. Chen's breathing was extremely weak, and his pupils were dilated. The police found that his condition was very bad and then sent Mr. Chen to the hospital. Mr. Chen died at around 10: 00 a.m on March 12.
The police took Mr. Chen's parents and other family members to a hotel that day. Later that night, accompanied by two truck loads full of riot policemen with guns, they went to see Mr. Chen's body. There was a dent on Mr. Chen's head; ribs and collar bones were broken; the bones of the left foot and wrist were broken; both feet were twisted. His mother hugged his body and cried out loudly. The police decided to do an autopsy. Mr. Chen's mother objected as the cause of his death was obvious. They grabbed Mr. Chen's body into the van and drove away regardless of the mother's crying and objections.
Earlier reports:
http://www.clearwisdom.net/emh/articles/2003/4/12/34411.html
http://www.clearwisdom.net/emh/articles/2003/3/21/33599.html