"Death Bed" Torture Being Used in Division No. 3 of the Heizuizi Women's Forced Labor Camp in Changchun
June 13, 2011 | By a Clearwisdom correspondent from Changhcun, China
(Clearwisdom.net) Since October 2010, guards in Division No.3 of the Heizuizi Women's Forced Labor Camp in Changchun City have employed a torture method called the death bed to attempt to force newly arrived Falun Gong practitioners to write the "five statements" (similar to the three statements) to give up their faith. The guards are also using electric batons to aggravate the abuse and torture. Ms. Lang Yanmei from Yanji City was tortured on a death bed for five days. Ms. Sun Shiyun from Nong'an, Changchun, Ms. Wang Yanchun from Yanji and Ms. Baiyun from Jilin have all been subjected to the death bed torture.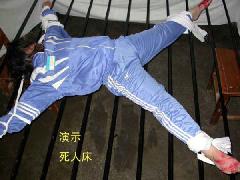 Torture re-enactment: Death Bed
Ms. Han Chunhua from Yanji refused to write the five statements, and was subsequently tied up on a death bed. Guard Liu Ying, given the title of "Division head in charge of reforming thoughts," shocked Ms. Han with an electric baton for 30 minutes when she was on night duty in May. Ms. Tao Xiuzhi from Tumen City was also subjected to the death bed torture.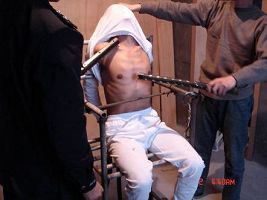 Torture re-enactment: Shocking a practitioner with an electric baton
In addition, Division No. 3 officials also ordered the restrooms to be closed all day long, and only put a chamber pot in the work area, so everyone had to relieve themselves inside their cells in the hot summer. In winter, the guards took off the doors of practitioners' cells in order to make them freezing cold. Some practitioners suffered from a continuous high fever. Ms. Xia Guizhen from Changchun was also physically abused by guard Jiang Lijun.
Division No. 3 of the Heizuizi Women's Forced Labor Camp: 86-431-85384312 ext. 6103
Shen Minglian, head: 86-15330605100
Liu Ying, head in charge of reforming thoughts
Jiang Lijun, head in charge of labor
Zang Li, guard in charge of "tranforming" newly arrived detainees