Poland: Falun Gong Welcomed at the Warsaw Science Picnic 2011 Themed "Freedom" (Photos)
June 12, 2011 | By a practitioner in Poland
(Clearwisdom.net) On Saturday, May 28, 2011, more than two hundred tents were set up in Marszałka Edwarda Rydza-Śmigłego Park in Warsaw, Poland for the fifteenth annual Science Picnic, Europe's largest outdoor scientific expo. The Polish Falun Dafa Association was invited to participate in the expo for the first time.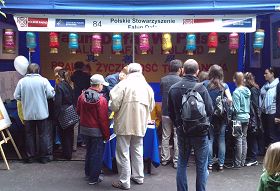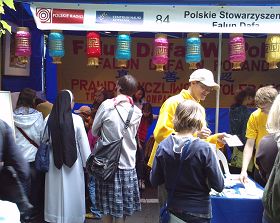 Falun Dafa introduction draws great interest at Science Picnic 2011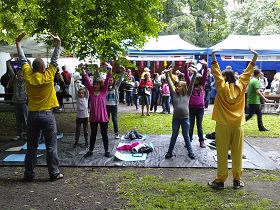 Many expo visitors learned the Falun Gong exercises during the event
The expo's theme this year was "freedom," and was organized by the Copernicus Science Centre and Polish Radio. More than 230 scientific institutions, cultural organizations, museums, foundations and universities, and scientists from more than twenty countries, including France, Spain, Japan, Korea, Germany, Russia, the United States, Britain, Norway, Israel and Italy, took part in the exhibition.
The peaceful exercises drew great interest from the crowd and many of the visitors lined up to learn the movements. Besides teaching the exercises, Falun Gong practitioners also taught Chinese calligraphy and folding paper lotus flowers. Visitors left the tent with grateful smiles for the hand-written Chinese words or beautiful hand-made lotus flowers.
A staff member of the Copernicus Science Centre said, "I like the exercises. They are easy to learn and so relaxing."
In the course of that day, about two thousand people came to learn the Falun Gong exercises, fold paper lotus flowers and calligraphy, while several thousand more visitors came to observe and ask questions about Falun Dafa. Ms. Huang, a practitioner teaching folding paper lotus flowers, was in her 70s. She was so busy helping the visitors that she didn't realize that she hadn't had lunch. After seeing there were still lots of people outside the tent waiting in line to learn, she drank a little water and continued to teach them cheerfully. When the exhibition concluded at eight o'clock in the evening, the Falun Dafa booth could not be closed since there was still a long line.
The owner of the Copernicus Science Centre approached the practitioners at the end of the event and said, "I was hesitant at first when you applied to demonstrate the exercises at the exhibition. Even though I approved it, I was still not quite sure it was a good activity for this event. Now it seems that I did a right thing. I am also very interested in Falun Gong. I must sit down to talk with you. Tell me more about Falun Gong." After the practitioners introduced Falun Gong and answered his questions, he repeatedly expressed his appreciation and said it was an "unforgettable conversation." He welcomed the Falun Gong practitioners to participate again next year.