Mr. Zhang Jiuhai from Beijing Sent to a Forced Labor Camp Three Times
May 06, 2011 | By a Clearwisdom correspondent from Beijing
Name: Zhang Jiuhai(张久海)
Gender: Male
Age: 44
Address: Liudian Town, Pinggu District, Pinggu County, Beijing
Occupation: Unknown
Date of Most Recent Arrest: May 8, 2008
Most recent place of detention: Tuanhe Forced Labor Camp (团河劳教所)
City: Beijing
Persecution Suffered: Detention, forced labor, torture, beatings, sleep deprivation, long-term standing and squatting, forced-feedings, drug administration, solitary confinement, home ransacked, living under surveillance
(Clearwisdom.net) The Chinese Communist Party (CCP) has persecuted Falun Gong practitioners for more than ten years. Over the course of the persecution Mr. Zhang Jiuhai has been detained in forced labor camps three times for a total of about six years.
In 2000, Mr. Zhang was reported to police and illegally arrested because he distributed Falun Gong informational materials. He was sentenced to one year of forced labor. In the dispatch center, he was brutally tortured along with fellow practitioner Mr. Zhang Jiuhai. Liu Peng, Wu Chuanjin, and other guards forced the practitioners' heads down on a bed and stretched their arms up in an "airplane" shape. As a result of the torture, Mr. Zhang Jiuhai's whole body trembled and he almost lost consciousness. Liu Peng and other guards beat, verbally abused, and pinched Mr. Zhang and slammed his head against a wall. Bruises covered his head, face, and body. Zhang Jiuhai was subjected to sleep deprivation. He was often forced to stand up from 5 a.m. until the next day. He was made to get up soon after he went to sleep.
After being sent to Tuanhe Forced Labor Camp, Mr. Zhang Jiuhai did not yield to the guards or listen to their slander of Falun Gong. The guards did not allow him to sleep and ordered other detainees to beat and verbally abuse him. They forced him to stand or squat for extended periods. Just after the 2000 Chinese New Year, guard Ni Zhenxiong ordered about 20 detainees to tie Mr. Zhang's hands and feet, push him down on the ground, and brutally beat him. Mr. Zhang scolded them and called for help. The detainees sealed his mouth with tape and continued to hit and kick him. After the beating, Mr. Zhang was on the verge of death and was bedridden for an entire week. He had difficulty walking and needed the help of two people to use the bathroom. Later on, he was sent back to the dispatch center. When his term was nearly over, Mr. Zhang was sent to the Concentrated Training Team of Tuanhe Forced Labor Camp, where he was detained for another six months for no stated reason.
In April 2002, Mr. Zhang Jiuhai distributed Falun Gong DVDs in Yuyuantan Park. He was reported to the police and arrested. He was sentenced to two years of forced labor. In the dispatch center, he went on a hunger strike to protest. He was tied to a bed and force-fed food and unknown drugs. The guards beat and verbally abused him constantly until he was sent to Tuanhe Forced Labor Camp. When he arrived at Tuanhe Forced Labor Camp, he was put in a small cell and tied up for two months.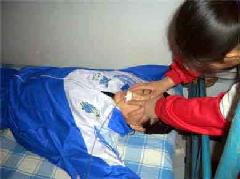 Torture re-enactment: Tied on a bed and force-fed
In 2003, Zhang Jiuhai was placed in the division where those who firmly believed in Falun Dafa were held. He was not allowed to sleep. He was forced to sit on a stool and not allowed to move. He would be beaten if he moved even a bit. He was not allowed to drink water. He was only allowed half a bun and two small pieces of pickle per meal. As a result of the beatings, Mr. Zhang's body was covered with bruises and wounds. His ribs and right cheekbone were broken. His legs swelled, he had a fever, and there was blood in his urine. Instead of getting him treatment, the guards forced him to do cleaning jobs and other tasks. The guards involved with persecuting Mr. Zhang included Zhang Baoli and Bai Zhongmin.
On the morning of May 8, 2008, Zhang Jiuhai, who was at the working at the Shilinxia Scenic Area in Pinggu, was suddenly taken away by the police. They confiscated his Falun Dafa books, cell phones, and other items. He was sent to a forced labor camp again. In May 2010, he was released.
The local 610 Office dispatched many agents to follow and monitor Zhang Jiuhai around the clock. They monitored and recorded his phone conversations. Under this oppressive situation, Mr. Zhang was forced to leave home and become homeless in order to avoid further persecution.
Related article:
http://www.clearwisdom.net/emh/articles/2002/8/28/25872.html
Chinese version available at http://www.minghui.org/mh/articles/2002/8/18/35106.html