Mr. Zhou Xiangyang in Critical Condition--His Mother Calls for Justice (Photos)
May 05, 2011 | By a Clearwisdom correspondent from Tianjin
Name: Zhou Xiangyang (周向阳)
Gender: Male
Age: 38
Address: Tangshan, Hebei Province
Occupation: Cost engineer at the Third Tianjin Railway Survey and Design Institute Group in Tianjin
Date of Most Recent Arrest: March 5, 2011
Most Recent Place of Detention: Gangbei Prison (港北监狱)
City: Tianjin
Persecution Suffered: Shocked with electric batons, sleep deprivation, forced labor, brainwashing, illegal sentencing, beatings, hanging by handcuffs, imprisonment, solitary confinement, torture, force-feedings, physical restraint, detention, denial of restroom use
(Clearwisdom.net) On April 12, 2011, an elderly woman stood outside of Gangbei Prison wearing a vest with the words, "My son is in critical condition - Gangbei Prison will not let his parents visit him - My son is a good person." Many bystanders were sympathetic and some condemned the CCP's harsh treatment of her son. This happened after Mr. Zhou Xiangyang's mother requested to visit him and was rejected.
Mr. Zhou's mother outside the prison
On morning of April 12, Mr. Zhou Xiangyang's parents, his wife, sister-in-law, and older sister traveled from Changli City to visit their son at the Gangbei Prison in Tianjin, as he was already in critical condition. As Mr. Zhou's mother got to the front of the line for visiting requests, the prison guard said, "You are not allowed to see Zhou Xiangyang." Mr. Zhou's mother asked, "Why not, who set this rule? When are we allowed to see him?" The prison guard said, "This rule comes from our superiors. We will let you know when you are allowed to see him." The mother said, "I have already waited for over a month. I must see him today. If you will not let me see him, then release him, because my son is a good person."
The prison guard ignored Mr. Zhou's mother and called the next person in line. Without any other choice, she put on a vest made with pieces of white cloth with writing on it, calling for justice for her son.
Mr. Zhou's mother told the many bystanders who came up to her, "As a mother, I am heartbroken. My son has been in this prison for over a month and he is in very critical condition. I was here last month and asked whether my son was here. They lied to me and told me that he wasn't. I sat here for two consecutive days and still did not get to see my son. My son believes in Truthfulness-Benevolence-Forbearance, and he is an engineer." Some of the bystanders shed tears after hearing her account and many expressed their support for her.
Gangbei Prison then sent five or six armed police officers to stand outside the prison gates. After a little while, the prison gate opened for a truck. Mr. Zhou's mother took the opportunity and walked through the open gate. A prison guard immediately blocked her path, and she passed out from all the stress she was under. Due to Mr. Zhou's family members' persistence, Mr. Zhou's mother finally saw her son at around 3:00 p.m. that afternoon.
Falun Dafa practitioner Mr. Zhou Xiangyang
The following is a summary of what Mr. Zhou has suffered:
Mr. Zhou was illegally arrested by the CCP and sentenced to nine years in prison on May 31, 2003, for practicing Falun Gong. Mr. Zhou has been detained and tortured in various facilities in Tianjin, including the Railway Detention Center, Qingpowa Forced Labor Camp, Shuangkou Forced Labor Camp, Yushan Forced Labor Camp, and Hexi Detention Center. During his terms at those facilities, Mr. Zhou was subjected to countless forms of physical torture. He was shocked with high-voltage electric batons, deprived of sleep for 30 consecutive days, locked in solitary confinement, tied up, beaten, and force-fed. He was in almost continual critical condition as a result of all the torture. By late June 2008, he had been on a hunger strike for over a year. His weight had dropped to 100 pounds, and he was very weak, unable to walk, and he had lost control of his bowels. He was released on urgent medical bail on July 28, 2009. Mr. Zhou was arrested again in Tangshan on March 5, 2011.
Mr. Zhou's family tried to locate his whereabouts after his most recent arrest. Agencies involved in his case include the Tangshan Domestic Security Group, Wenhualu Police Station, Tianjin Domestic Security Group, and Gangbei Prison. These groups have pushed responsibility back and forth, and none will admit their involvement in the case.
Mr. Zhou's home ransacked
Mr. Zhou's mother went to Gangbei Prison again on March 9, 2011. After entering the prison main gate, she started calling out for her son. A few prison guards then carried her out and shut the gate, and a few more prison guards were added to guard the gate. She waited outside until after 9:00 p.m. Later, around ten people walked up to her and told her that they were from the Dagang Law and Regulation Office. They took her and Mr. Zhou's sister to Runjiakuaijie Hotel to spend the night, and told them they would take care of Mr. Zhou's case the next day. When Mr. Zhou's mother looked for them the next day, they gave excuses of being busy with a meeting and that the case was not their responsibility. Mr. Zhou's family then went back to Gangbei Prison, where prison officials told them to wait. Mr. Zhou's mother and sister sat outside the prison for the entire night.
Mr. Zhou's mother has tears in her eyes whenever she thinks about how close to dying her son was when he was released in 2009. She can't understand why her law-abiding and accomplished son has suffered such cruel persecution which has almost resulted in losing his life several times.
Since his most recent arrest by the Tangshan Domestic Security Group and Wenhualu Police Station, Mr. Zhou has been subjected to even more severe physical abuse than that of his last detention. He is now very weak, and has chest pain and blood in his urine. He has a painful nodule on his lower abdomen, and has not eaten solid food for over a month. He has received intravenous fluids once every few days. Guards have also punitively force-fed him.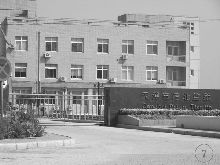 Gangbei Prison
Relevant Phone Numbers:
Wenhualu Police Station: 86-315-2853006
Station chief: Jia Yingjie, former Domestic Security Division leader from Tangshan Road, South District: 86-13832989898 (Cell)
Gangbei Prison: 86-22-63251056, 86-22-62071156
General information: 86-22-62071052
Ward No. 5: 86-22-62071151
Section 1 of Ward No. 5: 86-22-62071158
Related articles:
http://www.clearwisdom.net/html/articles/2011/4/5/124228.html
http://www.clearwisdom.net/html/articles/2009/8/10/109917.html
http://www.clearwisdom.net/emh/articles/2005/10/3/65504.html