Taipei: Photo Collection of Group Exercises at Liberty Square
(Clearwisdom.net) On April 24, 2011, more than one thousand Falun Gong practitioners from Taipei held group exercises and other activities at the Liberty Square, commemorating the April 25 appeal.
Group exercises at Liberty Square
Liberty Square (also known as Freedom Square) is a public plaza covering over 240,000 square meters in Taipei City. At the east end of Liberty Square stands the National Chiang Kai-shek Memorial Hall. The square is flanked by the National Concert Hall on the north and the National Theater on the south. A park surrounds the plaza and a wall surrounds the site. The square sits within sight of the Presidential Office Building. Liberty Square regularly serves as the site of mass gatherings in Taiwan. (source: Wikipedia). Falun Gong practitioners often hold group activities here, such as group exercises and forming patterns.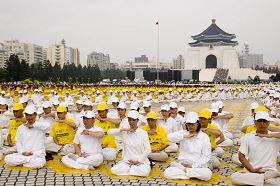 Group exercises in front of the National Chiang Kai-shek Memorial Hall
Five thousand practitioners form a lotus follower and Chinese characters "Truthfulness-Compassion-Forbearance" in front of the National Chiang Kai-shek Memorial Hall on November 27, 2010
Since being introduced to Taiwan in April 1995, Falun Gong quickly spread to every corner of the island. Practitioners are from all walks of life, and include college professors, doctors, lawyers, engineers, government officers, police, soldiers, businessmen, farmers, workers, students, and housewives. There are more than 1000 exercise sites in 300 towns and cities, including the remote areas.
After the Chinese Communist Party launched the brutal persecution of Falun Gong in 1999, practitioners in Taiwan began holding all kinds of activities to clarify the truth of Falun Gong and expose the brutality of the persecution. At the Liberty Square, practitioners have held dozens of rallies, candlelight vigils, signature collections, re-enacting of tortures, press conferences, and photo exhibitions. Many people, including government officials, have learned the truth of the persecution from these events and joined practitioners in opposing the persecution.
Below are some pictures of practitioners' activities at the Liberty Square since 2000.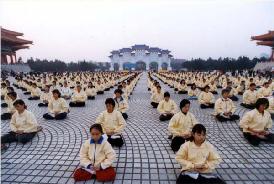 Group exercises in 2000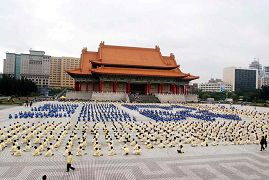 Forming characters during the Fa conference in 2000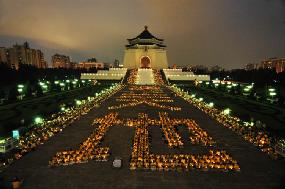 July 18, 2004: 1500 practitioners formed the Chinese characters "Fa rectifies the universe."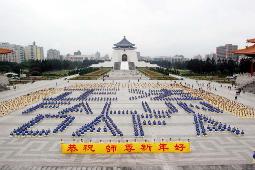 January 8. 2005: Practitioners formed characters "Fa rectification" and "Falun Dafa"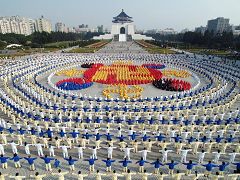 December 25, 2005: Four thousand practitioners formed a Falun symbol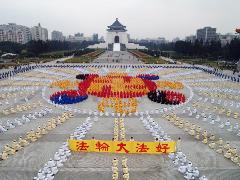 December 25, 2005: Four thousand practitioners formed a Falun symbol, wishing Master Li Hongzhi a happy new year
May 13, 2007: 5000 practitioners form the words "Happy Birthday, Master"
May 13, 2007: 5000 practitioners form the words "May 13 World Falun Dafa Day"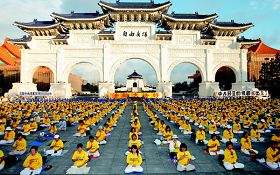 November 4, 2008: About 3000 practitioners held group exercises, calling for the end of the persecution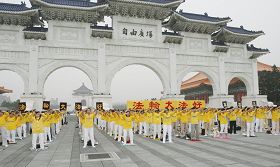 April 25, 2009: Practitioners held group exercises, commemorating the April 25 appeal