Ms. Wang Yongfang Persecuted to a State of Mental Collapse; Her Family in Tragic Situation
May 30, 2011 | By a Clearwisdom correspondent from Heilongjiang Province, China
Name: Wang Yongfang (王永芳)
Gender: Female
Age: 46
Address: Anda City, Heilongjiang Province
Occupation: Former employee of Anda City Dairy Plant
Date of Most Recent Arrest: May 2002
Most Recent Place of Detention: Shuanghe Forced Labor Camp of Qiqihar City (齐齐哈尔双合劳教所)
City: Qiqihar
Province: Heilongjiang
Persecution Suffered: Detention, forced labor, brainwashing, illegal sentencing, torture
(Clearwisdom.net) Falun Gong practitioner Ms. Wang and her two sisters from Anda City, Heilongjiang Province, were arrested again by the Domestic Security Team in May 2002. After three years of forced labor, Ms. Wang returned home in 2005. By the time of her release, she was devastated mentally and physically. She was threatened by the local police many times and finally suffered a mental collapse due to the intense pressure.
After Ms. Wang and her two sisters and 70-year-old mother started practicing Falun Gong, their many diseases disappeared. Since the communist regime started persecuting Falun Gong in July 1999, her whole family has been persecuted time and again.
Arrested
Director Liu Yingshan from the Political Security Section of the Domestic Security Team and more than 20 police officers followed Ms. Wang and her two sisters in May 2002. Three officers seized them near her home and pushed them into their home.
Several officers dragged Ms. Wang's second sister, Yongfang, out the door. Two officers took Ms. Wang's third sister, Shuying, to the yard and shoved her down. They pressed down hard on her neck, so that she couldn't raise her head. Shuying was taken to the side of the road to a waiting police car. They grabbed her by her hair, ripped open her clothing, and then held her head down so that she could not move. Ms. Wang struggled with the guards and was dragged across the ground, and then four of them shoved her into the car. Her mother, frightened and trembling, lay limp on the floor.
Detained
In the detention center, Ms. Wang's sister was hung up by handcuffs and tortured. When the guards interrogated Ms. Wang, a guard hit the bridge of her nose. Her nose swelled, causing severe pain. The three sisters held hunger strikes to protest the abuse. Ms. Wang went on a hunger strike for 12 days. They force-fed her and inserted a feeding tube into her stomach. When they pulled out the tube it was covered with blood. The third sister, Shuying, had severe stomach pain and her legs swelled severely. She was released after seven days. Ms. Wang's second sister was taken to Harbin Drug Addiction Treatment Center for further persecution. Ms. Wang was sentenced to three years of forced labor and taken to Suanghe Forced Labor Camp in Qiqihar.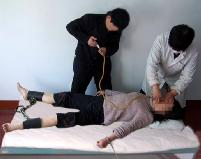 Torture re-enactment: Brutal force-feeding
Two or three criminal inmates monitored Ms. Wang every day at the camp. They took turns attacking her and trying to "transform" her. They also forced her to watch videos slandering Falun Gong.
The inmates forced Ms. Wang to get up at five o'clock every morning to do hard labor, only allowing her half an hour for lunch and a break. Then they forced her to sit on a small bench to watch videos slandering Falun Gong, until seven o'clock each evening.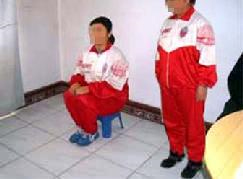 Torture re-enactment: Sitting on a small stool
Due to the extreme hard labor, Ms. Wang fainted. During the past two years she was so weak that she had to lean against a wall to walk and later became bedridden. She coughed every day and was subjected to insults from guards. Once, Captain Zhang Jingjie abused her all day long.
During the three years of her detention, Wang Yongfang's family was never allowed to visit her. Her sister, Shuying, tried to see her several times, but was turned away each time.
Ms. Wang was tortured until she almost lost her life. The forced labor camp guards demanded that her family pay them several thousand yuan and then they would release her. Because her family was unable to pay, the guards refused to release her.
Brutal Persecution
On February 16, 2004, labor camp head Xiao Jindong and the camp's political commissar director, Wang Yufeng, dragged dozens of Falun Gong practitioners that would not give up their belief from the second floor to the fourth floor. Slogans slandering Falun Gong were plastered all over the entire fourth floor's corridors and rooms. The guards covered practitioners' heads with black fabric and dragged them up to the fourth floor, tearing their clothes and scraping their backs.
The guards twisted practitioners' arms behind their backs and handcuffed them. Then they used ropes to tie their hands and arms and hang them up. They pulled the ropes and then suddenly loosened them so that the practitioners would fall down. Some were tortured this way until they fainted. Almost all of the guards were involved in this abuse.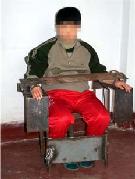 Torture re-enactment: Iron chair
Some practitioners were tortured by only being allowed to exhale were not allowed to inhale, until they turned black and purple. Some were covered with wounds; some were tortured until they fainted. Ms. Wang Guofang was tortured to death. There were deep gouges on her wrists from the handcuffs, and the front of her chest was beaten in.
Devastated Physically and Mentally
Pressured by the brutality of the persecution, Ms. Wang was traumatized and against her will wrote the Three Statements.
In both body and mind, Ms. Wang was pushed beyond the limits of her endurance; a non-practitioner would have completely collapsed. Afterwards, she was traumatized and silent.
After three years in prison Wang Yongfang returned home. Of everything she had endured, she could only repeat one sentence, "I want to make a statement. I will not give up practicing."
One day she was working with her third sister when she realized that two people were following her. This caused her extreme tension and panic. After they returned home, the two people and Liu Yingshan showed up and threatened her. She was terrorized.
After that, Ms. Wang's mental condition worsened, and she often suffered hallucinations. Her eyes became dull and she often muttered, "I will be taken away and tortured to death." She did not sleep for many days. In the middle of the night, she cried, laughed, cursed, and moaned.
Ms. Wang Yongfang manifested symptoms of mental disorder due to the persecution. She drove her third sister away from her house, isolated her elderly mother at home, and did not allow her brothers and sisters to visit her. She threw away clothing, rice cookers, food, and almost all their daily necessities. In recent years, her third sister took the money she had earned sweeping corridors—400 yuan—to go back home. She brought food to her sister and mother. Summer or winter she patiently waited at the gate. Each time she saw her sister take the food that she put quietly placed in the yard, and then go back. However, Ms. Wang threw away steamed bread, noodles, soybean oil, and other food item many times. She sometimes came out to the yard to curse at her third sister. Their 80-year-old mother cried all day. Occasionally Ms. Wang's family took advantage of her being away to run into the home to visit their mother. Her family found their mother extremely weak. Her knees were injured and there were sores on the right side of her neck. Her mother often did not eat for two or three days. The family was extremely sad to see the condition their mother was in. Ms. Wang frequently told her mother, "Do not eat the food, it's toxic." Her elderly mother stayed with her for five years. At the end of 2010, their 86-year-old mother was taken out of her home. She still tried to look after her daughter and did not want to leave. A few days later, the old woman passed away.
The Family Experiences More than Ten Years of Persecution
On July 20, 1999, Ms. Wang, her third sister, and their mother went to the Heilongjiang Provincial Government Appeals Office to speak out on behalf of Falun Gong. They and several thousand other practitioners were arrested. Ms. Wang and her mother and sister were detained overnight, then officers from the Xinxing Police Station in Anda City detained them for one day and one night and released them. Ms. Wang and her third sister went to Beijing to appeal again on October 13, 1999. They were arrested and experienced and witnessed practitioners' being violently arrested and brutally beaten.
The head of the Xinxing Police Station and two others brought Ms. Wang and her sister back on October 22. On the way, officer Mu Zhifang took from them 2,300 yuan that they had accumulated over the years. The two women were detained at Anda Detention Center.
Ms. Wang was held for a year. When she was released, officers from the Political and Security Team forced her family to pay a 3,000-yuan bond (promising not to go to Beijing to appeal). Her family did not have that kind of money but finally borrowed 1,000 yuan and gave it to them. She then returned home.
Ms. Wang Yongfang's third sister, Shuying, was held in the same detention center for more than two years. During the persecution, the sisters' legs and feet became swollen. She was nearly unable to walk and coughed and vomited blood. Shuying's stomach and torso hurt terribly, and she was unable to stand up. Only when the guards saw that she was dying was she released.
Police constantly harassed the sisters after they returned home. Their neighbor also monitored them. In the last several years, officer Mu Zhigang followed, secretly monitored, arrested, and harassed Ms. Wang. Once Ms. Wang saw that he was there to harass her, she did not open the door. Mu Zhigang then broke down the door, ran into her yard, and brutally slapped her face.
Ms. Wang's father died of illness when she was a teenager. As a result, her mother raised the children alone, struggling to survive.
Now Ms. Wang's mother has passed away. Third sister Shuying still takes care of her sister, who was so badly hurt as a result of the persecution. She had to support her ill brother. Shuying is striving to appeal for justice for her family members.