Taiwan: Hsinpei City Council Passes Bill Denying Entry to Human Rights Violators (Photo)
(Clearwisdom.net) On May 12, 2011, the Council of Hsinpei City, Taiwan passed a provisional bill calling on the central government to deny entry of human rights violators. The bill further stated that cities that respect human rights do not invite, welcome or accept human right violators. Hsinpei is the 16th local council to pass such a human rights bill. On May 25, the council members who proposed the bill held a press conference.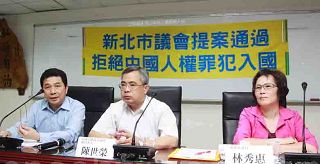 Hsinpei City Council members at a press conference announcing the provisional bill to deny entry to human rights violators
City Council Members Chen Shirong, Zheng Jinlong and Lin Hsiuhui held the press conference jointly. Mr. Zheng Jinlong called upon government and non-governmental organizations to support this bill.
Mr. Zheng said that the government must do more than only focus on the economy while ignoring the human right problems in China. "If those human rights violators come to Hsinpei, we will hold a strong protest, letting them know that they are not welcome," Mr. Zheng said.
Mr. Zheng stated that human rights are not free, and people need to remain vigilant. "We stand together, fighting for it. We also want more people know about [human rights violations] through the media," he said.
Ms. Lin Hsiuhui said, "We will protest based on this bill, if the government invites known human rights violators in the future. It is not acceptable that the Chinese Communist Party violates human rights and bullies its own people. The communist party is afraid of the power of the people. If more people stand with us, the communist party cannot sustain itself."
On December 7, 2010, the Taiwan Legislative Council passed an interim resolution that was co-signed by 16 legislators across political parties, including Chen Ting-fei and Tian Chiu-chin. The resolution states, "When any Chinese official and Chinese Communist Party (CCP) officials applies for entry, the Judicial Department, Mainland Committee and Immigration Bureau should conduct a detailed check to see if they are involved in human rights violations. If such violations are found, the officials should be listed as unwelcome and not given entry permission." Fifteen other local councils have passed similar human rights bills. These include: Kaohsiung (Kaohsiung City, Kaohsiung County), Changhua County, Miaoli County, Hualien County, Yunlin County, Chiayi City, Taitung County, Chiayi County, Ilan County, Taoyuan County, Pingdong County, Tainan City, Keelung City, and Taichung City.