Liver Transplantation Across the Strait: Where Can You Find a Liver Donor within Two Days?"
(Clearwisdom.net) On February 22, 2011, the website Chinese Health News carried an article titled "Liver Transplantation Across the Strait." The story was about Ms. Zhang, a 71-year-old woman from Taiwan, who'd arranged for a liver transplant there (her son was the donor). However, her son was found to be allergic to the drugs required for the surgery, so the surgery was canceled. They subsequently contacted Military Hospital 301 in China, requesting a donor. They received a positive response, and quickly booked a flight to China. Four hours after they arrived Beijing, Dong Jiahong, the Liver and Gall Bladder Department director of surgery performed the operation. Ms. Zhang recovered and left the hospital approximately one month later.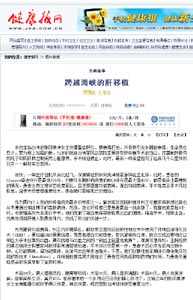 Chinese Health News website: Liver Transplantation Across the Strait
After reading this article, one wonders how they found a liver donor within only two days.
The Rise of Liver Transplant Cases in China
We located the following information on the Internet: "Dong Jiahong is currently director of the Liver and Gall Bladder Department at Military Hospital 301. He successfully developed multiple liver and gall bladder surgical approaches at the No. 3 Military University in Chongqing, and led the liver transplant group in the completion of nearly 700 liver transplant operations, and was subsequently transferred to Beijing in 2006. In 2001, the Southwestern Liver and Gall Bladder Surgery Hospital was specified as a major People's Liberation Army (PLA) laboratory for liver transplantation. The hospital possesses the capacity to perform 200 liver transplants annually. This center also supported and supervised liver transplants in 21 medical institutions, from provinces including Jiangsu, Shandong, Guangdong, Shaanxi, Henan, Yunnan, Sichuan, Xinjiang, Guizhou, Fujian and Guangxi. It is considered the technical training center for liver transplants..."
The PLA Transplant Institute was formed in December 2003 by the organ transplant center of No. 2 Affiliated Hospital (Shanghai Changzheng Hospital) of No. 2 Military Medical University, under the approval of the PLA General Logistics Department of the Ministry of Health. This coincides with the peak period of persecution of Falun Gong by Jiang Zemin's regime and the Chinese Communist Party (CCP).
According to Chinese government statistics, there were only 78 liver transplants performed nationwide from 1991 to 1998. However, in 1999, 2000 and 2001, there were 118, 254 and 486 operations, respectively. In 2003, the number of liver transplants grew to over 3,000 operations. According to a key person in the China Medical Organ Transplant Association, there were nearly 4,000 liver transplants conducted in China in 2005, and nearly 10,000 kidney transplants. In the last ten years, over 90,000 organ transplants were performed in China.
According to reports by the Shanghai channel of Xinhua News Agency, between March 2005 and May 2005, over 10,000 Chinese people received liver transplants, and 9,610 of these surgeries are fully documented in the China Liver Transplant Registry. The CCP conducted this incredibly large amount of liver transplants without identifying the donors.
Very few liver transplants were performed prior to the persecution of Falun Gong. Along with the increased persecution of Falun Gong, the number of liver transplants in China has rapidly increased.
Short Waiting Period and "Live Organ Donor Warehouse"
The following case was reported in the Chinese media. The Transplant Division of Tianjin No. 1 Central Hospital performed a 47-hour surgery involving two successive liver transplants for a patient with liver cancer from Anshan, Liaoning Province. The first liver transplant was suddenly rejected and removed. The hospital used multiple, internationally-recognized advanced surgical techniques. After the patient survived for 26 hours without a liver, hospital administrators found a new liver donor. Tianjin First Central Hospital found a perfect liver match within 26 hours – how is this possible?
Using kidney transplants as a comparison example, according to medical statistics, it is extremely difficult to find matching organs from donors beyond the category of relatives – only small percentages of possible matches exist. Other than ABO blood group matches, there are also lymphocytotoxicity (blood compatibility) cross-matching tests, the human leukocyte antigen system test (HLA) and the panel reactive antibodies test (PRA), as well as a series of specific medical tests for different organs. Based on current medical knowledge, only live organs can be used for transplants, because once a person's heart stops beating, the organs deteriorate and are unusable.
Even in the United States where it is common for people to donate organs, there is usually a two to seven-year waiting period for an organ transplant. Comparatively in China, the waiting period is only several days or weeks. Ms. Zhang (mentioned at beginning of this article) waited only one to two days for the hospital to locate a liver donor and perform her surgery.
The liver transplant application form from the Organ Transplant Department of Changzheng Hospital in Shanghai indicated clearly that the average waiting time for live transplants is one week. The International Journal of Transplants (China) Network Support Center also confirmed an amazingly short waiting period to locate liver or kidney donors in China: "Concerning donors, if you send your personal information via email or fax to us, or if you come to Shenyang, China for all the necessary tests to assure matching donors, then liver transplants may take place within one month, and usually not later than two months. Kidney transplants can usually be arranged in one week, and not longer than one month, which is the time required for us to locate an HLA matching donor."
The Oriental Organ Transplant Center website indicated in April 2006: "The average time required to locate a matching liver donor is two weeks." Shanghai Changzheng Hospital announced on their website: "The average waiting time for all liver transplant patients is one week."
Without a huge number of live organ donors – that is, a group of people who can be killed at any time to remove their organs – it is impossible to explain such a short waiting period for the large amount of transplantation surgeries performed in China.
Source of Live Organ Donors
Some readers may question whether so many people willingly donate their organs.
From the time of the first organ donation case in China until May 2009, there were only 106 cases in which people willingly arranged to donate their organs after they passed away. According to U.S. United Network for Organ Sharing (UNOS) statistics, there were 2,304 cases in the United States in the first half of 2009. However, compared to China, a 100-times longer waiting period exists for organ transplants in the United States.
Even though the CCP admitted that they'd removed organs from death penalty prisoners, it still does not explain the high number of organ transplants with respect to the much lower number of death penalty prisoners.
Summarizing these statistics, it is quite clear that removing organs from living Falun Gong practitioners was routinely performed in China over a long period of time. In addition to the CCP's brutal persecution towards Falun Gong, practitioners are killed for the purpose of removing their organs. This unconscionable degree of murder and range of persecution is beyond anyone's imagination.