Review: Master Li Hongzhi's Sixtieth Birthday and the Twelfth World Falun Dafa Day Celebrated Around the World (Photos)
(Clearwisdom.net) May 13, 2011 is the sixtieth birthday of Master Li Hongzhi, the founder of Falun Dafa, and marks the twelfth World Falun Dafa Day. Falun Gong practitioners and supporters from more than 30 countries and regions in America, Europe, Australia, and Asia have been holding celebrations over the past week. The activities include rallies, parades, performances, exercise instruction, signature collection for petitions, cultivation experience sharing and other truth-clarification. Practitioners have also called upon international society to help stop the persecution.
On May 7-8, practitioners from various areas in Taiwan held celebrations. On May 8, hundreds practitioners in Korea held a celebration at Olympic Park in Seoul. Practitioners in France held celebration in front of the Eiffel Tower in Paris that same day. Practitioners in Munich Germany held celebrations on May 12.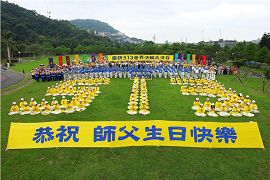 Practitioners from Taipei form the characters "513" celebrating Master Li's birthday and World Falun Dafa Day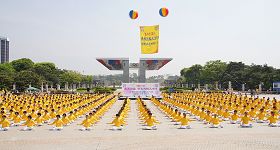 Practitioners from Korea demonstrate the exercises at the Olympic Park in Seoul on May 8.
More celebrations were held in different cities on May 13. In Philadelphia, practitioners held a celebration at Independence Square in front of the Liberty Bell. They demonstrated the exercises, shared cultivation experiences, set up truth-clarifying display boards, handed out informational materials, performed dance and music pieces, exhibited Chinese calligraphy, and taught people how to make paper lotus flowers. Many tourists learned about the beauty of Falun Gong and how it has been embraced around the world.
People view the truth-clarifying display boards
Similar celebrations were held in Toronto, New York, Stockholm, Istanbul, Oslo, Kiev, and cities in Russia and Japan.
Falun Gong practitioners and supporters held celebration on Nathan Phillips Square in Toronto
On May 14, practitioners from the Netherlands, Denmark, Sweden, Italy, Austria, England, Ireland, and Australia held celebrations. On May 15, practitioners from Switzerland held a celebration in Berne, the capital of the country.
Proclamations
The Canadian Prime Minister and other government officials sent congratulation letters to practitioners, praising them for promoting the principles of Truthfulness-Compassion-Forbearance and contributing to society. PM Harper has sent congratulation letters six years in a row. This year, he said,
"I am pleased to extend my warmest greetings to everyone celebrating Falun Dafa Month.
"This month-long celebration is an opportunity to reflect on the introduction of Falun Dafa and its adherence to the values of truthfulness, compassion, and forbearance. I would like to commend the members of the Falun Dafa Association of Canada for sharing their practices and traditions with Canadians. Your commitment to the promotion of your ideals has contributed to the diversity and vitality of our nation."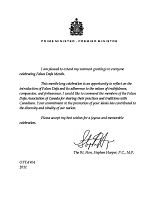 Letter from PM Harper
The Senate and General Assembly of the State of New Jersey, Albany NY, City of Doral and City of Vero Beach in Florida, O'Fallon, St. Louis, Rolla, St. Charles, St. Peter, and Chesterfield in Missouri, Denver and City of Black Hawk in Colorado, Carmel Indiana, and Biddeford and Portland Maine proclaimed May 13 as Falun Dafa Day. New York State Assembly Member Eric Stevenson issued the proclamation at the assembly, praised Falun Dafa's contribution to the state of New York, and announced May as Falun Dafa Month. At the celebration in Manhattan, Mr. Stevenson shouted "Falun Dafa Is Great" in Chinese at the beginning and the end of his speech. The audience gave him warm applause. Mr. Stevenson expressed his strong support of Falun Gong. He said he hoped to see Falun Gong grow and many more millions of people join in. He hoped that President Obama would take action to help stop the persecution of Falun Gong in China.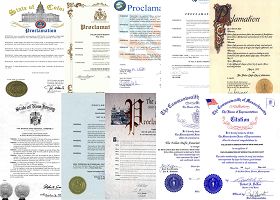 Some of the proclamations from USA and Canada
The mayor of Lima, the capital of Peru, proposed making a permanent sign in Campode Marte in the Jesus Maria District to mark the Falun Gong exercise site and to add directions to the site on the park's directional signs. The inauguration was held on the afternoon of May 13.
Practitioners' appreciation to Master Li and Falun Gong
Eighty-three year-old Powell was the first western Falun Gong practitioner in Denmark. He started practicing Falun Gong in early 1999. Within a short period of time, the illness that had plagued him all his life miraculously disappeared. He is now as healthy as a youth. Since the CCP started the persecution of Falun Gong twelve years ago, Powell has not stopped participating in efforts to stop the persecution. For ten years he has been protesting against the persecution in front of the Chinese embassy.
Gisela, a Swedish national currently living in Denmark, said, "May 13 is the most important day of the year to me. Since 1999 when I started practicing Falun Gong, my life has undergone enormous changes. Because of multiple complications resulting from a kidney disease, I almost became disabled. But after I practiced Falun Gong for two to three months, I was completely cured and was able to go to college, which was unthinkable in the past! However, health improvement was not my biggest gain. When I read the book and decided to practice Falun Gong, I did not think about healing at all, but rather was attracted by the principles of Truthfulness-Compassion-Forbearance, which brings peace and goodness to this chaotic world." According to Gisela, on Christmas day many Swedish people send relatives greetings via SMS text. Yesterday, she sent all the relatives in her family the text message, "Happy World Falun Dafa Day!"
Lyme Quicker, a Finnish music student, came to learn the Falun Gong exercises, from the beginning to end, during the celebration in Helsinki. He said, "This is what I am looking for. This is the purpose of my life. I just passed by and felt a kind of warm energy all over my body. My arms hurt before. I spent five thousand euros and was not cured. I began looking for a Chinese qigong. I decided to practice Falun Gong. I don't understand why the Chinese government is against such a peaceful practice. Perhaps the government does not want people to have a good life."
Falun Gong practitioner Kay Rubacek and thirty-five other Western practitioners held up a banner reading "Truthfulness, Compassion, Forbearance" on Tiananmen Square on November 20, 2001. They went to tell the Chinese people, "Falun Dafa is great!" At the recent celebration in Manhattan, Kay shared her cultivation experience over the past thirteen years. She said, "I can spend a whole day telling you how much benefit Falun Gong has given me." She used to have bad pain in her back and neck, and she had to resign from her job and try different medical treatments. Nothing, including the expensive medical treatments, gave her relief. She first heard about Falun Gong in August 1998. Her life changed after beginning the practice. "I can stand here to talk today. I have a healthy son and a healthy daughter. It was Falun Dafa that gave me everything. If it weren't for Falun Dafa, I can't imagine that I would ever have all that I have now. I deeply appreciate Falun Dafa, and thank Master!"
Chris from France said, "I obtained the Fa in February 1998. As soon as I started practicing Falun Gong, I felt it was exactly what I had been looking for. I can't explain it. It's like a puzzle. You feel like you are a piece in the puzzle. It is exactly where you should be. Falun Gong has brought me so much. Master saved us from hell. I know that what Master teaches, Truthfulness, Compassion and Forbearance, is so real. I am so fortunate to cultivate in Dafa."
After being introduced to the practice by her husband Stephen, a western practitioner in Denmark, Ms. Lu, started cultivating in 2006. The couple came here today with their two children to celebrate World Falun Dafa Day. She said, "In the past I didn't know the meaning of life. I felt that life was empty and boring. At that time I thought life was just about making more money and buying better things. But somehow I still felt insecure. Now, I understand the purpose of life is returning to one's original, true self, acting and thinking in accordance with the principles of Truthfulness-Compassion-Forbearance. I'm living an enriched life."
Her husband, Stephen, said, "My family came here today to celebrate World Falun Dafa Day, to show people the beauty of Falun Gong, and the brutality of the persecution that is happening in China. Following the principles of Truthfulness-Compassion-Forbearance is what our world needs most desperately."
Many People Learned About Falun Gong at the Celebrations
Mr. Eitel and his wife passed by the Marienplatz, in Munich, where practitioners were holding the celebration. They expressed their support for the Falun Gong practitioners' efforts and signed a petition opposing the CCP's organ harvesting from living practitioners. Mr. Eitel heard about the CCP's persecution of Falun Gong from a practitioner's presentation. He said that he objected to any such persecution and violations of human rights. His wife said, "I object to this persecution of human rights too. I signed the petition because I support human rights and freedom of speech. One should not be punished for speech. It is a must for every society."
Many Chinese tourists passed by the Marienplatz. Some read out the words on the banners, and some talked with the practitioners. Some of them even renounced the CCP and its affiliated organizations on the spot.
Eva, a local resident of Paris, was so excited to find out about Falun Gong from the celebration, that she was in tears. She said, "This celebration is so peaceful and beautiful. It's just extraordinary! I will for sure go to join the exercise."
In Los Angeles, many tourists and passersby were attracted to the group exercise. Some leaned the exercises on the spot. One woman said, "They look at ease and pure-minded. Everyone should spend some time to take a look, to treat themselves fairly. No matter what cultural background they have, they all need to learn how to respond to their bodies. The quickest way is to do meditation." She wants to encourage her friends to practice as well. She can't understand why such a good practice is persecuted in China, where it originated. She said, "There is freedom to practice in the States. People in every nation should have the right to practice."
Rahel from Berne, the capital of Switzerland, started learning Falun Gong just two days before Falun Dafa Day. Some time ago, she came across a Falun Gong newspaper, and the five exercises interested her. She ordered a copy of Zhuan Falun. Although she has not yet finished reading it, she has already found answers to many questions she has had since childhood. "I think the book is very interesting. I had many questions when I was young. For example, I wondered why some people had such hardship but others didn't. Now I understand that it is because of karma. Another example is why we are here in the human world. Falun Gong has helped me find my true self." World Falun Dafa Day was the first time she had practiced the exercises with others at a practice site. She felt very comfortable doing the exercises with other practitioners. She said, "I feel very good—relaxed, trouble-free, and happy."
Despite the brutal persecution, practitioners keep clarifying the truth of Falun Gong and spreading its beauty around the world, and as Peter Kent, a Member of Parliament for Thornhill, said in his congratulation letter, "Falun Dafa practitioners have walked on the most honourable path to peace and for this, you have earned the respect of your fellow Canadians."