Dublin, Ireland: Practitioners Hold Parade to Celebrate World Falun Dafa Day (Photos)
May 22, 2011 | By a practitioner in Ireland
(Clearwisdom.net) May 13, 2011 was the 12th annual World Falun Dafa Day, and also the birthday of Falun Gong's founder Master Li Hongzhi. Like other practitioners around the world, Irish practitioners held a parade in Dublin to celebrate World Falun Dafa Day. The parade began from the northern end of O'Connell Street and traveled along Parnell Street, known as "Chinatown" in Dublin. After the parade, the practitioners gathered on the square in front the General Post Office to continue the celebration.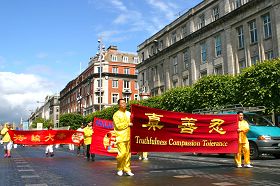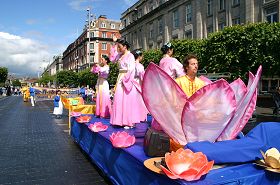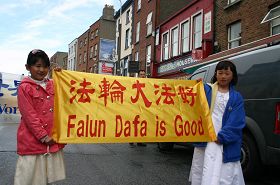 Irish Falun Gong practitioners held a parade in Dublin to celebrate World Falun Dafa Day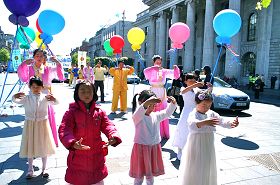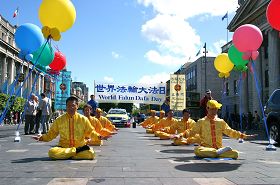 Exercise demonstration
A person from China made a special point to stop by to express his sincere respect to Master Li and Falun Gong practitioners.
The practitioners decorated a beautiful lotus flower float. In the middle of a huge pink lotus, a practitioner dressed in a golden exercise outfit performed the fifth exercise, the Falun Gong meditation. Four woman practitioners dressed in beautiful pink gowns demonstrated the other four sets of slow and beautiful exercises. When the parade passed along Parnell Street in Chinatown, many Chinese people came out of the local shops and watched intently. As the parade traveled down O'Connell Street, the procession caught the attention of many Irish people who took photos. Many people accepted informational flyers. Two Irish women said that they had already started doing the exercises.
After the parade, the practitioners assembled on the square in front of the General Post Office to demonstrate the exercises and to give dance performances. Children from the local Minghui School performed a beautiful lotus dance. The audience responded with applause and smiles. A few passing-by professional photographers took a video footage of the performances.
Mr. Wang, a visiting scholar from China, made a special point to come to the celebration. He told the correspondent, "While shopping at the supermarket, I met a Falun Gong practitioner. She advised me to quit the Chinese Communist Party (CCP) and its affiliated organizations. So I did. She also invited me to come to today's celebration. I was pleased and agreed. Falun Gong performances in public are not allowed in China. Today, I am glad to be here, and I am a bit excited. I have known about the persecution of Falun Gong in China. Falun Gong practitioners have persisted in facing the persecution over the years. This is not something that an ordinary person could do. I admire you very much! I hope that one day, Falun Gong practitioners in China can practice the exercises freely."
Ms. Dai, a representative of the Irish Falun Dafa Association, said, "Falun Gong teaches people to follow the principles of Truth-Compassion-Forbearance. It has brought tens of millions of people not only physical health but also a high moral standard. The CCP's slander against Master Li and Dafa makes everyone indignant. In the tide of quitting the CCP, the party is being disintegrated. Along with more people seeing the grace of Falun Gong, in the near future, there will be more people celebrating this holiday together with us."