Celebrating World Falun Dafa Day, Practitioners in Ukraine Share Messages of Goodness and Peace (Photos)
May 20, 2011 | By a practitioner in Ukraine
(Clearwisdom.net) May 13, 2011, was the 12th World Falun Dafa Day. To celebrate, practitioners in Ukraine held a cultivation experience sharing conference in the capital of Kiev. Practitioners from around the country and surrounding countries, such as Russia and Belarus, made a special trip to attend the event. Many of them are new to the practice. The energy in the entire conference hall was solemn and peaceful. Some new practitioners said that they saw large and small Faluns rotating around Revered Master's portrait.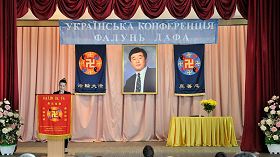 Ukraine practitioners held a Falun Dafa Cultivation Experience Sharing Conference in Kiev to celebrate World Falun Dafa Day.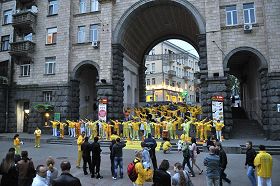 Practitioners demonstrated the exercises in downtown Kiev on May 14 to celebrate.
Practitioners held celebratory activities at five scenic spots in Kiev at noon on May 14. The events featured celestial maidens dancing, a waist drum performance, and an exercise demonstration. At 6:00 p.m. they all gathered in the downtown area, continuing to sow the seeds of kindness in passersby.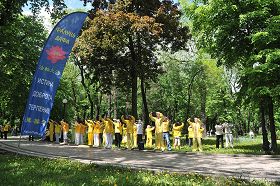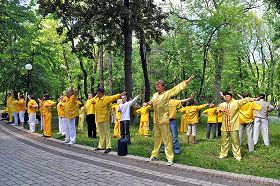 Practitioners doing the exercises in front of the Chinese Embassy to celebrate the 12th anniversary of World Falun Dafa Day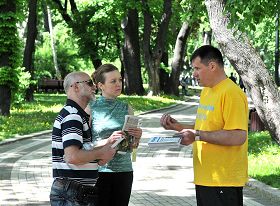 People learn the facts about Falun Gong.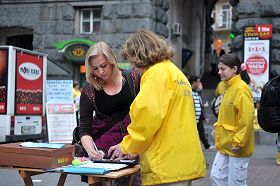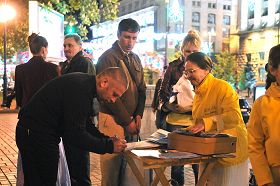 People sign the petition to support Falun Gong.
Practitioners held a candlelight vigil in the evening to mourn practitioners who have died as a result of the CCP persecution in China. They called upon kindhearted people to work together to stop the persecution. Many people signed the petition to express their support.