Prison Refuses to Issue Compensation--Widow of Mr. Wang Gang Seeks Review of Provincial Authority (Photo)
May 02, 2011 | By a Clearwisdom correspondent from Hebei Province, China
(Clearwisdom.net) Falun Gong practitioner Wang Gang of Zhuozhou, Hebei Province, was persecuted to death while in prison. His wife, Ren Guifang, presented a "Claim for State Compensation (Criminal Compensation) Application" to Jidong Prison in Tangshan and Baoding Prison in Hebei on December 15, 2010, requesting compensation for her husband's death. Director Liu of Jidong Prison in Tangshan met her in person and gave her a receipt for the application. The application was sent to Baoding Prison in Hebei by EMS. Two months later, neither of the prisons had processed the application.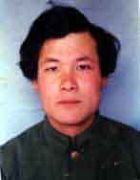 Mr. Wang Gang
Because neither prison responded, Ms. Ren took a copy of the application for compensation to a higher authority, the Hebei Bureau of Prisons. The compensation being sought is 1 million yuan in total, including "compensation for death in advance to the claimant, solatium (compensation for suffering and emotional harm), child living stipend." Compensation for death – 584,580 yuan (20 years x 29,229 yuan per year); children living stipend – 7,440 yuan (2 years x 3,720 yuan per year); and solatium – 407,980 yuan.
Ms. Ren included in the compensation application an account of the abuse, neglect of duty, and the violation of personal rights suffered by her husband, Wang Gang, at the hands of prison personnel Gao Ying, Fan Jianli, Ran Lin, Zhang Wei, Shao Chengjun, and others in the Jidong and Baoding prisons. The assaults, abuse, and other harmful acts he was subjected to while in custody injured her husband, Wang Gang, a Chinese citizen, and resulted in his leg being amputated. After surgery, Mr. Wang did not receive adequate medical treatment at either of the two prisons for a long time. While it is the prison's obligation to release an inmate for medical treatment if required, neither prison released Mr. Wang in a timely manner.
On April 6, at the request of the Hebei Bureau of Prisons, Ms. Ren provided original copies of the "refusal to compensate" by the two prisons, proof of her husband's stay in the hospital, and a copy of Mr. Wang's death certificate. On April 11, when Ms. Ren inquired about her case, officials at Hebei Bureau of Prisons said, "Your review application was received and is now under investigation. Please wait. You can contact us at any time."
Mr. Wang was a well- known and respected person in the local area. He was arrested by local police in July 2002, and then sent to prison and tortured. In January 2004, he was sentenced to a ten-year term and detained in Baoding Prison, in Hebei. Mr. Wang was tortured by the prison guards and his leg was badly injured. It was amputated in May 2005. The prison intentionally kept the news from his family. In June 2007, Mr. Wang was transferred to Jidong Prison in Tangshan. On October 14, 2009, when Mr. Wang was in a critical condition, he was released for medical treatment, but he died on October 31, 2009. He was just 41.
According to State Compensation Law, Mr. Wang's family has the right to obtain compensation from the prisons. The prisons should compensate Ms. Ren, punish Gao Ying and others responsible for the death of Mr. Wang, and have the judiciary deal with their crimes. To support the processing of her application, Ms. Ren sent her applications by EMS to President Hu Jintao and Premiere Wen Jiabao on March 2, 2011.
According to legal personnel, Wang Gang's family could take legal action against the guards responsible for Mr. Wang's death, to the attorney of the prisons or the Procuratorate in the area where the prisons are located, and insist on the Procuratorate conducting an investigation into Mr. Wang's death. Ms. Ren could also sue Gao Ying and others in the jurisdiction where the prisons are located, asking them to take responsibility, and also for state compensation. Ms. Ren could also sue the legal supervision departments in the government and the National People's Congress.
Ms. Ren said that not even ten billion yuan could compensate her for the loss of her husband. Ms. Ren respectfully asks for the attention and support of people of conscience in China and around the world.