Family Visitation Forbidden for a Year after Ms. Wei Jun Was Transferred to Harbin Women's Prison Hospital
May 02, 2011 | By a Clearwisdom.net correspondent in Heilongjiang Province, China
Name: Wei Jun (魏珺)
Gender: Female
Age: Unknown
Address: Honggang District, Daqing City (大庆市红岗区)
Occupation: Unknown
Date of Most Recent Arrest: August 27, 2008
Most Recent Place of Detention: Harbin Women's Prison (哈尔滨女子监狱)
City: Harbin
Province: Heilongjiang
Persecution Suffered: Illegal sentencing, imprisonment, torture, denial of restroom use
(Clearwisdom.net) In 2008, Falun Dafa practitioner Ms. Wei Jun, from Daqing, was detained at the Harbin Women's prison, where she since suffered severe persecution. Her family's visitation rights have been deprived for a year. Her family was told that Ms. Wei was transferred to the prison hospital, but they have not yet been allowed to see her and are very concerned about her situation.
On August 27, 2008, Wei Jun was arrested and later "illegally sentenced" to a five-year prison term. On January 14, 2009, she was transferred to Harbin Women's Prison. She was placed in the Eleventh Prison Section, where guard Wang Yali ordered inmates Cui Xiang, Gu Liqun and others to torture her by stretching her limbs out. Guard Wang Linhe denied family visitations and did not allow Ms. Wei's family to send her money. Inmates were encouraged to mistreat Ms. Wei. In early 2010, guard Huang Hongxiao and inmate Chen Ying prohibited Wei Jun from using the restroom for seven hours, and closed her cell window during hot weather.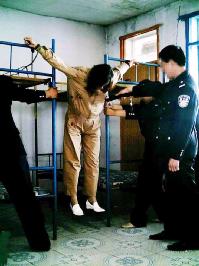 Torture re-enactment: Dafa practitioner handcuffed and suspended from bunk beds
Wei Jun's family members have been unable to see her for over a year and they are concerned about her health and safety.