Montreal, Canada: Falun Gong Practitioners Celebrate World Falun Dafa Day (Photos)
(Clearwisdom.net) On May 15, Falun Gong practitioners from Montreal held activities in Zhongshan Park in Chinatown to celebrate the 12th World Falun Dafa Day and the 60th birthday of Master Li Hongzhi.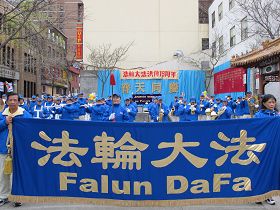 The Divine Land Marching Band played at the celebration.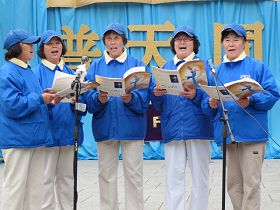 Practitioners, who often clarify the truth in Chinatown, performing.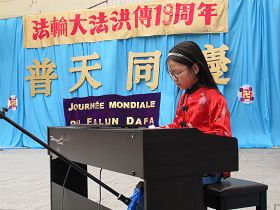 A young practitioner plays the song "Falun Dafa Is Good"
Practitioners performing the Chinese dance "Lotus Flower"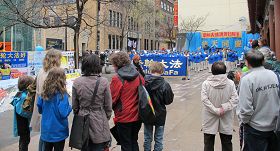 The rally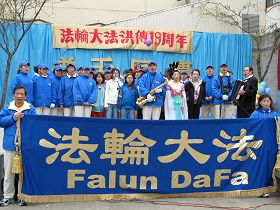 Practitioners singing "Falun Dafa Is Good"
At the rally, the host—in Chinese, English, and French—described how Falun Dafa has been embraced around the world. Twenty practitioners demonstrated the five exercises, while the host explained each one to the public. The Divine Land Marching Band, which has won the Canadian Day parade's highest award, played several songs composed by practitioners.
Many practitioners performed at the celebration. Five senior practitioners, ranging in age from 65 to 75, who often came to Chinatown to clarify the truth of Falun Gong to Chinese people, sang three songs expressing their appreciation to Falun Gong.
Young practitioners played instruments and danced. At the end of the four-hour-long celebration, all the practitioners sang "Falun Dafa Is Good" to show how proud they are to be Falun Dafa cultivators.
Falun Dafa (also called Falun Gong or just Dafa) is a high-level cultivation practice guided by the characteristics of the universe—Truthfulness-Benevolence-Forbearance.
On May 13, 1992, Master Li Hongzhi started teaching it in public. Falun Dafa has now spread to more than 100 countries and been honored with more than 3,000 awards and proclamations. Many local, state, and national governments have issued proclamations for "Master Li Hongzhi Day," "Falun Dafa Day," "Falun Dafa Week," and "Falun Dafa Month."
This year, Mr. Stephen Harper, the Canadian Prime Minister, sent a letter of congratulations to practitioners for the sixth time, praising practitioners for their efforts in promoting the principle of Truthfulness-Compassion-Forbearance. Several Canadian politicians also sent congratulatory letters and praised practitioners for their contributions to society, including Jason Kenney the Minister of Citizenship, Immigration and Multiculturalism; Lisa Raitt, the Minister of Labour; and Peter Kent, the Minister of the Environment. Mr. Kent said in his letter: "Falun Dafa practitioners have walked on the most honorable path to peace, and, for this, you have earned the respect of your fellow Canadians."