International Attention on Chunghwa Telecom for Not Renewing Satellite Contract with NTD AP (Photos)
May 17, 2011 | By Clearwisdom correspondent Fang Hui
(Clearwisdom.net) The incident of Taiwan's Chunghwa Telecom not renewing its satellite contract with New Tang Dynasty TV's partner in Taiwan, NTD AP has caught the attention of the international community. The station has been using Chunghwa Telecom Company's ST-1 Satellite to broadcast to the Asia Pacific since 2007. The company says it won't extend NTD AP's contract when it expires in August. Chunghwa claims that its ST-1 Satellite will soon be replaced, and the new ST-2 Satellite will not have enough capacity for the station. However in its 2008 press release, Chunghwa says that the ST-2 will have "expanded capacity and coverage." Many members of Changhua County Council suspect that there are political reasons for Chunghwa not to renew the contract, and have expressed support to NTD and urged Chunghwa to safeguard freedom of press and renew its contract with NTD AP.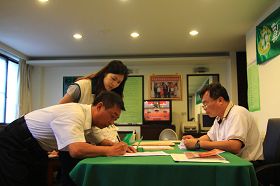 Members of Changhua County Council sign joint statement to support NTD and urge Changhua Telecom to renew its contract with NTD AP
Mr. Hong Ceng-yi, head of Taiwan Democratic Progressive Party in Changhua, said that NTD is a media with freedom of press and a fair and impartial TV station on mainland China news that is rare in Taiwan. Changhua Telecom's not renewing the contract with NTD is breaching freedom of press in Taiwan. He said all members of the party will sign the letter, which will be sent to Changhua Telecom, urging it to renew the contact and safeguard freedom of press in Taiwan.
In a press conference, when Changhua Telecom and the Kaohsiung Education Department announced digital education on May 11, an NTD AP reporter told Mayor Chen Chu about NTD's satellite contract and handed over a written statement on the incident. Mayor Chen said right after hearing about the incident, "We respect freedom of press, including telecommunications. We hope Changhua can be transparent and open, so people can have more information and learn about sources of information."
Mr. Yang Chang-chen, director of the Democratic Progressive Party of Hakka Department, said that NTD is professional and objective, especially on mainland China news. The existence of NTD appears more precious along with more frequent bilateral exchange across the strait. He called on the government to explain the issue and safeguard NTD AP's broadcast in Taiwan.
Mr. Yang Chang-chen, director of Democratic Progressive Party of Hakka
Mr. Yang said, "The only media outlet that gets news deep inside China and has reported the facts from the people's angle most professionally and longest is NTD AP. Such a channel should not disappear in Taiwan, because around the world, the place that cares most about the facts of mainland China is Taiwan."
Chairman of Taiwan Caucus in US Congress: NTD Provides Beneficial Window and Angle to the World
Mr. Gerry Connolly, US Congressional Representative, and chairman of the Taiwan Caucus said that NTD provided a beneficial angle and a window to the world. Any suppression or threat to freedom of speech will harm the democratic system. It is not good for China and Taiwan's long-term interests.
Mr. Gerry Connolly, US Congressional Representative, and chairman of the Taiwan Caucus, expresses concern about the NTD contract renewal with Changhua Telecom
China's human rights and press freedom are among the worst of any country in the world. Its blockage of information and freedom of thought have been condemned. Mr. Connolly said that CCP government conducts suppression of thought and politics. The suppression will be harder as power of thought can be spread across the world and it is unstoppable.
Hong Kong Legislator: Changhua Telecom Should Not Suppress Freedom of Press
Mr. Albert Ho Chun-yan, legislator of Hong Kong, secretary general of the Hong Kong Alliance in Support of Patriotic Democratic Movements in China, and chairman of the Democratic Party, was surprised and regretful at Changhua Telecom's decision. He believes that the decision was for political reasons. Taiwan is a free society and the government should know that NTD's freedom of press should be safeguarded.
Mr. Albert Ho Chun-yan, legislator of Hong Kong
Mr. Ho pointed out, "I think it is mainland China's interference with Changhua Telecom, forcing the latter to make a political decision based on commercial interests, and political reasons. It is not a business decisions but a political one. NTD is a precious source for mainland people to learn of news outside. If it is blocked, it is a pity. I think Changhua Telecom should not be accomplice of evildoers."
Yuet Mee Audrey Eu, a member of the Legislative Council of Hong Kongand the former (founding) leader of the Civic Party
Yuet Mee Audrey Eu, a member of the Legislative Council of Hong Kongand the former (founding) leader of the Civic Party, was disappointed at Changhua Telecom's decision. She said, "For Taiwan, a place with freedom of information and communication, there should be more TV and radio stations. There is no reason to cut off the good ones. I am surprised and disappointed."
Mr. Ho and Eu signed the statement to support renewal of NTD AP's contract.
Shanghai Residents Condemn CCP's Suppression of Freedom of Press and Wish to Continue Watching NTD Programs
It was estimated that four fifths of people in China can receive NTD programs broadcast via Changhua Telecom satellite using satellite receivers. The news that Changhua Telecom won't renew its contract with NTD disappointed many viewers in Shanghai.
Mr. Xu in Shanghai said, "I think NTD's broadcast is objective, complete, and impartial. Currently, much news which is covered in China is distorted. The public can only make a right decision based on facts."
A lady viewer said, "I always support NTD and watch NTD programs. Because NTD reports facts and is impartial, I trust NTD very much. I hope Taiwan supports NTD."
Taiwan Legislator: Government Should Not Assist CCP in Suppressing Freedom of Press
Legislator Pan Meng-an said, "It is ridiculous that the Taiwan government assists the CCP in suppressing freedom of the press. The CCP regime controls all media in China and now suppresses media outlets overseas to stop the NTD broadcasts. Taiwan is a democratic country. Why would the government assist the CCP to suppress freedom of press? The NCC (National Communications Commission) should investigate the issue to make sure no political factors are involved."
Taiwan's government is the main shareholder, about 35%, of the telecom company. NTD TV pointed out that NTD AP only needs 4 MHz frequency bandwidth. Changhua Telecom's claim of no enough capacity is not convincing. NTD believes that Changhua Telecom is abusing market share and discriminating against NTD, and violating telecommunication codes of article 21 and 26. They believe the NCC should request that based on the code, Changhua Telecom should not change its contract.