Northern California Celebrates World Falun Dafa Day, State Government Officials Show Support (Photos)
May 16, 2011 | By Minghui Correspondent Li Ruoyun
(Clearwisdom.net) It was a beautiful day in Sacramento, California on May 13, 2011, as more than one hundred Falun Gong practitioners in yellow and blue T-shirts printed with "Falun Dafa Is Great," held activities on the lawn north of the state government building to celebrate World Falun Dafa Day and Master Li's birthday. Their colorful balloons, flags and banners gave a joyful atmosphere of the celebration.


Falun Gong practitioners in North California wish Master Li Happy Birthday.
| | |
| --- | --- |
| Group Exercise | Group Exercise |
May 13 also marked the 19th anniversary of Falun Dafa's public introduction. Millions of practitioners of Falun Dafa follow the principles of Truthfulness, Compassion and Forbearance, and benefit from their cultivation to improve their minds and bodies. Falun Dafa practitioners gathered on this day to celebrate this remarkable occasion and to call for all kind-hearted people to help stop the brutal persecution of Falun Gong by the Chinese Communist Party.


Performance by students of Feitian Academy of the Arts, California Branch
| | |
| --- | --- |
| Performance by students of Feitian Academy of the Arts, California Branch | The Divine Land Marching Band |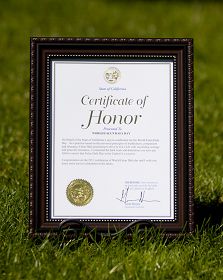 Certificate of Honor issued by the state of California
Lieutenant Governor Gavin Newsom issued a Certificate of Honor to World Falun Dafa Day, which said, "On behalf of the State of California, I join in celebration for the World Falun Dafa Day. As a practice based on the universal principles of truthfulness, compassion and tolerance, Falun Dafa practitioners strive to live a life with unyielding courage and peaceful resistance. I commend the hard work and dedication you have put forth to ensure that Falun Dafa Day at the Capitol is a success.

State Assembly Member Roger Dickinson's representative, Ms. Sarah Moussa, gives a speech and expresses her wish that Falun Gong practitioners will have the freedom to practice openly in China.
State Assembly Member Roger Dickinson's representative, Ms. Sarah Moussa, attended the celebration to show support. Ms. Moussa said that the world needs Truthfulness, Compassion and Tolerance. She sincerely hoped Sacramento would become a home for Falun Gong practitioners. Ms. Moussa was very touched by the artwork portraying a young woman Falun Gong practitioner stepping out to stop policemen from torturing another practitioner. She also condemned the CCP's persecution. She said, "What's wrong with Falun Gong? There is nothing wrong!" She believes the day will come when Falun Gong practitioners in China will be able to openly do their exercises.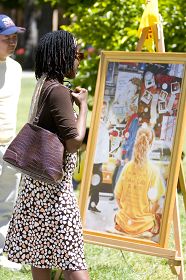 A passerby studies the touching artwork of the Truthfulness, Compassion and Tolerance Art Exhibition
People learn the facts about the persecution of Falun Gong.
Many people stopped by to watch the activity. Jenny works in the state government. She said that she heard about Falun Gong at an Earth Day activity. She expressed her support for the Falun Gong practitioners. Jenny used to be influenced by the Chinese government's propaganda and had misunderstandings about Falun Gong. At this event, she learned the true story about Falun Gong.
Mr. Guo Enzuo is a young engineer. He was imprisoned and personally experienced the persecution when he was in China. He said it was a sharp contrast between the situation in China and overseas. "I'm always so excited to attend activities like this. It is so important to show Falun Gong practitioners' spirit to the world."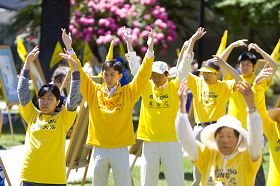 Mr. Guo Enzuo (second from left) does the exercises with others in front of the state government building.
Mr. Guo started practicing Falun Gong in 1998 when he was still in high school. Both of his parents practiced and benefited from it. After the persecution was launched in 1999, they started making and distributing their own informational materials. Mr. Guo and his mother were imprisoned in 2001. His mother was almost disabled because of torture. After many setbacks, Mr. Guo eventually came to the United States. He said that no words could describe how much he had gained from cultivating Truthfulness, Compassion and Tolerance. He hopes more people will learn about the true story of Falun Gong.