Western Australia: Falun Gong Practitioners Celebrate the 12th World Falun Dafa Day (Photos)
(Clearwisdom.net) May 13, 2011 is the 12th World Falun Dafa Day and the 60th birthday of Master Li Hongzhi, the founder of Falun Dafa. On May 11, Falun Gong practitioners from Perth, Australia held activities to celebrate this holiday.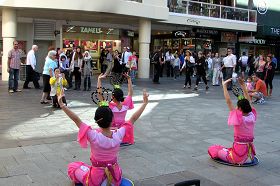 Demonstrating the exercises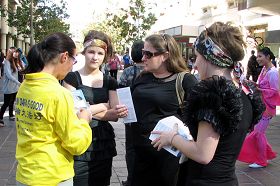 Talking to people about Falun Gong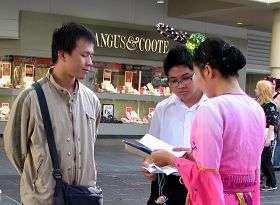 Clarifying the truth about Falun Gong
Practitioners demonstrated the exercises and performed traditional Chinese dances, which drew many people's attention. Some of them asked for detailed information about Falun Gong, and some of them bought copies of Zhuan Falun.
A psychiatrist said that he felt a strong energy field around practitioners when they were doing the exercises. It seemed that he could feel the existence of gods, he said. He talked to practitioners for an hour, and bought a copy of Zhuan Falun.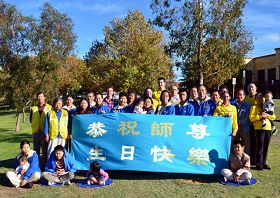 Practitioners wish Master Li Hongzhi a Happy Birthday
A Chinese lady said that she saw a lot of wonderful things in the practitioners' bodies. She also talked to practitioners for a long time. At night, local practitioners got several phone calls from people who wanted to know more about Falun Gong and wanted to buy Falun Gong books. A Western practitioner even got a phone call at 2:00 a.m. from a person who wanted to learn the exercises.