Member of New York Assembly: Good Will Prevail Over Evil
May 15, 2011 | By Clearwisdom correspondent Cai Ju
(Clearwisdom.net) In the meeting of New York State Assembly on May 10, 2011, Eric Stevenson, New York State Assembly member, read a proclamation to recognize May 2011 as Falun Dafa Month in the State of New York and to recognize the twelfth annual World Falun Dafa Day celebration, May 13, 2011. He also invited Falun Gong practitioners to attend the meeting and accept the proclamation. In the assembly hall, members of State Assembly gave warm applause.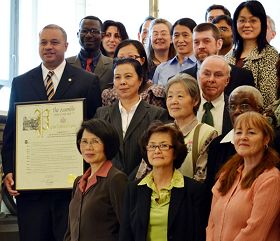 Group photo of Eric Stevenson (first left), New York State Assembly member, and Falun Gong practitioners
The proclamation commends Falun Gong in uplifting morality, improving health, and leading to enlightenment. It also mentioned that Falun Dafa is spreading around the world, and that although Falun Dafa practitioners are persecuted in China, they keep their belief while facing the danger of arrest.
Mr. Stevenson later posed with Falun Gong practitioners for a group photo.
Mr. Stevenson affirmed that he felt that good will always prevail over evil. He said he was sorry to hear that persecution goes on for those who practice such a peaceful movement, and he expressed hope that the persecution will come to end soon. He hopes that practitioners will be allowed to practice and live a life in peace and respect.
He pointed out that politics should be set aside and human rights and people made an issue. That's what we should look at. The practitioners should be allowed to continue their practice.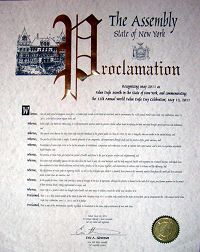 Proclamation to Falun Dafa issued by Eric Stevenson, New York State Assembly member
The New York State Senate also passed a resolution and proclaimed May 2011 as Falun Dafa month. One the sponsors of the resolution, Senator Jack Martins, was interviewed and said he appreciated Falun Dafa's contribution to New York State, "It (Falun Gong) is a wonderful movement. It gives the opportunity to encourage people to reach enlightenment and wisdom through exercise. They also strive to learn and understand those things around us in this world. Those things we all should strive for."