Sweden: Practitioners Celebrate World Falun Dafa Day (Photos)
May 15, 2011 | By He Ping, Clearwisdom correspondent
(Clearwisdom.net) On the morning of May 13, 2011, Falun Gong practitioners in Sweden gathered at King's Park in central Stockholm to celebrate the 12th World Falun Dafa Day and wish Master Li happy birthday.
Master Li went to Sweden to introduce Falun Gong in 1995. On this day, practitioners in Sweden wanted to express their appreciation for Falun Dafa and wish Master happy birthday. Practitioners demonstrated the Falun Gong exercises and set up poster boards to introduce Falun Gong, and exposed the Chinese Communist Party (CCP)'s persecution of Falun Gong. They also played waist drums, catching the attention of many visitors. Some of them expressed a wish to learn the exercises on the spot.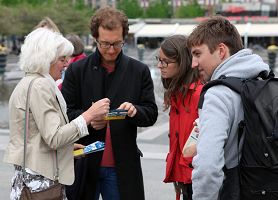 Practitioners explain the facts to passers-by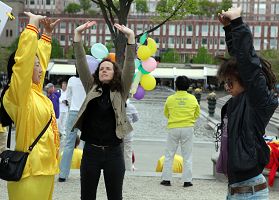 Teaching the exercises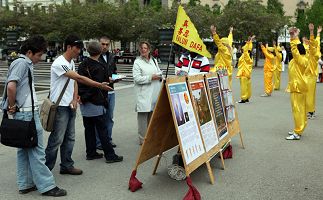 Visitors read the poster boards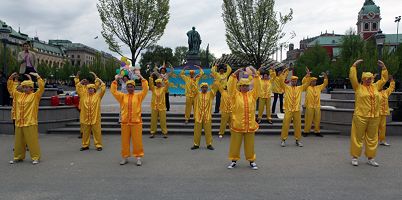 Demonstrating the exercises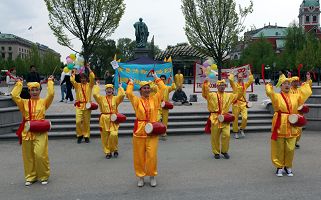 Waist drum performance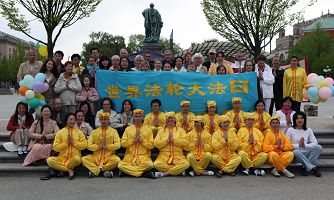 Sweden's practitioners wish revered Master Li happy birthday
Mimmi, host of the event, said, "This May 13 marks the 19th anniversary of Falun Dafa's public introduction and is also Master Li's birthday. We are holding the celebration event here to share our joy with others, tell them about the grace of Falun Dafa, share our cultivation experiences and help more people find out about Falun Gong."
Ms. Yan started practicing Falun Gong after watching a 2008 Shen Yun performance. She and her friends came to join the event in the early morning. She said, "I read Zhuan Falun three times at the beginning. After reading, I realized that this book teaches people to be kind, and wondered why the CCP persecutes it. I told my husband about the issue. He is a computer engineer from Sweden. He said that he knew about it earlier and the CCP's propaganda was false."
Ms. Yan had a difficult time after coming to Sweden. After practicing Falun Gong, she understands the meaning of life and looks inward when encountering trouble. Now she has experienced the wonder of practicing Falun Gong and has turned into a new person. Her husband has also started to practice Falun Gong.