Celebrating World Falun Dafa Day – Hong Kong Practitioners Express Their Gratitude to Master Li (Photos)
May 14, 2011 | By a practitioner from Hong Kong
(Clearwisdom.net) May 13, 2011 marks the 12th annual World Falun Dafa Day, and is also the 60th birthday of Master Li Hongzhi, founder of Falun Dafa. On May 10, practitioners from Hong Kong and other areas held activities to celebrate the 19th anniversary of Falun Dafa's public introduction. During the event, practitioners introduced Falun Dafa to people and expressed their gratitude to Master Li for imparting this great practice.

Over three hundred Falun Dafa practitioners participated in the World Falun Dafa Day celebration in Hong Kong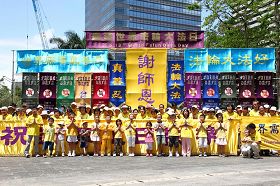 Young practitioners wishing Master Li a happy birthday
More than three hundred Falun Dafa practitioners gathered early on the lawn of Victoria Park and practiced the meditative exercises of Falun Gong together. Although they come from all walks of life, the share in common the many improvements Falun Dafa brings to their lives.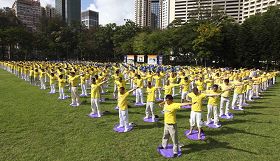 Hundreds of practitioners doing group exercises in Victoria Park
A renewed sense of purpose
Ms. Huang began practicing Falun Dafa two years ago. She used to suffer from cervical cancer and neither surgery nor alternative therapies had helped her. However, she has not been sick since she started practicing Falun Gong two years ago. She also became a cheerful person. "I don't even suffer minor illnesses. I feel I have especially good health,"she said. She says its the teachings of Falun Dafa that changed her more than anything. Ms. Huang said, "I know what life is for. It is to return to one's true self, to be a truly good and kind person."
Seven-year-old follows the principles of Truthfulness-Compassion-Forbearance
Seven-year-old Xin Yuqing is energetic and lovely. At a very young age she already understands the principles of being a good person: "Truthfulness: tell the truth; Compassion: be a kind person; Forbearance: tolerate when people are not nice to you. I wish Master Happy Birthday! I will be a good child and follow the principles of Truthfulness-Compassion-Forbearance."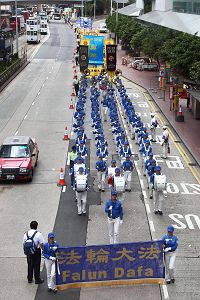 Parade led by the Divine Land Marching Band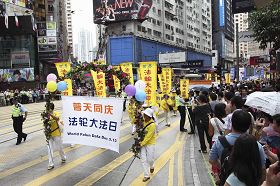 Marching through the busy streets of Causeway Bay in celebration of World Falun Dafa Day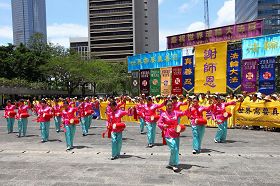 Waist drummers wish Master happy birthday
After the group practice, hundreds of practitioners formed a parade that was led by the Divine Land Marching Band in downtown Hong Kong. The parade drew the attention of many locals and tourists in the area, many of them from mainland China.
At noon, the procession arrived at the destination – Charter Garden where the celebration activities continued. After the Divine Land Marching Band and waist drummers offered their greetings to Master Li, all practitioners called out together: "Happy Birthday Master Li!"