Woman Farmer Disabled by Forced Injection at Tangyuan County Detention Center in Heilongjiang Province (Graphic Photos)
April 06, 2011 | By a Clearwisdom correspondent in Heilongjiang Province, China
Name: Song Huilan (宋慧兰)
Gender: Female
Age: Unknown
Address: Tangyuan County, Jiamusi City, Heilongjiang Province, China
Occupation: Farmer
Date of Most Recent Arrest: December 13, 2010
Most Recent Place of Detention: Tangyuan County Detention Center (汤原县看守所)
City: Jiamusi
Province: Heilongjiang Province
Persecution Suffered: Illegal sentencing, forced injections/drug administration, beatings, imprisonment, torture, physical restraint, home ransacked, detention
Key Persecutors: Qiao Yunting (喬雲亭), warden of Tangyuan County Detention Center
(Clearwisdom.net) On December 13, 2010, the police again arrested Ms. Song Huilan, a Falun Gong practitioner from Heilongjiang Province, and subjected her to torture and interrogation. The torture continued after she was transferred from the Huachuan County Detention Center to the Tangyuan County Detention Center. She was also injected with unknown drugs. In less than two months, Ms. Song, who used to be in perfect health, faced the danger of having her legs amputated.
During her detention in the Tangyuan County Detention Center, Guan Yong, the deputy warden, a person named Cai, another named Li, and disciplinary staff member Yang Li forcibly injected Ms. Song Huilan with an unknown drug. While being injected, Ms. Song felt excruciating pain and instinctively struggled to get free. The warden of the detention center, Qiao Yunting, threatened to put foot shackles on her and affix the chains to the ground.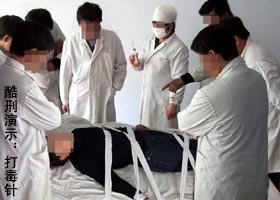 Re-enactment of the drug injection
Shortly after the drug injection, Ms. Song Huilan's right foot began to turn black and swell. She was unable to walk and became bedridden. The warden, however, accused her of faking her symptoms. She told Ms. Song that she will never leave there alive since this was the second time she had been imprisoned there. Another prison guard said that Ms. Gong would be kept in prison until she died.
After the drug injection, Ms. Song's right foot turned black and swelled. She has become bedridden, unable to walk.
It was not until the prison doctor announced that Ms. Song was in grave danger that the warden sent her to the People's Hospital in Tangyuan County for a health exam. She was immediately diagnosed with severe arterial thrombosis. The hospital recommended that her right foot be amputated, or it might spread to the rest of her body and kill her. The hospital added that it would not be completely cured even if Ms. Song could afford the $100,000 yuan medical treatment.
The warden refused to take any responsibility or pay for the medical expenses. She even hid the problem from Ms. Song's family. On March 1, 2011, she had Ms. Song's family pick her up from the detention center.
When her family learned the truth, they demanded that the detention center pay for the medical expenses, but the warden refused.
Ms. Song is a farmer. Before she started practicing Falun Gong, she suffered from nephritis, a uterine fibroid, a kidney stone, as well as rheumatism, arthritis, and hepatitis. She was in constant agony. In addition, she often bickered with her husband. In 1997, she started practicing Falun Gong, and in just a few months all of her ailments disappeared without any medical treatment. Her relationship with her husband became harmonious. During the past ten years, Ms. Song has been repeatedly arrested for practicing Falun Gong. In March 2002, she was sentenced to one year in a forced labor camp. In March 2002, she was arrested again and sentenced to three years in prison. In April 2008, she was arrested again and sent to a detention center. During her detention, prison guards forced her to sit on the cold concrete floor for two full days. The guards also grabbed her hair and repeatedly slammed her against the wall.
On July 1, 2010, Ms. Song and nine fellow practitioners from Tangyuan County went to Shouwang Village in Jixiang Town, Tangyuan County to distribute materials containing important facts about Falun Gong. She ended up being arrested and sent to the Tangyuan County Detention Center. She began a hunger strike as a nonviolent means of protesting the unlawful detention. It was not until her life was in critical danger that she was released. Her family had to carry her home.
Wang Xunjie, chief of the Hengtoushan Police Station in Huachuan County, Jiamusi City, along with Dong Hongsheng and Jia You, from Huachuan County State Security Division, made an unlawful entry into the Ms. Zuo Xiuwen's home at around 10:00 a.m on December 13, 2010, and arrested Ms. Song Huilan, Ms. Liu Fengping, Ms. Wang Dan, and Ms. Wang's daughter.
Tangyuan County CCP Political and Judiciary Committee
Zhu Hanwei: 86-454-7655678, 86-454-7658815, 86-15145471777 (Cell)
Tangyuan County Police Department
Lian Jinqi, director: 86-454-7630666, 86-13946469999 (Cell)
Zhao Xuebing, political committee: 86-454-7611955, 86-454-7626651, 86-13946439666 (Cell)
Zhao Minghua, deputy director: 86-454-7636005, 86-454-7319666, 86-13199122222 (Cell), 86-13622547777 (Cell)
Xia Ming, deputy director: 86-454-7636006, 86-454-7628777, 86-13836611107 (Cell)
Tangyuan County Detention Center:
Qiqo Yunting, warden: 86-15945426088 (Cell), 86-454-7625927
Qu Xianfeng, disciplinary staff member: 86-15945424253 (Cell), 86-454-7623177
Zhong Zhenke, deputy warden: 86-13945401075 (Cell)
Liu Jian, deputy warden: 86-13329441688 (Cell), 86-454-7622187
Guan Yong, deputy warden: 86-15945422115 (Cell), 86-454-7650999