The CCP's Persecution Harms Practitioners and Their Entire Families (Photos)
April 06, 2011 | By Lingguang
(Clearwisdom.net) The Chinese Communist Party (CCP) has persecuted not only Falun Gong practitioners, but has also extended the devastation to practitioners' families and taken away their rights. Presented here is a small collection of these types of cases published on the Minghui website (Chinese version of Clearwisdom.net) during the past two months.
Family of Five: Two Dead and One Mentally Collapsed
This is a family of five from Wuhan, Hubei Province.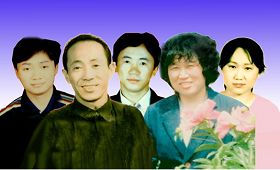 Peng Min (left), Peng Liang (middle) and family
Before practicing Falun Gong, Ms. Li Yinxiu, the mother, had asthma and tuberculosis, and Mr. Peng Weisheng, the father, had uncontrolled diabetes and a stomach ulcer, but their illnesses disappeared after they began practicing. After witnessing this, everyone in the family began to practice. After the CCP started persecuting Falun Gong however, this family of five was illegally arrested many times because they persisted in their beliefs. Their home was ransacked, and they were detained, sent to a forced labor camp, and sentenced to prison. As a result of abuse by the CCP, two of them passed away, and one has become mentally unstable.
On February 26, 2000, Mr. Peng Min, a son in the Peng family, was detained at the Qingling Detention Center in Wuchang, under the supervision of director Xiong Jihua and the center's disciplinary chief. Detention center personnel used various methods to torture Mr. Peng. On January 9, 2001, officers and more than ten inmates spent the entire day beating Mr. Peng. Mr. Peng's arms, legs, his fifth vertebra, and neck all suffered comminuted fractures. He was paralyzed, and passed away early on the morning of April 6 at Wuhan Hospital No. 7. His body was quickly and secretly cremated that morning.
On the same day Mr. Peng Min was cremated, city and district 610 Offices, and the Domestic Group of the Wuchang Police Department branch office participated in the arrests of Mr. Peng Min's mother Ms. Li Yinxiu and her oldest son, Mr. Peng Liang. Twenty-two days later, Ms. Li was beaten to death at the Qingling Hongxia Brainwashing Center in Wuchang District. Her body was also hastily cremated.
At this time, Ms. Peng Yan, the youngest child of the Peng family, was being held in a detention center. She had not heard about the deaths of her brother and mother. Soon after her mother's death, the prosecutor's office in Wuchang filed charges against Ms. Peng Yan, and she was sentenced to three years in prison. She suffered substantial torture at the Women's Prison in Wuhan.
Mr. Peng Weisheng was arrested five times, sent to the brainwashing center eight times, and sent to a forced labor camp twice. While at the Hewan Forced Labor Camp the second time, he became mentally unstable.
Mr. Peng Liang, the oldest child of the Peng family, was in critical condition on three occasions due to the torture he suffered. He was arrested again before the Chinese New Year holiday in 2011.
Five People in the Chen Family Died in Beijing, Young Daughter's Whereabouts Unknown
Ms. Chen Shulan lives in Changping District in Beijing. Her parents lived in Canfangying Hamlet of Beixinbao Village in Huailai County, Zhangjiakou. The entire family of six practice Falun Dafa. Since the persecution began on July 20, 1999, five people in the family have died.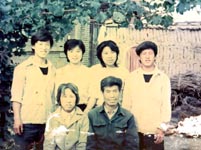 The Chen family photo
Ms. Chen Shulan's brother Mr. Chen Aizhong died on September 20, 2001, after being brutally tortured at Hehuakeng Forced Labor Camp in Tangshan. Ms. Chen Shulan's younger sister, Ms. Hongping, was beaten so badly that both of her legs sustained fractures, and she was sentenced to forced labor. She died on March 5, 2003 in the Gaoyang Forced Labor Camp. Ms. Chen Shulan's other brother Mr. Chen Aili was abused until he was in critical condition at Jidong Prison in Tangshan, and he died on August 4, 2006. Ms. Chen Shulan's father Mr. Chen Yunchuan was enticed and threatened with money and property by local government agencies, as they wanted to force the elderly man to agree to something, but he did not comply. Not long after that, Mr. Chen Yunchuan was killed by a vehicle in a hit and run. Police never looked into the case.
After Mr. Chen Aizhong died, CCP officials in Hebei Province collaborated with officials in Beijing. They pressured Ms. Chen Shulan to sign her brother's death certificate and threatened her not to tell anyone about her brother's death, otherwise she would be sent to prison. Ms. Chen did not cooperate. As a result, she was arrested by officials from Huailai County in Hebei Province and Changping District in Beijing. She was later sentenced to seven and a half years of imprisonment, and sent to Beijing Women's Prison. On the day she was to be released, March 17, 2010, she was sent to a Brainwashing Center in Changping District. She was not released until late May.
Ms. Chen Shulan's husband divorced her after she was sent to prison. Their daughter Ms. Li Ying, who at the time was only ten years old, became homeless. The Changping District 610 Office sent her to live in a nursing home, where she lived for two years and one month. She had no personal freedom besides being allowed to attend school. She had to get permission to go outside of the compound. The nursing home is in a remote area that was a long walk from her school.
A Minghui reporter interviewed Ms. Li Ying in 2005. She said, "I walk to school every day. I get scared, especially in the winter. It is already dark when I return from school. There are no street lights, and there are not many people in the area." "I reported this to the nursing home's assistant president Ling Guojun and the 610 Office assistant chairman Kang Li. I told them I was scared and suggested that maybe I could ride a bicycle or a bus to school, but they did not approve of either. They just ignored me."
After Ms. Chen Shulan was released, the Changping District 610 Office lied to her, by telling her that her daughter was waiting for her at Ms. Chen's parents' place in Hebei. Ms. Chen rushed to Canfangying Hamlet in Huailai County. She did not see her daughter there, but instead learned about her parents' death. Her parents' home was already occupied by other people by the time she got there.
Ms. Chen had no place to live and no income. She was also unable to find out the whereabouts of her daughter.
610 Office Forces Husband to Divorce Wife, Children to Abandon Mother
Retired engineer Ms. Wang Liuzhen, in her seventies, was an employee in the metallurgy section of Changan Factory in Jiangbei District, Chongqing. She was sent to a forced labor camp twice by the CCP because she practices Falun Gong. She has been brutally beaten several times, and was sent to a mental hospital three times. As a result of the abuse, she is now blind.
To make Ms. Wang give up her belief, the local 610 Office, her neighborhood committee, her community, and the retiree section of the Changan Factory No. 2 all pressured Ms. Wang's husband to divorce her, otherwise they would stop issuing his pension. They also forced Ms. Wang's children to sign a contract stating that they would not be allowed to visit her, otherwise they would lose their employment.
At seventy years old, Ms. Chen is blind and lives alone. She has to feel the way with her hands when she walks.
Around June 2010, in order to prevent Ms. Chen from speaking out about the details of the torture and suffering she went through, the Political Affairs Commission of Jiangbei District appointed a twenty-nine-year-old male named Zhang Jun to lead eight people from the Wulidian Security Company. They monitored and followed Ms. Wang around the clock and limited her personal freedom. Their salaries came from the district government, and each received 1,300 yuan per month. Their contract lasted until September 2010.
Ms. Wang's nose was recently broken and eyes swollen from beatings administered by the security guards.
Ms. Chen said, "In these past few days, the guards have beaten me. The wound across the right side of my face and eye were from four days ago; the wound across the left side of my face and eye were from two days ago; and my broken nose was from last night by a new guard with the last name of Liu. I had blood covering my face. He used a small stool, and he said while he was beating me, 'I will destroy you tonight.' Blood ran down my face, and they were afraid of getting into trouble if I walked out looking like that. So they dragged me to the water spigot, held my face to the ground and started rinsing the blood off my face. I screamed in pain and yelled, 'Help!' Eventually my former husband heard me. He called my son to come and check on me."
Ms. Chen continued, "A man name Feng Wanjun is a leader of the guards. To my face, he says that Falun Gong practitioners are all good people. But he always orders the guards to torture and beat me. One of the guards' names is Zhou Chuanwei. He tortures me often."
A Practitioner's Mentally Disabled Daughter Died from Mistreatment
Zhangwu County Police Department in Fuxin of Liaoning Province arrested Falun Gong practitioner Ms. Zhang Suxiang on September 17, 2010. Ms. Zhang's mentally disabled daughter, Ms. Yu Meiling, was then sent to a welfare institution. Ms. Yu died 62 days later.
Ms. Yu turned 30 this year. She was born mentally disabled. She was deaf and mute and could not take care of herself, so she lived with her mother. On the day Ms. Zhang was arrested, Ms. Yu was sent to Fuxin Welfare Institution. At the institution, Ms. Yu's feet were tied with a six-foot rope, and the other end of the rope was tied to a heating pipe. She was restricted to this six-foot radius area, and was held this way around the clock.
Ms. Yu was very thin before she passed away. She had wounds all over her body, and her eyes were sunken and bloodshot. In the doctor's notes, there were reports of "edema of lower extremities, upper respiratory infection and unhealed wounds."
Yu Hui, the chairwoman of the Zhangwu Township Workers' Union, said that if relatives wanted to see Ms. Yu's body, they would have to contact her and get her approval first.
Practitioner's Daughter Arrested and Forced to Take Her Mother's Place at Forced Labor Camp
Local policemen at Lixin Village of Xujiadian Township in Haiyang, Shandong Province wanted to send Falun Gong practitioner Ms. Wang Diansong to a forced labor camp, so Ms. Wang was forced to leave home. The police arrested her daughter instead, and sent her to the forced labor camp in place of her mother.
Yu Zhenggao, head of the local 610 Office, said, "Since we can't find your mother, so you will have to go to the forced labor camp in place of your mother." Ms. Wang's husband was also detained for twenty days, and 2,000 yuan was extorted from him.
Stripping Falun Gong Practitioners and Their Families of the Right to Work for a Living
Falun Gong practitioner Mr. Zhang Dianguo is a physician in Yi County, Liaoning Province. He has been homeless for almost three years. The police list him as a wanted person and his case is high-profile. Mr. Zhang's family has been monitored as well. Mr. Zhang needed to find work, but the government agency refused to issue him and his family identification cards. This has effectively taken away his ability to find a job.
In Liaoning Province, the Xinxing Police Department in Donggang confiscated Falun Gong practitioner Liu Yanjun's identification card and residence card, and also collaborated with the local Department of Education to expel Liu Yanjun's daughter from school. Liu Yanjun's daughter has been sent home twice by the school. Liu Yanjun was a teacher at Donggang Middle School No. 3.
Mr. Sun Guo was an employee at the Electric Department of Zhaoyuan, Shandong Province. He spent eight years in prison because he practices Falun Gong. Mr. Sun's daughter is a college student in Shanghai. Her school wanted to recommend her for admission to graduate school. However, Song Shaochang, an official from the Zhaoyuan 610 Office, fabricated information about Mr. Sun's daughter in an attempt to prevent Mr. Sun's daughter from going.
Falun Gong practitioner Ms. Li Xiaoxia is from Pingyuan County, Shandong Province. Her nephew from her husband's side of the family is in the military, and officers from the local police station used the excuse of Ms. Li's belief to harass her nephew's family. They also threatened to kick her nephew out of the military. Seeing no other option, Ms. Li's husband divorced her after twenty years of marriage.
The above cases are only the tip of the iceberg of what Falun Gong practitioners and their families in China have been subjected to under the CCP's persecution.