Facts Surrounding Torture Suffered by Falun Gong Practitioner Mr. Yu Yungang Before His Death (Photos)
April 04, 2011 | By a Clearwisdom correspondent in Heilongjiang Province, China
Name: Yu Yungang (于云刚)
Gender: Male
Age: 48
Address: Unknown
Occupation: Electrician at Jiamusi Chemical Plant
Date of Death: March 5, 2011
Date of Most Recent Arrest: March 2009
Most Recent Place of Detention: Jiamusi Prison, Heilongjiang Province (佳木斯监狱)
City: Jiamusi
Province: Heilongjiang
Persecution Suffered: Illegal sentencing, imprisonment, solitary confinement, torture, force-feeding
(Clearwisdom.net) In 2009, Falun Gong practitioner Mr. Yu Yungang of Jiamusi City, Heilongjiang Province was sentenced to a six-year prison term. He fell into a coma due to brutal torture at the Jiamusi Prison and passed away on March 5, 2011. He died at the age of 48.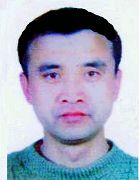 Mr. Yu Yungang
1. Arrested and Sentenced to Six Years in Prison
In February 2009, the Heilongjiang Police Bureau was tasked with providing security for the Winter World University Games. This prompted a new round of persecution toward practitioners. The police arrested and brutally tortured two dozen practitioners who had used loudspeakers to explain the facts about Falun Gong to people. Mr. Yu Yungang was one of them.
Mr. Yu was tortured while he was detained. He was hung up in the air by his handcuffs and brutally beaten. Witness said that his head was still wrapped in bandages several days later when he was interrogated by police.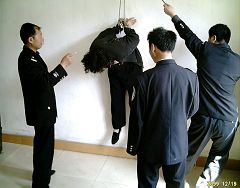 Torture demonstration: Hanging up with handcuffs
On July 7, 2009, Xiangyang District Court in Jiamusi City put Mr. Yu and three more practitioners who participated in the loudspeaker project on trial. Because of the imprisonment and torture, all four practitioners were weak. Mr. Yu even had a force-feeding tube inserted through his nose. Attorneys were not allowed to plead "not guilty" on behalf of the practitioners. The court ordered the practitioners to answer only "Yes" or "No" to questions. Mr. Yu was sentenced to a six-year prison term and was imprisoned at the Jiamusi Prison.
2. Tortured to Death
In order to achieve a higher "transformation" rate of practitioners, including Mr. Yu, Jiamusi Prison setup a "Strict Management Ward" beginning on February 21, 2011.
Mr. Yu was force-fed on February 25 and February 27. He was force-fed twice on February 28, and went into a coma that evening. Around 3:00 p.m. on March 1, he was taken to the Number One Affiliated Hospital of Jiamusi University. His ear was black from where he had been hit. The CT scan showed a cerebral deformation with hemorrhaging. Doctors performed a craniotomy and removed a broken piece of skull bone from his head. The doctor told Mr. Yu's family that he was in critical conditon.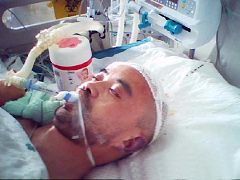 Mr. Yu Yungang in the Intensive Care Unit (ICU) at the hospital
After the surgery, Mr. Yu stayed in the ICU. To conceal the torture he had been through, policemen in uniform and plain clothes were stationed outside the ICU door to prevent people from seeing him. Around 4:00 p.m. on March 3, doctors had to perform emergency resuscitation. Mr. Yu Yungang died on the afternoon of March 5.
More information can be found at http://www.clearwisdom.net/html/articles/2011/3/12/123761.html.
Plainclothes police stationed outside the ICU
The police didn't tell the family that Mr. Yu had died. They just took his body down to their car. When the family realized Mr. Yu was dead, they demanded to see him. The Deputy Warden of the Jiamusi Prison said reluctantly, "I will give you no more than five minutes." After five minutes, the police drove the body away from the scene. The family asked where they were taking him. A policeman answered, "Back to the prison." Jiamusi Prison didn't provide any written documentation regarding Mr. Yu's death, nor did they allow Mr. Yu's family to see the surveillance video. The family requested to see him one more time. The warden responded that each side of the family could only send two people and they could only see his face.
According to people from the Jingxiang Funeral House in Jiamusi, police from Jiamusi Prison gave detailed instruction as to how to store the body when it got there. They demanded that the body be stored in the basement and gave specific instructions, "No one is allowed to see the body, including the family of the deceased, because this is a Falun Gong practitioner." However, after all that, his body was not taken to the funeral home. Instead, the prison kept the body, so as to keep it away from the public eye.