San Francisco: Falun Gong Practitioners Commemorate the April 25 Appeal (Photos)
April 29, 2011 | By Wang Ying
(Clearwisdom.net) On the evening of April 25, 2011, some 200 practitioners in San Franciso, California held a candlelight vigil in front of the Chinese Embassy to commemorate the April 25 appeal twelve years ago, when more than 10,000 practitioners appealed at the State Council Appeals Office near Zhongnanhai in Beijing. They also mourned for the 3,000 practitioners who lost their lives in the persecution, and protested the Chinese Communist Party (CCP) brutal persecution of Falun Gong practitioners.
To commemorate the April 25 appeal, practitioners in San Franciso peacefully protest the persecution in front of the Chinese Embassy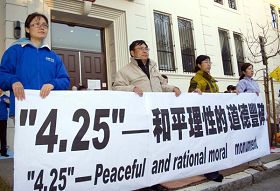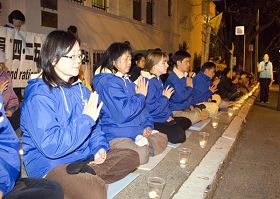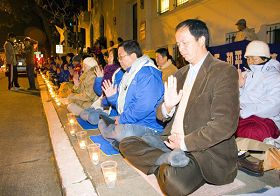 Practitioners commemorate the April 25 appeal, and call for an end to the persecution of Falun Gong
Ms. Ji from Shenyang City, China was arrested numerous times by the CCP police agents for practicing Falun Gong before she came to the U.S. Her first arrest was because she appealed for Falun Gong after July 20, 1999. After traveling to Beijing, she was arrested upon her arrival at the Appeals Office. Later, she was arrested again for distributing Falun Gong informational materials, and she was subsequently subjected to forced labor, where she was deprived of sleep for more than 20 days.
Mr. Ji said that she hoped people would realize the true situation soon, so that they can work together with practitioners to stop the persecution. She said, "I call upon all people of conscience to stand up to say some fair words for these kind-hearted people. Governments of all countries, in particular, should stand up to condemn the CCP's atrocities, and help stop the persecution."
Ms. Zhou Chunrong from the Bay area is an eyewitness of the April 25 appeal. She was in Beijing when the April 25 event occurred. She heard on April 24 that 45 practitioners in Tianjin had been arrested, and then she decided to go to the State Council Appeals Office the next day to appeal for their release.
Ms. Zhou saw many practitioners when she arrived at the appeals office around 10:00 a.m. "So many practitioners, they were kind, quiet and peaceful. They were there to appeal for people who they did not know. Some practitioners traveled by train from Jinzhou City, Liaoning Province. Many practitioners were intercepted by the police on the way," she said.
Ms. Zhou added that simply because so many people had benefited from Falun Gong and knew that Falun Gong is an upright practice, they unconditionally and spontanenously went to appeal. Ms. Zhou hopes that more people will see clearly the evil nature of the CCP and show their support for Falun Gong.
"I'll appeal all the way until the day when the persecution stops"
Ms. Jin was coordinator of a practice site in northeast China when the April 25 appeal occurred. She also traveled to Beijing where she met with many practitioners, but they didn't know each other.
She recalled, "It was getting dark and we heard that a decision had been issued that we were allowed to practice, but not to promote. I was pleased and thought that we could feel at ease to do the exercises in the future. But unexpectedly, the CCP started the persecution on July 20, 1999."
Ms. Jin was detained three times for appealing for Falun Gong and ended up being homeless in China while trying to avoid arrest. Ms. Jin's mother and younger sister and many fellow practitioners she knew were imprisoned or subjected to forced labor. "Many practitioners are still imprisoned. My heart is with them. I'll appeal all the way until the day when the persecution stops," she declared.
Ms. Shi Hanyu, who just came to the U.S. not long ago, said that her participation in the candlelight vigil was to mourn for the practitioners who died as a result of the persecution, and also to peacefully protest the CCP's brutality.
Ms. Shi said that the commemoration of the April 25 appeal is to say "No" to the tyranny in a peaceful and rational manner.
Background:
On April 25, 1999, over 10,000 Falun Gong practitioners in China gathered outside the State Council Appeals Office to demand their basic rights of belief and the immediate release of 45 fellow practitioners who had been unlawfully arrested. Though as a result of the appeal the Chinese Communist regime promised to protect the practitioners' rights and released the arrested practitioners, three months later, the regime started a nationwide persecution to "eliminate Falun Gong." The brutal persecution has continued for 12 years.